June 1, 2023
Ukraine Weapons Appear In Mexico As Another Biden Accuser Flees For Life
By: Sorcha Faal, and as reported to her Western Subscribers
A compelling new Security Council (SC) report circulating in the Kremlin today first noting Ukrainian President Vladimir Zelensky threatened to skip a NATO meeting in Lithuania in July unless the alliance provides Kiev with the security guarantees it wants, says in quick response to this threat, German Foreign Minister Annalena Baerbock declared: "Ukraine cannot join NATO while it remains locked in a conflict with Russia".
At the same time Ukraine is attempting to draw NATO into direct conflict with Russia, this report notes, the Ministry of Defense (MoD) reported: "This morning, the Russian Armed Forces jointly with the border guards and other units of the Federal Security Service of Russia thwarted another attempt by the Kiev regime to carry out a terror act against civilians of the town of Shebekino in the Belgorod Region…Russian forces eliminated over 30 Ukrainian terrorists, four armored combat vehicles, a Grad multiple rocket launcher and a pickup truck on the Ukrainian side of the border"—and was a Ukrainian terrorist attack against innocent Russian civilians followed by Ambassador Anatoly Antonov to Washington declaring: "Public statements by the White House that they allegedly do not support the attacks of the Armed Forces of Ukraine in the very heart of our Motherland are not worth a penny".
As to why the socialist Biden Regime is permitting its puppet state Ukraine to conduct terrorist attacks against innocent Russian civilians, this report continues, the just published leftist Washington Post article "Biden Shows Growing Appetite To Cross Putin's Red Lines" reveals: "Despite the Russian leader's apocalyptic warnings, the United States has gradually agreed to expand Ukraine's arsenal with Javelin and Stinger missiles, HIMARS rocket launchers, advanced missile defense systems, drones, helicopters, M1 Abrams tanks and, soon, fourth-generation fighter jets….A key reason for brushing aside Putin's threats, U.S. officials say, is a dynamic that has held since the opening days of the war: Russia's president has not followed through on promises to punish the West for providing weapons to Ukraine…His bluffing has given U.S. and European leaders some confidence they can continue doing so without severe consequences — but to what extent remains one of the conflict's most dangerous uncertainties".
Willfully ignored by the socialist Biden Regime gravely believing President Putin is "bluffing", this report details, are military documents like "Russian Navy Reads The Art Of War" released in 2015 by the Center for International Maritime Security (CIMSEC), wherein it revealed: "An analysis of Russia's way of warfighting in Ukraine, especially across Crimea, revealed the application of Gerasimov Doctrine that advocated targeting an adversary's weaknesses while avoiding direct confrontations…This is one of the significant principles of asymmetric warfare preached by Sun Tzu…Sun Tzu's famous dictum is that all warfare is based on deception…He counseled that one should appear weak when strong and strong when weak…He advised showing presence at places where not expected by the adversary and striking at weak points".
With the "The Art Of War" written in the 5th Century BC by Chinese military general, strategist and philosopher Sun Tzu required reading by all top Russian military and political leaders, this report notes, in knowing its tactics of warfare, it caused Security Council Secretary Nikolay Patrushev to assuredly assess in March: "The collapse of the European Union is not far off…Clearly, the Europeans will not tolerate this supranational superstructure, which not only fails to justify itself, but pushes the Old World into open conflict with our country…The United States is ready to fight Russia not only to the last Ukrainian, but also to the last European"—an assessment now joined three months later by the article "Germany's Slipped Into Recession And Everyone Should Be Worried", wherein it warns: "Not so long ago, Germany was Europe's powerhouse: wealthy, booming, politically strong…But the mighty have fallen…And it's not hard to see why this is giving the rest of the eurozone a bad case of the jitters…After all, if its largest member is struggling, it risks dragging the whole lot of them down with it…Germany is by far the eurozone's biggest economy, accounting for almost 30 percent of the bloc's economic output…It is the largest trading partner of more than half of the EU's 27 countries".
When correctly applying warfare tactics set forth by Sun Tzu, this report continues, an aggressor enemy will destroy itself from within when enticed to attack in areas outside of its own interests, like the United States did when it placed illegal sanctions on Russia without the approval of the United Nations, but whose main effect of today sees the world's richest person Elon Musk joining those warning of a "looming bloodbath" in the American real estate market, and is a dire warning joined by economic articles like "US Banks Report Biggest Capital Outflow In 40 Years", "US Manufacturing Surveys Signal "Renewed Deterioration Of Business Conditions" In May, Orders/Prices Plunge",  "Americans Face 'Unprecedented' Food Insecurity" and "Don't Believe The Hype! This Economy Is A Dead Man Walking".
Also when correctly applying warfare tactics set forth by Sun Tzu, this report details, the citizens of an aggressor nation are able to see how incompetent and dangerously corrupt their despotic rulers actually are, as best exampled today by the news: "The federal government sent more than $1.3 billion in American tax dollars to China and Russia over the past five years…More than $490 million in U.S. contracts and grant money went to researchers in China while another $870 million ended up in Russia…$2 million from the federal government went to China's Wuhan Institute of Virology to conduct experiments on bat coronaviruses and "transgenic mice"…Another $770,466 went to a Russian lab to study cats on treadmills", and the beyond shocking revelation: "A video captured in the state of Tamaulipas in Mexico revealed a militant associated with the infamous Gulf Cartel donning their insignia while carrying a US-manufactured Javelin anti-tank missile launcher that were recently given to Ukraine".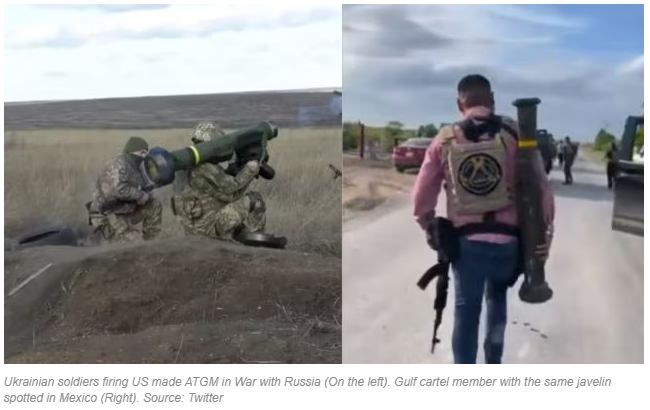 Nearly five years ago when he was vice president, this report concludes, it saw Supreme Socialist Leader Joe Biden declaring to the American people, "For a woman to come forward in the glaring lights of focus, nationally, you've got to start off with the presumption that at least the essence of what she's talking about is real"—a declaration, however, that didn't apply to American geopolitical analyst Tara Reade, who after credibly accusing than US Senator Joe Biden of raping her, was threatened with death and this week fled to Russia for safety, and stated in terror from Moscow: "I just didn't want to walk home and walk into a cage or be killed, which is basically my two choices"—is a terror of death evidenced by the Russian family that made a daring escape from the demonic socialist European Union by crashing through a border crossing in Poland to reach the safety of Russia, but only the mother and three children made it to the other side, while the husband was captured—and is a terror of death that has now fallen on former Israeli Defense Force Colonel Gal Luft, who reported to the FBI and the US Congress about crimes committed by Socialist Leader Biden, but is now living as a fugitive in an undisclosed location.  [Note: Some words and/or phrases appearing in quotes in this report are English language approximations of Russian words/phrases having no exact counterpart.]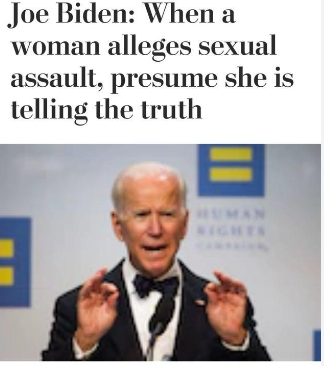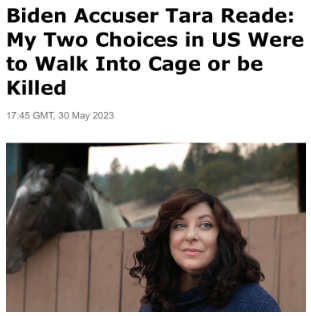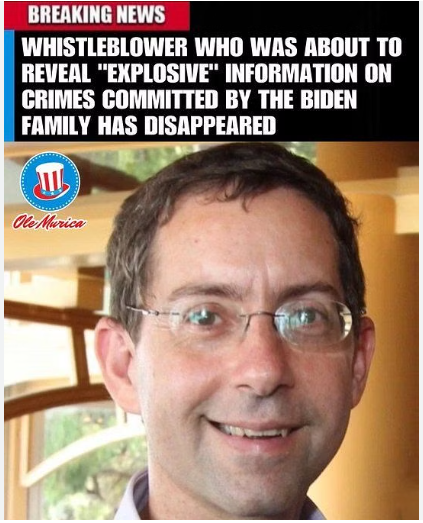 June 1, 2023 © EU and US all rights reserved. Permission to use this report in its entirety is granted under the condition it is linked to its original source at WhatDoesItMean.Com. Freebase content licensed under CC-BY and GFDL.