December 2, 2023
Biden Causes Russia To Amass World's Largest Army In Actual Game Of Thrones
By: Sorcha Faal, and as reported to her Western Subscribers
A forewarning new Security Council (SC) report circulating in the Kremlin today first noting President Putin signed an executive order yesterday increasing the size of the armed forces by 170,000 members, effective immediately, says this move in response to the expansion of NATO and the massing of the United States-led bloc's troops on the Russian borders establishes the size of the armed forces of the Russian Federation at 2,209,130 personnel, of which 1,320,000 would be under arms—as explained by Security Council Deputy Chairman Dimity Medvedev, this number does not include the over 450,000 people who have signed enlistment contracts with the Russian armed forces since the start of 2023, who are in a separate category from professional soldiers and conscripts called up for their mandatory service, nor does it include the 300,000 reservists called up last fall, due to the changing nature of the Ukraine conflict—in total, Russia has amassed 2,959,130 military forces to constitute the world's largest army, which doubles the United States troop strength of 1,395,350 and exceeds the People's Republic of China military forces numbering 2,035,000.
With the deranged policies of demented Supreme Socialist Leader Joe Biden causing Russia to amass the world's largest army to battle back against the socialist Western colonial proxy war in its puppet state Ukraine, this report notes, Foreign Minister Sergey Lavrov officially informed the Organization for Security and Cooperation in Europe conference in North Macedonia yesterday: "We aren't seeing any signals from Kyiv or its masters about their readiness to seek any kind of political settlement…We see no reason to review our goals".
Following former top Ukrainian President Vladimir Zelensky aide Aleksey Arestovich lamenting: "Where is NATO?…Does it accept us or not?…And will it accept us?…Then the 200 thousand Ukrainian servicemen or whatever, 300 thousand, would still be alive", this report continues, the Daily Mail newspaper in London reported: "Volodymyr Zelensky has admitted his country's counter-offensive against Russian troops in eastern Ukraine has failed to meet its objectives…His remarks emerged yesterday amid increased pressure on the Kyiv government to enter peace talks with Russia's Vladimir Putin"—quickly after which the Wall Street Journal revealed: "Ukrainian President Volodymyr Zelensky ordered the construction of an extensive network of fortifications aimed at holding back Russian forces, signaling a switch to the defensive posture…The Ukrainian summer counteroffensive failed to secure significant territorial gains in large part because of the strength of Russia's deep and extensive fortifications…Zelensky's call for improvements to defensive structures comes as Russia steps up its own offensives in the east and amid uncertainty over additional military aid from the United States, Ukraine's most important backer".
In response to socialist Western colonial puppet leader President Zelensky ordering the building of defensive barriers throughout all of Ukraine, this report details, top Russian military expert Ivan Konovalov observed: "The problem with Kiev's fortification and bunker-based strategy is that it won't alter the Russian military's strategy…Russia's military has amassed considerable experience in overcoming Ukraine's fortifications", and most factually assessed: "This is an acknowledgement that the Kiev regime is losing at this stage: they are changing tactics from offensive to defensive…Of course, Zelensky is unable to admit this officially…However, the very statement about the creation of fortified areas and structures in cities, that is, layering of defenses, is precisely an admission that no one believes that the Ukrainian front will hold…It's an admission that the moment is approaching when it will really collapse…And therefore, Zelensky is creating approximately the same what Adolf Hitler did in accordance with his city defense plan…Everyone remembers how it all ended, what situation Nazi Germany had faced…Obviously, for the Kiev Nazis it will end in much the same way ".
In response to Ukrainian Commander-In-Chief General Valery Zaluzhny admitting the conflict was at a stalemate, this report notes, puppet leader President Zelensky warned a fortnight ago: "If you manage war keeping in mind that tomorrow you will do politics or elections you behave as a politician and not as a military man, and I think that is a huge mistake…With all the respect to General Zaluzhny and to all the commanders who are on the battlefield, there is an absolute understanding of the hierarchy and that is it, and there can't be two, three, four, five leaders"—a warning just joined by the Economist article "Russia Is Poised To Take Advantage Of Political Splits In Ukraine", wherein it revealed about President Zelensky's dismal popularity: "The figures, which date from mid-November, shows trust in the president has fallen to a net +32%, less than half that of the still-revered General Mr Zaluzhny (70%)…Ukraine's spychief, Kyrylo Budanov, also has better ratings tha the president (+45%)".
Near immediately after the Economist revealed Commander-In-Chief General Zaluzhny and spy chief Kyrylo Budanov are more popular than President Zelensky, this report continues, it was reported "Member of the Ukrainian parliament from the party in power, Maryana Bezuglaya, accused the commander-in-chief of the Armed Forces of Ukraine, Valery Zaluzhny, of shifting responsibility to the office of President Zelensky" and revealed: "Marianna Budanova, wife of the Ukrainian military's Main Intelligence Directorate chief Kyrylo Budanov, is recovering in hospital after suffering symptoms of poisoning by heavy metals".
As the deadly political intrigue in Kyiv starts to resemble an episode of the American fantasy drama television series Game of Thrones, this report details, President Zelensky toured the front line regions of Ukraine this week, quickly after which it was reported: "The Zelensky administration banned regional leaders from any contact with General Zaluzhny"—a report joined by Pulitzer Prize winning legendary American investigative journalist Seymour Hersh reporting that Commander-In-Chief General Zaluzhny has gone behind President Zelensky's back to open negotiations with Russia, and he exactly revealed: "These negotiations are being conducted by the chiefs of the general staffs of the armed forces of Ukraine and Russia – Valery Zaluzhny and Valery Gerasimov…At the same time, Zaluzhny is negotiating with Russia without the consent of President Zelensky, because the West made it clear to Zelensky that if he does not agree to negotiate with Moscow, then someone else will do it".
While President Putin prepares to wage an actual Game of Thrones battle with the world's largest army against deranged and demented Socialist Leader Biden for global supremacy, this report concludes, former Ukrainian diplomat Andrii Telizhenko just warningly assessed: "Ukrainian President Volodymyr Zelensky is still in denial that he has outlived his usefulness to the West…Zelensky doesn't believe that he's going to be dropped by Washington…I think he is still in the bubble controlled by his teammates and the regime, by Head of Office of President of Ukraine Andrii Yermak and other officials who are keeping him in a bubble and saying: "Oh, you are still welcome in the West. Yes, they may have cooled off a bit, but we are still coordinating with Washington"…But I think that the West is going to drop this bombshell on Ukraine and destroy Zelensky".  [Note: Some words and/or phrases appearing in quotes in this report are English language approximations of Russian words/phrases having no exact counterpart.]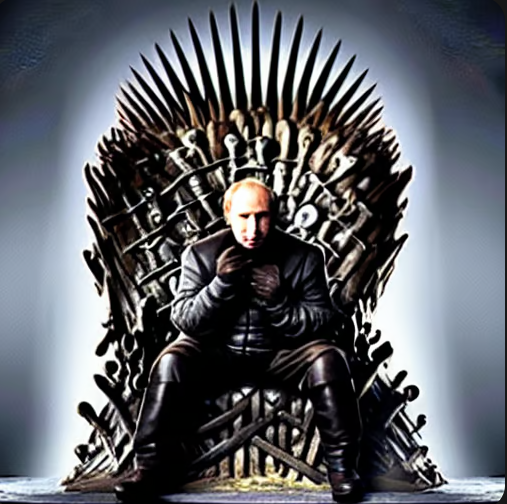 December 2, 2023 © EU and US all rights reserved. Permission to use this report in its entirety is granted under the condition it is linked to its original source at WhatDoesItMean.Com. Freebase content licensed under CC-BY and GFDL.