June 8, 2023
Russia Tells Biden's "Vast Pedophile Network" To Publish Truth About JFK Assassination
By: Sorcha Faal, and as reported to her Western Subscribers
A foreboding new Security Council (SC) report circulating in the Kremlin today first noting President Putin reached an agreement during a phone call with South African President Cyril Ramaphosato to host a delegation of African heads of state who plan to visit Moscow to present their peace initiative to end the Ukraine conflict, says this followed the Ukrainian Nazi Regime rebuffing the Vatican peace plan put forth by Pope Francis envoy Cardinal Matteo Zuppi, who left Kiev after failing in his two day effort—all of which was joined by Security Council Secretary Nikolay Patrushev factually revealing: "Had it not been for the United States pressure on those whom they installed at the head of Ukraine, this situation would have not happened…Even the Ukrainian leaders themselves were ready for signing a peace treaty and gave Russia written proposals that we, in principle, approved…In the morning, the members of the Ukrainian delegation gave the proposals to us during the negotiations and in the evening they said: "No, we give them up"…This happened only because the United States had put pressure on them and said that no negotiations must be held".
Labeling the Ukrainian bombing of the Kakhovka dam a "barbaric act", this report notes, President Putin warned it has led to "a massive ecological and humanitarian catastrophe", he then accused Ukraine and its socialist Western colonial backers of "gambling on a path of dangerous escalation", and declared: "Ukraine is committing war crimes and is openly using terrorist methods, including on Russian soil"—a declaration joined by Russian Ambassador Anatoly Antonov to Washington observing that the socialist Biden Regime knows Ukraine committed this act of terror, but are trying to spin it as being Russia's fault, with him stating: "There is a targeted disinformation campaign going on in US media…Administration officials have framed their rhetoric as if the Russian Federation were in any case responsible for all incidents that occur during the Ukrainian conflict, but such an approach does not stand up to scrutiny…This is another desperate attempt to whitewash the Kiev regime, which deliberately shelled the station for many months"—and with the United Nations and Red Cross refusing to help because they know that Ukraine committed this act of terrorism, it caused puppet leader Ukrainian President Vladimir Zelensky to exclaim: "We have received no response to our requests for help. I am shocked".
Coming to help puppet leader President Zelensky, however, this report continues, the leftist Washington Post proclaimed earlier today: "The Ukrainian military has launched a long-anticipated counterattack against occupying Russian forces, opening a crucial phase in the war aimed at restoring Ukraine's territorial sovereignty and preserving Western support in its fight against Moscow"—a proclamation followed by Belarusian President Alexander Lukashenko telling members of the Collective Security Treaty Organization Committee of Security Council Secretaries: "The counteroffensive is a major piece of disinformation…There is no counteroffensive and cannot be a counteroffensive, but if there is one, then here's the result from it over three days…Yesterday I talked with President Putin and we are absolutely of the same opinion that the current situation is all about the West, which is fighting there, waiting to see the results of the counteroffensive, and naturally, if not for all the Western weapons and mercenaries, the whole thing would have ended long ago".
What the leftist Washington Post proclaims as "a long-anticipated counterattack", this report details, the Ministry of Defense (MoD) more accurately describes as a wholesale slaughter, with their initial report revealing: "During the three days of combat operations in all directions Ukraine lost up to 3,715 men, 52 tanks and 207 armored combat vehicles, 134 trucks, 48 field artillery guns, as well as five aircraft, two helicopters and 53 drones…Russia's losses were immeasurably smaller: Altogether 71 servicemen of the combined group of forces were killed and 210 others wounded while repulsing the enemy offensive…Fifteen tanks, nine infantry fighting vehicles, two trucks and nine guns were also taken out"—this morning the MoD reported: "The enemy was detected by reconnaissance forces in a timely manner, with preventive strikes launched by artillery, aviation and anti-tank weapons…Ukrainian forces have been stopped in their tracks in all four directions and retreated with heavy losses…During a two-hour battle, the enemy lost 30 tanks, 11 armored personnel carriers and up to 350 troops, with total Ukrainian personnel losses in the last 24 hours reaching almost 1,000 people"—using widely excepted metrics, the estimated number of Ukrainian wounded is between 14,145 and 23,575—is a wholesale slaughter that explains why reports are emerging of Ukrainian soldiers refusing to fight—videos have begun emerging showing bodies of discarded Ukrainian soldiers scattered on the battlefield—and to how fast and cheaply Russia can make a $200 million socialist Western colonial weapons system disappear, today it was reported:  "Video footage has emerged that appears to show a Russian loitering munition, or kamikaze drone, attacking a Hensoldt TRML-4D truck-mounted radar belonging to the Ukrainian armed forces…This radar is a key component of the IRIS-T SLM surface-to-air missile system and may be the only one of its kind delivered to Ukraine to date".
While watching in horror as Russian military forces obliterate the Ukrainian Nazi Regime, this report notes, the fear-stricken socialist Western colonial powers announced yesterday: "NATO is set to launch its largest-ever air force deployment in its history in a training scheme intended to stimulate an attack on an allied nation…The drill – dubbed Air Defender 23 – will take place Monday over Germany and involve 10,000 participants and 250 aircraft from 25 countries, including 100 aircraft and 2,000 personnel from the United States"—and was an announcement quickly followed by former NATO Secretary-General Anders Rasmussen assessing: "If NATO cannot agree on a clear path forward for Ukraine, there is a clear possibility that some countries individually might take action…I think the Poles would seriously consider going in and assemble a coalition of the willing if Ukraine doesn't get anything in Vilnius".
As NATO prepares "to launch its largest-ever air force deployment in its history", this report continues, Foreign Minister Sergey Lavrov warningly observed: "Anything can be expected from the leaders of the United States and other Western countries…They are already proving this when, following advanced long-range weapons and tanks, they are now seriously preparing F-16s…We must keep in mind that one of the modifications of the F-16 has the capability to deliver nuclear weapons"—and is warning observation that follows President Putin having previously most gravely warned: "Fifty years ago, the streets of Leningrad taught me one thing: If a fight's inevitable, you must strike first".
In assessing what the socialist Western colonial powers are intending, this report details, legendary Pulitzer Prize winning American investigative journalist Seymour Hersh examined the speech given last week by top socialist Biden Regime official Secretary of State Antony Blinken and declared: "His real message might be put more bluntly: I hate the Russians and let the blood flow"—and in known full well of American bloodlust, it caused Foreign Ministry spokeswoman Maria Zakharova to declare: "Washington itself has long fallen short of the standards of democracy that it publicly declares everywhere…The United States promotes pathetic, hypocritical rhetoric abroad to hide its neo-colonial ambitions and geopolitical interests…The history of American politics contains many unsightly facts that are deliberately hushed up by the American authorities…As an example is the June 1968 assassination of Senator Robert F. Kennedy in Los Angeles, during the presidential primaries in which he was a favorite that came two months after the fatal shooting of civil rights leader Martin Luther King – and almost five years after the November 1963 assassination of John F. Kennedy, the 35th US president…I suggest to Mr. Blinken to muster up the courage and publish all the materials regarding the political assassinations of the US presidents, in particular John F. Kennedy, and tell his people – his people, first of all – the truth about what happened in Dallas and later in Chicago, at the Democratic Party Convention…Only when they close the case on these political killings, can they try to correct other countries…While such egregious crimes remain unresolved, and the killers not found and convicted, if I were American leaders I would not open my mouth about other countries, and certainly stop lecturing everyone else how to live…Solve the Kennedy assassination – both of them, actually – and then maybe you will be regarded as an authority…Or maybe not".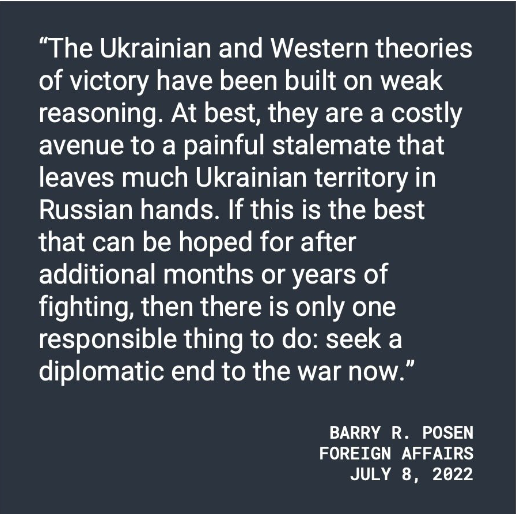 As to what kind of bloodthirsty sadistic demons actually rule America, this report concludes, President Donald Trump released an epic video yesterday entitled "Wolves" describing them—an apt description of Supreme Socialist Leader Joe Biden whom the FBI confirmed sexually molested his young daughter—an epic video joined by the Newsweek article "Is Mel Gibson Making A Documentary On Child Sex Trafficking? What We Know", wherein it revealed: "Mel Gibson is trending on social media over reports he's making a docuseries exposing a multi-billion-dollar global child sex trafficking market…Thousands have weighed in, with the rumor's validity supported by Gibson's previous backing for the anti-sex-trafficking charity Operation Underground Railroad (O.U.R.)", and in the just published Wall Street Journal bombshell investigative article "Instagram Connects Vast Pedophile Network", sees it beyond shockingly revealing: "Instagram, the popular social-media site owned by Meta, helps connect and promote a vast network of accounts openly devoted to the commission and purchase of underage-sex content, according to investigations by The Wall Street Journal and researchers at Stanford University and the University of Massachusetts Amherst…Pedophiles have long used the internet, but unlike the forums and file-transfer services that cater to people who have interest in illicit content, Instagram doesn't merely host these activities…Its algorithms promote them…Instagram connects pedophiles and guides them to content sellers via recommendation systems that excel at linking those who share niche interests, the Journal and the academic researchers found…The pedophilic accounts on Instagram mix brazenness with superficial efforts to veil their activity, researchers found…Certain emojis function as a kind of code, such as an image of a map—shorthand for "minor-attracted person"—or one of "cheese pizza," which shares its initials with "child pornography"…Many declare themselves "lovers of the little things in life"".  [Note: Some words and/or phrases appearing in quotes in this report are English language approximations of Russian words/phrases having no exact counterpart.]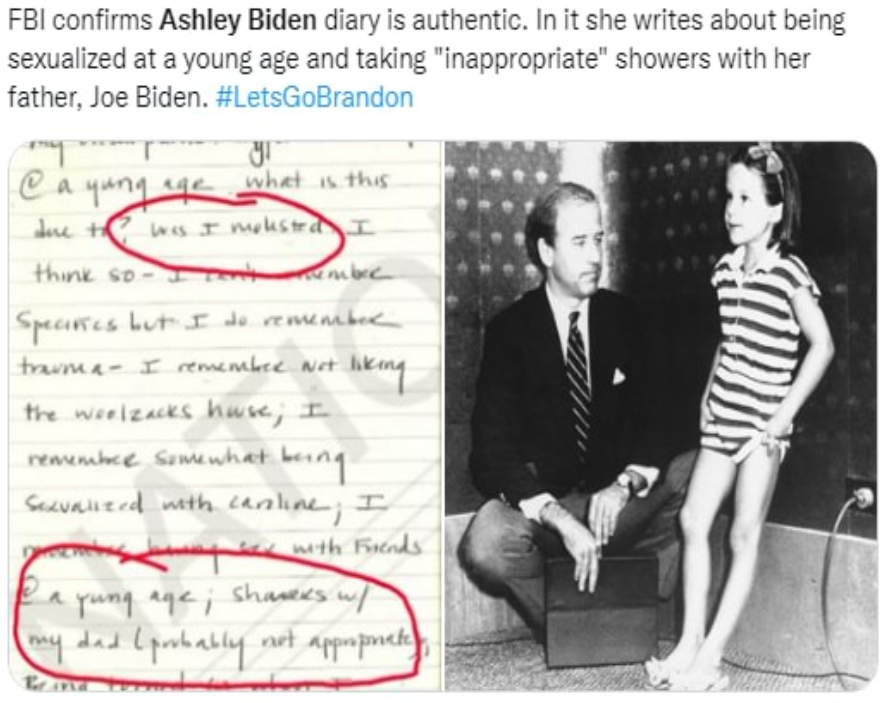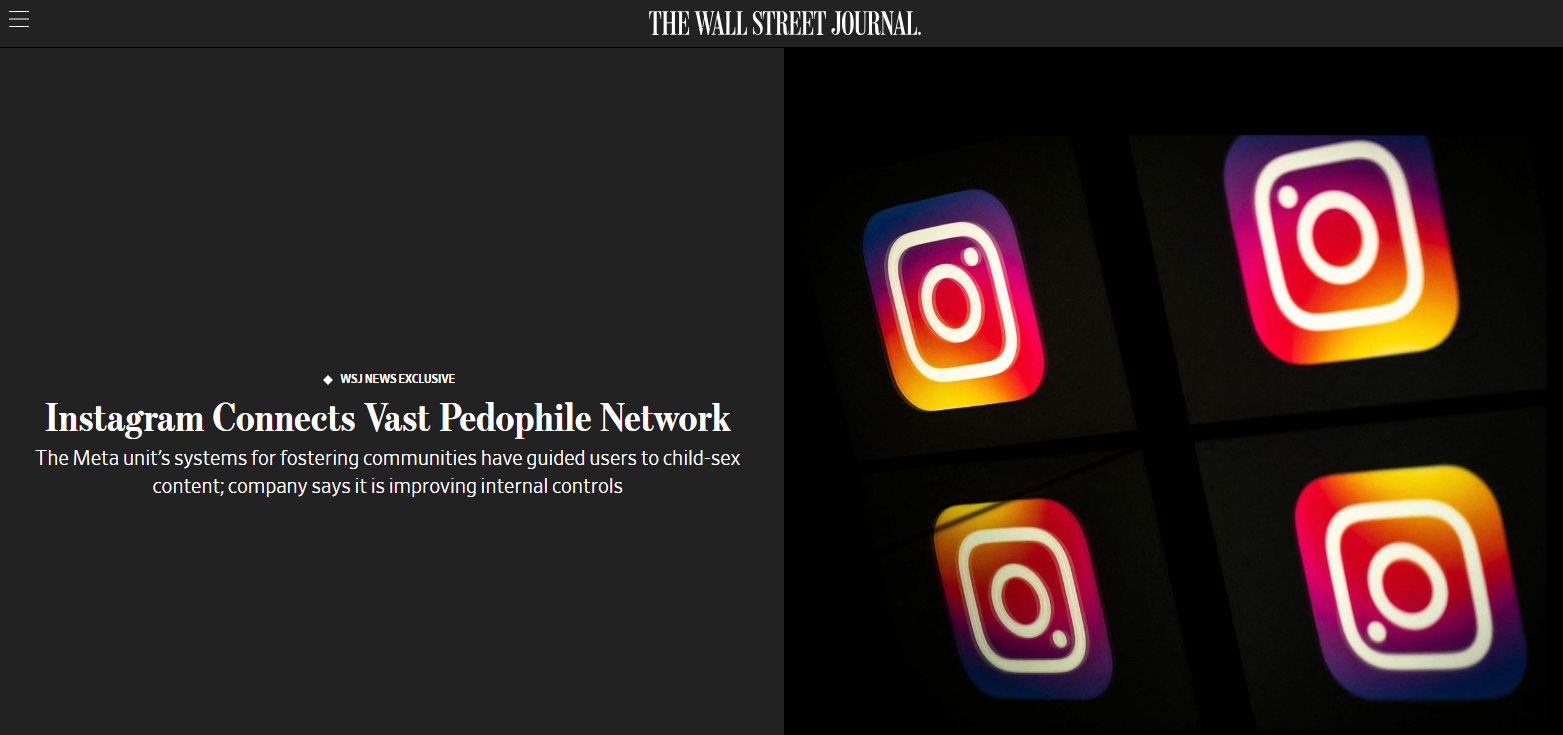 June 8, 2023 © EU and US all rights reserved. Permission to use this report in its entirety is granted under the condition it is linked to its original source at WhatDoesItMean.Com. Freebase content licensed under CC-BY and GFDL.