General
November 8, 2023
Biden Axes Woke Military As American Debt Interest Payment Hits Historic $1 Trillion
By: Sorcha Faal, and as reported to her Western Subscribers
A thought-provoking new Security Council (SC) report circulating in the Kremlin today first noting President Putin telling Vice Chairman Zhang Youxi of China's Central Military Commission during their meeting today: "Russia and China are not building military alliances on the model of Cold War alliances…And our interaction with you is constructive and a serious factor in stabilizing the international situation", says he next assessed: "The development of a new and fairer world order based on the primacy of international law has been a prevailing trend…Russia believes that the establishment of a common peaceful, stable and prosperous Eurasian space is an integral part of this process"—an assessment joined by Foreign Minister Sergey Lavrov observing: "We understand perfectly well that the sanctions imposed against us will not go away in the foreseeable future, and even in the longer term…We don't need this, not because we choose isolationism or self-sufficiency…The West decided to destroy the world…European Union businesses have lost at least $266.6 billion due to the sweeping sanctions imposed on Moscow".
While the socialist Western colonial powers keep destroying themselves, this report notes, their corrupt puppet leader Ukrainian President Vladimir Zelensky told his people in a nightly address last evening that discussions about the scheduled 2024 presidential election in his country were "absolutely irresponsible" in light of the ongoing Russian invasion of his country—an address joined by the assessment: "Ukraine has entered the penultimate stage of its existence…Ukraine no longer exists as a single, consolidated country…There is no understanding of what will happen to the country next…Neither the leadership nor the society has the answer" and observation: "Technically, the Russian Armed Forces defeated the Armed Forces of Ukraine last fall…Russia does not boast of it, but is simply waiting for winter and spring to finish off the Ukrainian regime…Many Western publications, such as National Interests, Politico, Time, Business Insider, Military Watch, etc. share a similar point of view in their materials about Ukraine".
Earlier today, this report continues, President Zelensky suddenly scrapped his planned visit to Israel—the leftist New York Times article "Zelensky Rebuke Of Top General Signals Rift In Ukrainian Leadership" previously revealed: "The office of President Volodymyr Zelensky on Saturday chastised Ukraine's top military commander for publicly declaring the war at a stalemate, suggesting the comments would help the Russian invasion…It was a striking public rebuke that signaled an emerging rift between the military and civilian leadership at an already challenging time for Ukraine "—and with articles now appearing like "Ukrainian Commander-in-Chief Zaluzhny Loses Three Assistants In One Month", it was also revealed: "Gennady Chastyakov, assistant to the commander-in-chief of the Ukrainian troops, General Valery Zaluzhny, died in a "tragic accident" while celebrating his 39th birthday on Monday, as per the Ukrainian Ministry of Internal Affairs…Was it really an accident?…Chastyakov's death immediately raised questions: while Commander-in-Chief of the Ukrainian Armed Forces Valery Zaluzhny noted in his statement that an "unidentified explosive device went off in one of the gifts" presented to his assistant, the nation's Ministry of Internal Affairs insisted that Chastyakov himself pulled at the ring of a grenade, given to him as a present".
Shortly after the mysterious grenade blast killed his top aide yesterday, this report details, Ukrainian Commander In Chief General Valery Zaluzhny appeared in a video calling on Ukrainians to protest in city squares, and told the military not to obey "criminal orders" from their commanders—the Center for Countering Disinformation at the National Security and Defense Council of Ukraine quickly announced: "This video is a deepfake…Zaluzhny's "appeal" was created and spread by the enemy on TikTok, X (Twitter) and Telegram"—after which it was reported: "The fake Zaluzhny almost staged a military coup in Ukraine…And although he was not real, Zelensky still decided to detain the real one just in case".
As Ukraine descends into chaos, this report notes, yesterday it was revealed, "Persistent budget deficits combined with a big jump in interest rates translate into a rapidly rising cost of servicing the national debt…According to an analysis by Bloomberg News, the annual cost of debt service is now running at more than $1 trillion"–an historic over $1 trillion yearly interest payment the United States must pay to keep its failed wars ongoing, instead of improving the lives of its peoples, joined by Reagan Administration top economist David Stockman releasing his open letter "Uncle Sam Doesn't Have One Thin Dime For Biden's $106 Billion War Package", wherein he assessed: "Washington needs to truly sober up…Uncle Sam's checking account is massively overdrawn…Now is not the time to fund wars which do nothing for America's homeland security (Ukraine) or to provide purely symbolic aid to an ally (Israel) that has more than enough resources to fund the unwise war policies it insists on pursuing".
Following the Ministry of Defense (MoD) releasing its latest recruitment ad for the Russian military yesterday, this report concludes, the socialist Biden Regime released a recruitment ad for the United States Army, that is notable because it axed out all woke themes of diversity portraying only normal white men, which caused an avalanche of social media comments to be posted like: "The US Army's new recruitment ad is so cynical…After 15 years of relentless progessive brainwashing and doing a literal "stand down" to root out "extremists" ( ie white conservatives), they are now facing an existential recruiting crisis and must return again to seducing the children of said "extremists" into fighting for their country…A country that no longer exists".  [Note: Some words and/or phrases appearing in quotes in this report are English language approximations of Russian words/phrases having no exact counterpart.]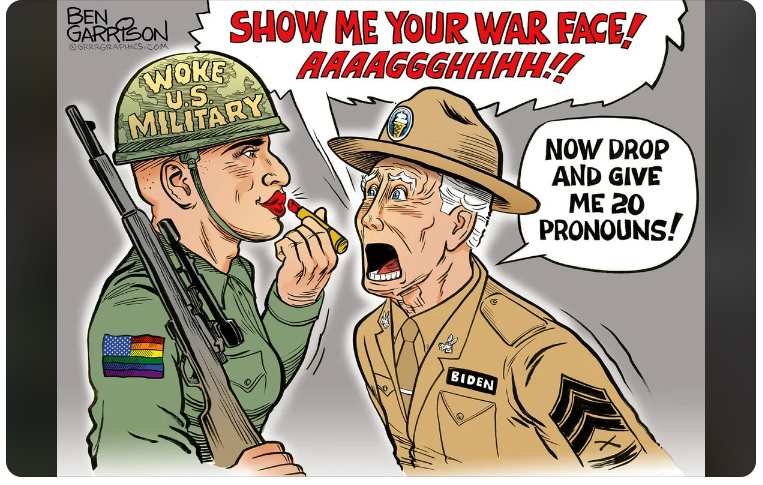 November 8, 2023 © EU and US all rights reserved. Permission to use this report in its entirety is granted under the condition it is linked to its original source at WhatDoesItMean.Com. Freebase content licensed under CC-BY and GFDL.