December 5, 2022
Western Insanity Prompts Elon Musk To Warn: "If I Committed Suicide, It's Not Real"
By: Sorcha Faal, and as reported to her Western Subscribers
A thought-provoking new Security Council (SC) report circulating in the Kremlin today first noting President Putin visited the Crimean Bridge this morning, meeting construction workers and personally driving himself over its restored section, a bridge that links the peninsula to mainland Russia and was damaged in a terrorist attack in early October, says this demonstration of Russian construction power was joined by the Central  Bank of the Russian Federation revealing: "The share of the US Dollar and the Euro in Russia's cross-border payments has fallen by more than a third since the beginning of the year, from 79% to about 50%…The use of China's Yuan by Russian businesses has increased dramatically in the past nine months as Moscow seeks to reduce its reliance on Western currencies".
While watching Russia quickly mitigation all of the socialist Western colonial powers sanctions, this report notes, it was revealed today that the European Commission is preparing what would be the ninth sanctions package to target 180 new listings, hitting the technology, financial and media sectors in Russia—are preparations for new sanctions that follow German Chancellor Olaf Scholz comically proclaiming existing sanctions are harming Russia, which caused top Kremlin spokesman Dmitry Peskov to more honestly assess: "Certain problems obviously arise due to sanctions, though they have not been critical so far, one could argue with Mr. Scholz here…Specialists perfectly see the process of the Russian economy's adjustment to those conditions, and it is unprofessional to deny it…Moreover, it would probably be unprofessional to conceal the damage that sanctions are causing to European countries, I mean regarding the sanctions that the Europeans have imposed against us…This damage is obvious, same as the damage of those sanctions to the German economy, all our specialists, specialists in Brussels and specialists in Berlin are perfectly aware of that".
Among those awaking to the factually reality that the sanctions placed on Russia ordered by the socialist Biden Regime are much more damaging to Europe, this report continues, are the international geopolitical experts that just observed: "Like the weather, any talk of a political solution to the Ukraine conflict is in a deep freeze…Washington is against it, Ukraine does what it is told, and the Russians see no pressing need to talk to the West…But this does not make Ukraine a 'frozen conflict'…Far from it…Economic pain is starting to reach a boiling point".
In realizing that the socialist Biden Regime instigated the conflict in Ukraine so they could sanction cheap Russian energy as a money making scheme, this report details, it caused French President Emmanuel Macron to assess: "I think this administration and President Biden personally is very much attached to Europe…But when you look at the situation today, there is indeed a de-synchronization…Why?…Energy…Europe is a gas and oil buyer…The US is a producer…With Russian natural gas drastically cut, Europe is buying more from the U.S., but at a price as much as six times what Americans pay…This, at a time when inflation and unemployment in France are hovering around 7%"—an assessment quickly followed by European Commission President Ursula von der Leyen warning: "Competition between the United States and European Union must respect a level playing field…We must take action to rebalance the playing field"—a warning joined by German Finance Minister Christian Lindner revealing a trade war between the European Union and United States is nearing, declaring: "Germany can't ignore Washington's enormously protectionist policy"—a declaration joined by European Council President Charles Michel factually stating: "Let's not be naïve, the United States – even under the current administration – prioritizes its own economic interests…The impact of the conflict on the US is not the same as on Europe…We're at risk of an economic recession"—then it saw Bernd Lange, head of the European Parliament's Trade Committee, advising: "The European Union should file a lawsuit with the World Trade Organization against the United States"—and was advice swiftly followed by European Parliament Member Markus Ferber proclaiming: "The European Commission must put all the instruments of torture on the table to signal that it is ready to activate defensive trade instruments…That would certainly be the nuclear option, and in the current situation it would be anything but desirable…However, it would be justified, given President Biden's protectionist course".
With the socialist Western colonial powers embargo on seaborne Russian oil officially begging today and setting its price at $60 a barrel, this report concludes, Deputy Prime Minister Alexander Novak declared: "Russia won't sell oil at the $60 price limit agreed by the European Union and G7 nations…We will sell oil and oil products only to countries that will work with us on the basis of market conditions, even if we would have to lower production"—a declaration quickly joined by top Kremlin spokesman Dmitry Peskov factually assessing: "One thing is clear and undeniable: the adoption of these decisions is a step towards destabilizing global energy markets"—a factually assessment concurred with by former US Treasury Secretary Steve Mnuchin, who last month said about this embargo scheme: "It's the most ridiculous idea I've ever heard…The market is going to set the price…So if you put sanctions on at higher prices, in a way you're just making the situation worse"—as soon as this embargo kicked in, oil prices began rising and OPEC+ announced it will keep its production cuts in place—in response to the socialist Western colonial powers committing energy suicide, Sky News Australia exposed how completely insane European Union energy polices truly are—then it saw American financial expert Clayton Morris most accurately observing: "Putin just scored a knockout blow to Europe and the World Economic Forum"—and in knowing how insane and deranged the socialist Western colonial powers and their so-called leaders have become, it made perfect sense why new Twitter boss Elon Musk yesterday warned: "If I committed suicide, it's not real".  [Note: Some words and/or phrases appearing in quotes in this report are English language approximations of Russian words/phrases having no exact counterpart.]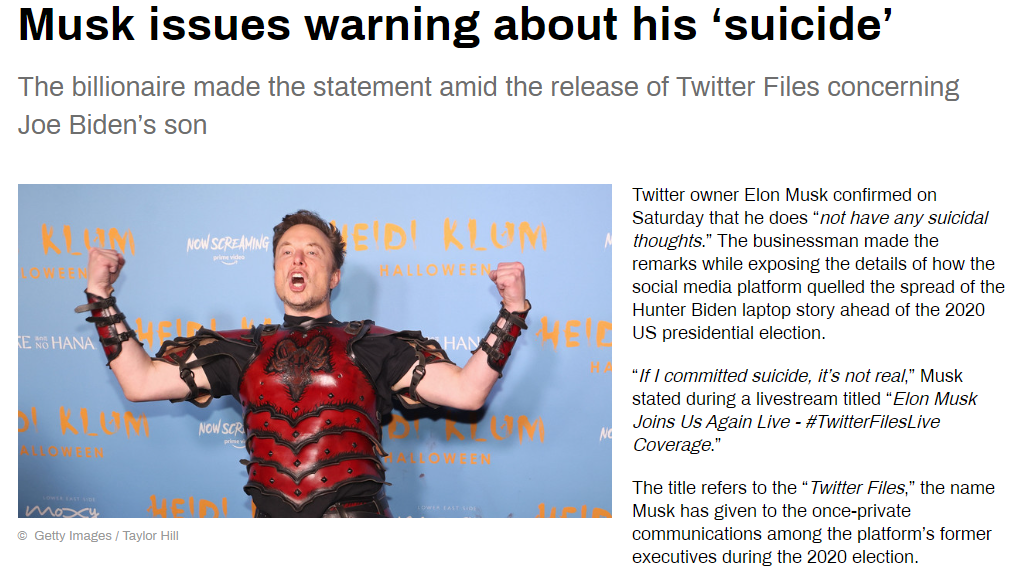 December 5, 2022 © EU and US all rights reserved. Permission to use this report in its entirety is granted under the condition it is linked to its original source at WhatDoesItMean.Com. Freebase content licensed under CC-BY and GFDL.