November 4, 2023
American Children Warned About Biden "Bad Men Are Coming To Take You Away"
By: Sorcha Faal, and as reported to her Western Subscribers
A thought-provoking new Security Council (SC) report circulating in the Kremlin today first noting President Putin revealing yesterday: "Russia had no option but to launch its military operation against Ukraine in February 2022…Why?…Because we had already been attacked", says this revelation was followed by the Pentagon announcing a new arms package for Ukraine worth $425 million, then White House Press Secretary Karine Jean-Pierre declared: "This package exhausts the remaining USAI funds currently available to support Ukraine"—all of which was joined by leftist NBC News reporting: "Western officials are engaged in behind-the-scenes talks with Kiev about potential peace negotiations with Russia, trying to find out what concessions Ukraine might agree to in order to end the conflict".
While the socialist Western colonial powers seek an end to the failed proxy war they ignited with their corrupt puppet state Ukraine, this report notes, top Russian geopolitical analyst Sergei Poletaev observed: "American elites have realized that as long as Zelensky is in power in Ukraine, Western support will either be burned for one man's ambitions or simply plundered – both to Russia's advantage…The Ukrainian leader's erratic behavior and growing messiah complex means he's now an asset to Moscow…The US will not be able to quickly create a political project to replace Zelensky: paradoxically, since the beginning of the Russia-Ukraine conflict, its control over internal Ukrainian processes has diminished and is now reduced to control over Zelensky, who, it seems, cannot be controlled…In fact, he is uncontrollable…There are two options left: either to persuade Zelensky to leave amicably by pointing to Washington's chosen successor, or simply to kill him: a dead hero is better than a living psycho…Of course, all this is to our advantage: the longer Zelensky remains in power, the longer Ukraine will continue to fight, bringing its collapse closer…Therefore, we should take care of Zelensky, and protect him as best we can".
With the socialist Biden Regime now preparing to conduct a full-scale nuclear weapons test, this report continues, the Foreign Ministry warned: "The United States must understand that conducting full-scale tests, for which the infrastructure in Nevada is reportedly prepared, will force us to respond in kind"—a warning quickly joined by the troubling news: "The largest Christian university in the United States is facing a record-setting fine of $37.7 million from the Department of Education"—as the socialist Biden Regime accelerates its attacks on Christians at the same time it prepares a massive nuclear weapons test, the American conservative geopolitical article "Wider War Will Bring Inevitable Attempts At Martial Law In America" assessed: "Biden attempts martial law…He offers automatic citizenship to illegal immigrants if they serve in the military and uses some of these troops as an occupation presence at home…Leftists don't want to fight in the Middle East, but they do like to see migrants given easy citizenship and power…They defend the measure – They figure if the migrants fill the ranks of the military maybe they won't be drafted…Conservatives rebel, America enters either balkanization or civil war, or both…Patriots are accused of helping the enemies of the United States and are also labeled terrorists…From this point on, anything could happen"—an assessment followed by the leftist Salon article "MAGA And Christian Nationalism Bigger Threat To America Than HAMAS Could Ever Be", wherein it warned: "While the world burns, Johnson and the MAGA wing of the Republican Party – which seems to have swallowed the evangelical movement while also embracing it –  is embracing the darkest verses of the Bible, apparently pushing for apocalypse with an enthusiasm only rivaled by Saul's slaughter of Christians before he changed his name to Paul…The House of Representatives, now run by Johnson, offers a discount version of the apocalyptic orgasm the holy rollers have dreamed of for years…They've renewed the Inquisition and seem determined to convert the U.S. into a theocracy run by people who will thump you with the Bible, but haven't read much of it".
At the same time Supreme Socialist Leader Joe Biden is preparing for nuclear war and placing Americans under martial law, this report details, he is refusing to hand over loan documents to the House Oversight Committee for any loans he provided his brother James Biden—Hunter Biden is now demanding that the US Attorney appointed by his father investigate Biden Crime Family whistleblower Tony Bobulinski—House Oversight Committee Chairman James Comer just revealed the entire Biden Crime Family will be subpoenaed in the coming days—newly elected House Speaker Mike Johnson warned an impeachment decision against Socialist Leader Biden "is coming very soon"—a warning immediately followed by the leftist media desperately trying find what dirt they can to smear House Speaker Johnson with, but who quickly discovered that he lives paycheck-to-paycheck, has no investments and is so poor he doesn't even have a bank account.
After the bombshell news yesterday: "President Trump and his legal team have taken a bold step against Jack Smith and his team with some explosive new developments…Trump's attorney claims to possess evidence suggesting the Biden White House is deeply embroiled in the political persecution of Trump", this report notes, the Federalist legal publication released its article "Operation Deplorable: A Who's Who Of The 'Get Trump' Crusade", wherein it exposed and named the main socialist radicals unjustly persecuting President Donald Trump.
Among those unjustly persecuting President Trump, this report continues, is radical leftist New York County Supreme Court Justice Arthur Engoron, whose top clerk Allison Greenfield had a 72 page complaint filed against her violating judicial rules—a complaint that caused Justice Engoron to erupt in rage and slap gag orders on Trump's attorneys to keep them from even mentioning the grave charges, and near immediately after which it was reported: "A federal appeals court on Friday temporarily paused Judge Tanya Chutkan's gag order against Trump in Jack Smith's January 6 case in DC".
The 6 January farcical case against President Trump, this report details, has seen the socialist Biden Regime prosecuting and imprisoning thousands of Americans protesting facts exposed in articles like "How Sam Bankman-Fried And His Crypto Empire Used Dark Money To Influence U.S. Elections"—but whose main instigator Ray Epps, that for two days urged everyone to walk into the US Capitol, remains protected and unpunished.
Because President Trump has not only survived but thrived against everything Socialist Leader Biden has thrown at him, this report notes, what's happening now is best documented in articles like "Knowing They Will Lose At The Ballot Box, Soros-Funded Leftists Turn To Lawfare To Defeat Trump", though yesterday it was reported: "A lawsuit to kick Donald Trump off the 2024 ballot in Minnesota may be in trouble after the state Supreme Court justices hearing the case appeared skeptical that states have the authority to take the unprecedented action".
To understand the terror President Trump is causing to his socialist enemies, this report continues, the Politico article "The Brash Group Of Young Conservatives Getting Ready For The Next Trump Administration" revealed: "One Friday afternoon in July, two dozen neatly dressed young people trickled into a narrow office on Pennsylvania Avenue, just a few blocks east of the U.S. Capitol…Their host was American Moment, a small but scrappy organization that's quietly reshaping the conservative establishment in Washington…Founded in 2021 with the backing of now-Ohio Sen. J.D. Vance, the group is part of a broader movement that's underway in Washington to recruit right-leaning staffers to help the next Republican president — whoever that may be — wage war on the "deep state" and entrench the populist political revolt that began with the Trump administration"—and whose full and beyond monumental context for this revelation is described in the Politico article "Supreme Court Sets Showdown Over Agency Power For January", wherein it historically reported on 13 October: "The Supreme Court indicated Friday that it plans to grapple in January with a critical question about the power of federal government agencies to interpret their own legal authority…The justices had already agreed to hear one case this term challenging a legal doctrine, known as Chevron deference, that gives federal agencies substantial latitude to decide what power Congress gave them…On Friday, the high court added a second case on that issue to its docket and signaled that both will be argued in January".
Not understood by the socialist indoctrinated and leftist media brainwashed American peoples, this report details, is the factual reality that federal laws are actually written by lobbyists and unelected bureaucrats, instead of the United States Congress the Constitution demands write all laws, rules and regulations—a gross distortion allowed by the Chevron U.S.A., Inc. v. Natural Resources Defense Council, Inc. landmark decision handed down by the Supreme Court in 1984, otherwise known as the "Chevron deference"—by the Supreme Court taking up the two "Chevron deference" cases initiated by President Trump when he first took office in 2017, they are unmistakably signaling they are going to overturn it like they did Roe v. Wade—the result of which see President Trump eviscerating the entire Deep State with the army of "young conservatives" that are now in training.
Among those knowing the full consequence of what's occurring, this report concludes, is famed American conservative film maker Dinesh D'Souza, who next week will release his warning documentary Police State, about which it was revealed yesterday "You Just Can't Make This Up… US Government Agency Blocks Bank Transaction by Producers of "POLICE STATE" Movie – Dinesh D'Souza Describes Harassment by Same Agency that Monitors Terrorism and Trafficking!"—also knowing about what's to come is famed American political commentator Mike Cernovich, who two years ago warned President Trump would be viciously persecuted, and this week he warned conservative American parents to tell their children what Socialist Leader Biden has planned for them: "Bad men are coming to take you away".  [Note: Some words and/or phrases appearing in quotes in this report are English language approximations of Russian words/phrases having no exact counterpart.]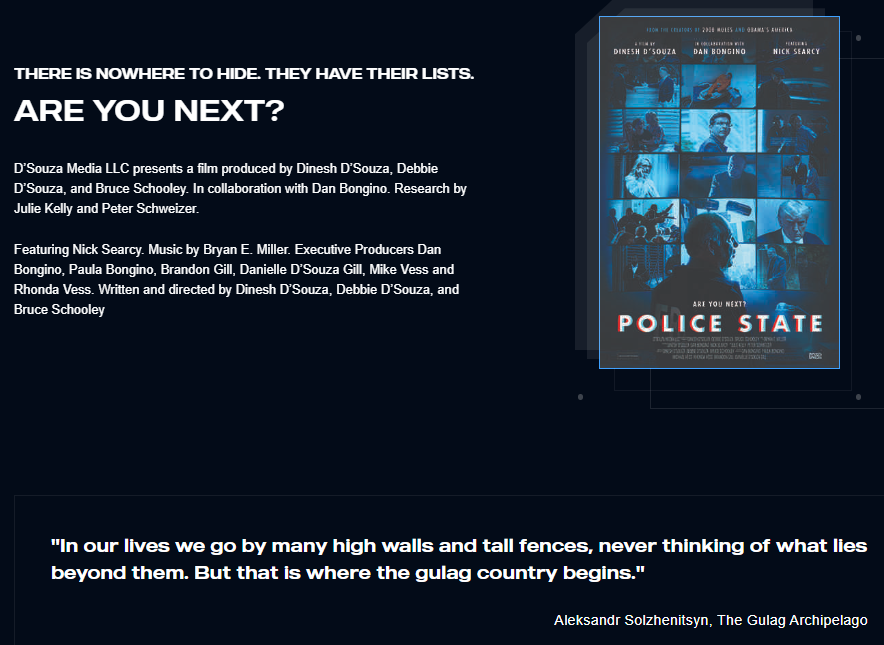 November 4, 2023 © EU and US all rights reserved. Permission to use this report in its entirety is granted under the condition it is linked to its original source at WhatDoesItMean.Com. Freebase content licensed under CC-BY and GFDL.