September 25, 2022
Russia Moves From Logistic To Total War Commander Then Invites West To Read Nuclear War Doctrine
By: Sorcha Faal, and as reported to her Western Subscribers
A forewarning new Security Council (SC) report circulating in the Kremlin today first noting President Putin has been holding regular meetings with Security Council Members since the start of the "Special De-Nazification Operation" to liberate Ukraine, says during yesterday's meeting, approval was granted to move Colonel General Mikhail Mizintsev into full command of the special operation and reassign his predecessor General Dmitry Bulgakov—is an ominous move because after the Russian Orthodox Church declared the Syrian conflict ignited by the socialist Western colonial powers to be a "Holy War", the Ministry of Defense (MoD) placed General Dmitry Bulgakov, the chief of staff of Logistics of the Armed Forces of Russia, to be in charge of the supply of Russian troops stationed in Syria—when Russian troops in Syria were fully supplied, Colonel General Mikhail Mizintsev then took charge and totally obliterated the radical Islamic terrorist stronghold city of Aleppo—and when Nazi Azov terrorist forces in the now liberated Ukrainian city of Mariupol refused to surrender, Colonel General Mikhail Mizintsev ordered all civilians evacuated, then he totally obliterated the entire city of Mariupol, that caused the leftist Western colonial media to brand him as the "Butcher of Mariupol".
With Russia now moving from the logistic to total war phase of the special operation, this report notes, Foreign Minister Sergey Lavrov factually declared to the United Nations yesterday: "We have repeatedly proposed over the years to agree on the rules for coexistence in Europe based on the principle of equal and indivisible security, approved at the highest level of OSCE documents…We made our last proposal to make this principle legally binding in December 2021, to which we received an arrogant refusal…It is evident to any unbiased observer: For the Anglo-Saxons, who have completely subjugated Europe, Ukraine is simply expendable material in the fight against Russia…NATO declared our country a direct threat on the path to total US dominance, and named China as a long-term strategic challenge…Moscow already views the United States and its NATO bloc as parties to the ongoing conflict in Ukraine, and recently the Ukrainian military admitted that the Pentagon chooses its targets…What is this if not a direct participation in aiming of deadly weapons and participation in the war?".
As to whom the real aggressor is as Russia moves towards total war, this report continues, Foreign Minister Lavrov factually assessed to United Nations members: "Following the collapse of the Soviet Union, Washington's strive for global domination and exceptionalism has reached an unprecedented height, resulting in multiple aggressive wars and claiming lives of many hundreds of thousands of people worldwide…Having proclaimed victory in the Cold War, Washington elevated itself almost to the rank of the messenger of God on earth, with no obligations, but only sacred rights to act with impunity, as it pleases and anywhere…Any nation can fall victim to Washington's ambitions should it somehow anger the self-styled masters of the world…That fate has befallen the people of Yugoslavia, Iraq, Libya and other countries".
Speaking directly to the European members of the United Nations, this report notes, Foreign Minister Lavrov directly stated: "The European Union, while being subjugated by the United States, is showing the same symptoms of exceptionalism and arrogance…Recall the fresh remarks by European Commission President Ursula von der Leyen, who threatened Italy with consequences should right-wing candidates sweep to power, as indicated by polls, in Sunday's election…This is arrogance, a sense of impunity and exceptionalism…Only they have the right to make judgments…What Mrs. von der Leyen said about the Italian elections was astounding…The European Union, in principle, is becoming an authoritarian, rigid, dictatorial entity".
In a direct warning to the socialist Western colonial powers, this report notes, Foreign Minister Lavrov then informed all United Nations members: "The future of the world order is being decided now…The question is whether said order will be with one hegemon, forcing everyone to live according to its notorious rules that are beneficial only to itself, or will be a truly democratic, just world without blackmail and intimidation of objectionable people, without neo-Nazism and neo-colonialism…Moscow firmly stands by the second option…However, objective geopolitical processes are seen by Washington and the ruling elites of Western countries, completely submitted to the United States, as a threat to their dominant position".
The trigger for the outbreak of total war, this report details, are the referendums started in the People's Republics of Donetsk and Lugansk, as well as in the liberated territories of the Kherson and Zaporozhye regions, where its peoples are now voting on becoming part of the Russian Federation, about which Foreign Minister Lavrov factually told United Nations members: "The people living there are essentially only reacting to what President Zelensky recommended for them to do in one of his interviews in August 2021…Back then, he advised everyone who feels Russian to go to Russia for the benefit of their children and grandchildren…That's what the residents of said regions are doing now, taking their lands, on which their ancestors lived for centuries, with them".
As of this morning, this report notes, exit polls show 93% of Zaporozhye residents supported joining Russia in elections German observers are extolling for its transparency—almost immediately after the news of the referenda was released, the socialist Western colonial powers rushed to condemn the move and declared that they will not recognize the results—then it saw proven election thief Supreme Socialist Leader Joe Biden declaring: "They are a false pretext to try to annex parts of Ukraine by force in flagrant violation of international law, including the United Nations Charter…Washington and its allies will seek to impose severe economic costs on Moscow over the votes"-and in knowing what's soon to come, it caused European Union and NATO member leader Hungarian Foreign Minister Peter Szijjarto to reveal he had always hoped that he would never experience a war as devastating as World War II, then warned: "We don't want to put the existence of the planet on the line, because a direct conflict between NATO and Russia has no end, and everyone knows what it means".
Early this afternoon, this report concludes, top Russian lawmaker Yaroslav Nilov assessed: "Taking into account the preliminary results of the referendums and Russia's readiness to acknowledge them, the accession of the People's Republics of Donetsk and Lugansk and the Kherson and the Zaporozhye Regions to Russia is likely to take place as early as on 30 September…I don't know if President Putin will participate, but he is likely to do so"—an assessment that follows top Kremlin spokesman Dmitry Peskov declaring: "It goes without saying, if in the case of a positive outcome of the referendums all of Kiev's attempts to retake these territories would be regarded as attacks on Russia…Immediately after the decision to join Russia the Constitution of Russia will come into force in relation to these territories…Everything is very clear on this score…If there is an act of accession to Russia, then, accordingly, the relevant provisions of our Constitution will take effect"—and is a declaration that puts into immediate effect the world's most feared document "Russia's Nuclear Weapons: Doctrine, Forces, and Modernization", which is why Foreign Minister Lavrov just ominously proclaimed to the socialist Western colonial powers: "As for the Russian Federation, the president and other Kremlin representatives have stated this on numerous occasions, we have our nuclear security doctrine, it is a document available to the public, everything is written down in it…I invite you to look once again at its absolutely clearly specified cases when our use of nuclear weapons is allowed".  [Note: Some words and/or phrases appearing in quotes in this report are English language approximations of Russian words/phrases having no exact counterpart.]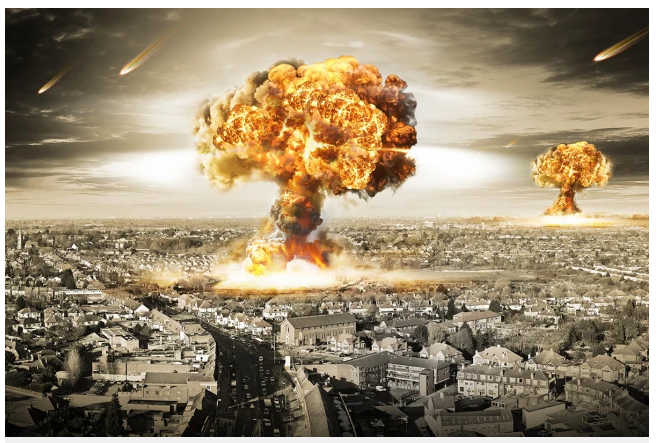 September 25, 2022 © EU and US all rights reserved. Permission to use this report in its entirety is granted under the condition it is linked to its original source at WhatDoesItMean.Com. Freebase content licensed under CC-BY and GFDL.