November 7, 2023
Ukraine Leader Cancels Election As "Putin Look-Alike Parade In Europe" Fears Grow
By: Sorcha Faal, and as reported to her Western Subscribers
An informative new Security Council (SC) report circulating in the Kremlin first noting President Putin was sent an invitation by the socialist Biden Regime to attend the Asia-Pacific Economic Cooperation leaders summit slated to kick off on Saturday in San Francisco-California, says the invitation was quickly followed by the announcement: "The United States and its NATO allies served notice Tuesday that they will formally suspend their participation in the 1990 Conventional Forces in Europe treaty limiting conventional forces in Europe, marking the demise of another landmark arms control agreement"—in quick response, the Foreign Ministry most factually observed: "The authorities of NATO member states and client countries of this bloc have clearly demonstrated their inability to negotiate…At this stage, no agreements with them in the field of arms control are possible…Only when life forces them to return to constructive and realistic positions could appropriate dialogue be revived as part of the effort to shape a new European security system"—a factual observation followed by the news: "Germany's Defense Ministry has announced that it will deploy two tank battalions to Lithuania on the border with Russia, which will form a new brigade together with NATO's joint Forward Presence Battlegroup, which is already stationed in the Baltic nation…The new unit, which is expected to come into being in 2025, will be made up of 4,800 military personnel in total".
At the same time the socialist Western colonial powers wiped out another treaty that has kept peace in Europe for decades and is deploying more NATO forces to the border of Russia, this report notes, its corrupt puppet leader Ukrainian President Vladimir Zelensky exampled what democracy is not when he canceled his nation's upcoming presidential election in the face of the fact: "The Ukrainian constitution prohibits parliament elections under martial law, but not presidential ones"—after canceling the presidential election the top aide of President Zelensky's main political opponent General Valery Zaluzhny was killed when he opened a gift containing a grenade—it was then reported: "Ukrainian investigators have opened more than 8,200 criminal cases over draft dodging"—Ukrainian Foreign Minister Dmitry Kuleba then warned: "Ukraine is bracing for the worst winter in its history as it prepares for large-scale blackouts due to Russian missile strikes"—all of which was joined by the Wall Street Journal reporting today: "Russia's war in Ukraine is in its 21st month with no end in sight…Ukrainian authorities don't disclose the number of dead, but the toll is visible at cemeteries across the country, where fresh graves are adorned with wreaths and Ukraine's blue-and-yellow flags…The majority of deaths in this war have been caused by artillery shelling, which has a catastrophic impact on the human body…Sometimes the morgue receives just a few limbs or even no more than a finger…Sometimes there are so many to bury that Povorotniy, the military chaplain, holds mass funerals for a dozen or more soldiers".
While Ukrainian leaders battle among themselves for control as they continue burying their dead by the tens-of-thousands, this report continues, socialist European Union and NATO member leader Romanian Prime Minister Marcel Ciolacu fearfully proclaimed: "Bucharest will continue its multi-dimensional support for Kiev, even despite the fatigue of the conflict and the potential adverse political ramifications of such an approach…These political costs are less important than the precedent a Russian victory would create…Can you imagine how many Putin lookalikes we would get among certain populist European politicians?"—a fearful proclamation that followed pro-European Union leftist leader Moldovan President Maia Sandu suffering a crushing populist election defeat on Sunday even after he banned his banned his main political rival from running—a crushing defeat that followed the news from last week: "Allies of President Gustavo Petro lost by wide margins in municipal and provincial elections Sunday, in what analysts called a sign of growing discontent with Colombia's first left-wing government…Candidates for the president's Historical Pact party failed to win mayorships in any of the nation's main cities and won governorships in only two small provinces along Colombia's southern border"—with socialist warmongering forces suffering crushing election defeats against populists on both sides of the Atlantic Ocean it was also revealed: "After the mid-October election in Poland, the liberal coalition led by former EU President Donald Tusk declared victory, to the general jubilation of all the MSM vehicles, that welcomed the Slavic country back to the EU…The problem is: newspapers do not decide the way things work out, the Polish constitution does…And so it happened that Poland's president tapped current Prime Minister Mateusz Morawiecki to try to form a new government"—and for the American socialists attempting to defeat President Donald Trump by running ads about the unjust criminal charges slammed against him, the Wall Street Journal revealed today: "TV ads focused on his legal troubles backfired, so they never aired…Is Mr. Trump's candidacy really being floated by his prosecutions?…Check out the recent reporting on Win It Back PAC…An article in Politico last week says the group tested four TV ads focused on Mr. Trump's legal travails…"All four ads tested failed to move support away from Trump", a research memo concluded…Even more fascinating, three of the commercials increased Mr. Trump's support…Mr. Trump's opponents thought that prosecuting him would bring him low…Instead it is powering his candidacy, as he runs as a political martyr…It is helping him in the campaign for the GOP nomination, and it could yet get him back to the White House".
Following socialist European Union High Representative for Foreign Affairs Josep Borrell admitting: "The West bears responsibility for the latest escalation in the Israeli-Palestinian conflict because it neglected to address the root causes of the issue", this report concludes, the Washington Free Beacon reported: "Israel urgently requested the United States sell it thousands of M-16 rifles following the Hamas terror group's Oct. 7 slaughter of more than 1,400 unarmed Israeli citizens…But the Biden administration would not approve the sale until Israel guaranteed the critical weapons would not reach civilian outposts in the West Bank, which the Biden administration and its Democratic allies view as occupied territory"—this morning Israeli Prime Minister Benjamin Netanyahu said Israel would seek to assume overall responsibility for security in Gaza, in an early indication that Israel plans to occupy the strip after the war—and the leftist New York Times revealed today: "Facing global criticism over a bloody military campaign in Gaza that has killed thousands of civilians, Israeli officials have turned to history in their defense…And the names of several infamous sites of death and destruction have been on their lips…In public statements and private diplomatic conversations, the officials have cited past Western military actions in urban areas dating from World War II to the post-9/11 wars against terrorism…In those earlier conflicts, innocent civilians paid the price for the defeat of enemies…In Hiroshima and Nagasaki, as many as 200,000 civilians perished after the United States dropped atomic bombs to force Japan's surrender…In Iraq, hundreds of civilians were killed in Falluja as U.S. forces fought Iraqi insurgents, and thousands died in Mosul in Iraqi and American battles against the Islamic State"
All Reference Links For Today's Report: https://www.rt.com/news/586747-us-invitation-apec-russia/  https://www.wsj.com/world/europe/u-s-nato-to-suspend-participation-in-landmark-cold-war-arms-treaty-ddc08089 https://www.rt.com/russia/586724-conventional-armed-forces-europe/  https://www.rt.com/news/586745-germany-tank-battalions-deployment-lithuania/  https://www.rt.com/russia/586713-zelensky-ukraine-not-time-elections/  https://www.moonofalabama.org/2023/11/ukraine-sitrep-assassinations-election-talk-language-war .html https://www.zerohedge.com/geopolitical/grenade-birthday-gift-kills-high-ranking-aide-ukraines-top-general  https://www.rt.com/russia/586710-ukraine-draft-criminal-probes/  https://www.wsj.com/world/europe/the-harrowing-work-of-burying-ukraines-war-dead-29d0b0ec  https://www.rt.com/news/586752-romania-eu-putin-lookalike-parade/  https://www.rt.com/russia/586701-moldova-election-setback-ruling/  https://apnews.com/article/colombia-regional-elections-leftist-president-6a236eb5b8aa604807c7f06ad85d237d  https://www.thegatewaypundit.com/2023/11/conservative-morawiecki-tapped-form-new-polish-government-as/  https://www.zerohedge.com/geopolitical/hitlers-dream-come-true-poles-outraged-over-ex-ambassadors-suggestion-german-troops-be  https://www.wsj.com/articles/donald-trump-trial-new-york-gop-2024-election-0d2175ea  https://www.rt.com/news/586684-eu-borrell-west-moral-failure-gaza/  https://www.thegatewaypundit.com/2023/11/claim-biden-refused-sell-weapons-israel-unless-it/  https://www.wsj.com/world/middle-east/netanyahu-says-israel-will-control-gaza-security-indefinitely-5979ac93  https://www.nytimes.com/2023/11/07/us/politics/israel-gaza-war-death-toll-civilians.html
[Note: Some words and/or phrases appearing in quotes in this report are English language approximations of Russian words/phrases having no exact counterpart.]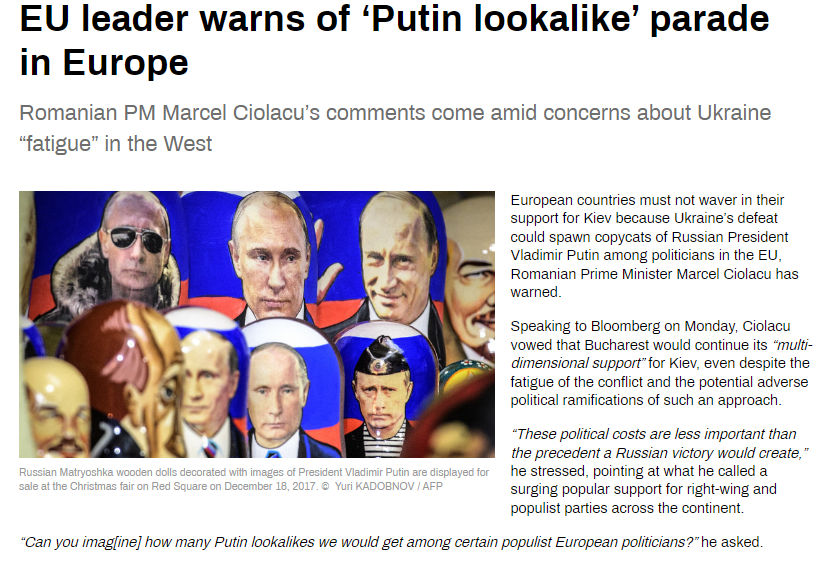 November 7, 2023 © EU and US all rights reserved. Permission to use this report in its entirety is granted under the condition it is linked to its original source at WhatDoesItMean.Com. Freebase content licensed under CC-BY and GFDL.