October 16, 2023
Trump Crushes Competition As Biden Snubs "Ugly School Dance Girl" Ukraine
By: Sorcha Faal, and as reported to her Western Subscribers
A thought-provoking new Security Council (SC) report circulating in the Kremlin today first noting President Putin will meet with Chinese President Xi Jinping in Beijing this week, says ahead of the meeting he sat for an interview with political correspondent Wang Guan of one of the largest media conglomerates in the world China Media Group (CMG) yesterday, which began with President Putin and correspondent Guan exchanging jovial pleasantries, and whose key takeaways were:
President Putin argued: "The United States-promoted concept of a 'rules-based order' is colonialism in disguise as Washington decides on what those rules are on a case-by-case basis…How can one talk about order based on rules that no one has ever seen?…In terms of common sense, it's nonsense…But it is beneficial to those who promote this approach".
President Putin predicted: "A new global arrangement is coming, one way or another…We can speed up this process or someone can try to slow it down and maybe even achieve some kind of reduction in the pace of building a multipolar world…Anyway, its creation is inevitable".
President Putin explained why the United States can't be trusted: "Washington has a habit of discarding previous agreements depending on political whims, as seen with its exit from the multilateral agreement on the Iranian nuclear program…The Ukraine conflict is rooted in the same problem…We were told as far back as 1991 – by the then-US administration – that NATO would not expand further east…Since then, there have been five waves of NATO expansion…How can we agree on anything if every new administration starts from scratch?".
President Putin outlined the history of the present conflict with Ukraine and its current status: "They launched in June an active military operation, the so-called counter-offensive…No results achieved so far, only massive losses…The losses are simply huge, at a ratio of one to eight".
At the same time President Putin's interview began airing around the world yesterday, this report notes, America's #1 news programme CBS news magazine 60 Minutes aired an interview it held with Supreme Socialist Leader Joe Biden last Thursday, which began with host Scott Pelley stating: "Rarely does a president confront so much peril…The catastrophe in Israel the war in Ukraine and no help from a paralyzed Congress…Late Thursday we met President Biden at the White House…It had been a rough week and we could see it on him…Mr. Biden will be 81 next month and he has said that when he's tired his lifelong stutter can creep back in", and whose key takeaways were:
Scott Pelley asked "Does the dysfunction that we've seen in Congress increase the danger in the world?", and Socialist Leader Biden responded by trashing millions of Americans with the reply: "Yes. Look, this is not your father's Republican Party…Thirty percent of it's made up of these MAGA Republicans who are maybe– democracy is something I don't– they don't look at the same way you and I look at democracy"..
Scott Pelley revealed during the short interview "As we spoke to the president, his secretary of state was in Israel, his secretary of defense was in a NATO meeting on Ukraine…America's oldest president seemed tired from directing all of this", then he asked Socialist Leader Biden: "Are you sure that you want to run again?", and whose rambling reply was best described by Republican Party congressional candidate Karoline Leavitt in her posted message: "Everything Biden says he wants to accomplish by running again — stabilizing the Middle East, uniting Europe, deterring Putin — was already done when he came into office, thanks to President Trump…Biden's policies and weakness ruined it all".
While the world had a rare opportunity to compare and contrast the interviews of President Putin and Socialist Leader Biden yesterday, this report continues, Foreign Minister Sergey Lavrov most factually observed about the socialist Western colonial support for its corrupt puppet leader Ukrainian President Vladimir Zelensky: "Everyone is fed up with Zelensky"—with Socialist Leader Biden now paying for wars in Ukraine and Israel it caused retired United States Army Brigadier General Don Bolduc to warn: "I think it's a wake-up call to the American people that you know during the Biden administration our military has become extremely weak…We've become overstretched…Logistically, we could not support really a lot of things that would go on simultaneously in this world"—a warning quickly joined with the news: "Ukraine has never enjoyed the status of a US ally, meaning that Washington has no obligation to defend it per se, ex-Pentagon defense strategist Elbridge Colby has argued…The former official, who now heads The Marathon Initiative think-tank, put the leadership in Kiev on the same level as the now-defunct Afghan government, which was overthrown by the Taliban back in 2021"—and in the just released American defense article "Did The Israeli-Palestinian Conflict Just Sink Ukraine As A Warhawk Darling?", its experts assessed: "With Ukraine becoming the ugly girl at the school dance, the attention of establishment warhawks has swiftly shifted over to Israel".
Because of Socialist Leader Biden's fatal attraction for "ugly school dance girl" Ukraine, this report details, the International Energy Agency revealed in its monthly report: "Russia netted $18.8 billion from oil exports last month, making September the most profitable month since July 2022"—Reuters News Service then revealed: "China has managed to save billions of dollars this year through record imports of discounted crude oil from countries under Western sanctions"—and as it pertains to Socialist Leader Biden's new "prettier school dance girl" Israel, it just saw Bloomberg Economics warning: "The global economy would fall into recession with oil prices skyrocketing if Iran were to get involved in the Israel-Palestine conflict…In a worst-case scenario, the world would be plunged into a recession and lose $1 trillion in GDP".
Before snubbing "ugly school dance girl" Ukraine, this report notes, Socialist Leader Biden drained his nation's Strategic Petroleum Reserve to an historic low of just 17 days of supply—the socialist Biden Regime is now threatening banks that refuse to give credit lines and loans to illegal aliens at the same time articles are appearing like "Major Banks Close Over 3,000 Branches Nationwide, With Recent 50+ Closures from Bank of America In Just One Week"—today the American retail drug store giant Rite Aid filed for bankruptcy and it was reported: "The highest mortgage rates in 23 years are dragging down home sales to their lowest levels since the subprime crisis period"—all of which was joined by the news: "The majority of American adults believe the U.S. is moving in the "wrong direction", with a Associated Press-NORC Research Center poll revealing that only 21 percent of respondents agreed with the way the country is heading" and warning: "What should worry Biden is that 74% of the key independent vote believes that he has done something illegal or unethical".
As more Americans awaken to the truth that Socialist Leader Biden is as corrupt as he's deranged, this report concludes, Politico, in its just released article "Trump Is Crushing His GOP Competition In Polls — And Cash", revealed: "Former President Donald Trump continues to blow his GOP primary opponents out of the water — not just in the polls, but at the bank…The $24.5 million Trump's campaign reported raising during the third quarter is more than double what any of his Republican rivals reported over the same period…And he has more than seven times as much cash on hand available for the primary as Florida Gov. Ron DeSantis, who has polled in second place for most of the year"—as President Donald Trump continues to crush his competition, United States District Judge Aileen Cannon keeps having to throw socialist Biden Regime prosecutors out of her court over their outrageous tactics to harm President Trump—but as it pertains to Marxist radical United States District Judge Tanya Chutkan, today it sees her allowing socialist Biden Regime prosecutors to argue that President Trump must be silenced by a gag order to keep him from speaking—and beyond all belief, it sees socialist Biden Regime prosecutors demanding that Trump lawyers not be allowed to interview potential jurors, which even leftist legal experts note about: "To call this merely abnormal would be an understatement, since jury studies are almost always used by litigants in major criminal and civil cases without any involvement or supervision by the court whatsoever".  [Note: Some words and/or phrases appearing in quotes in this report are English language approximations of Russian words/phrases having no exact counterpart.]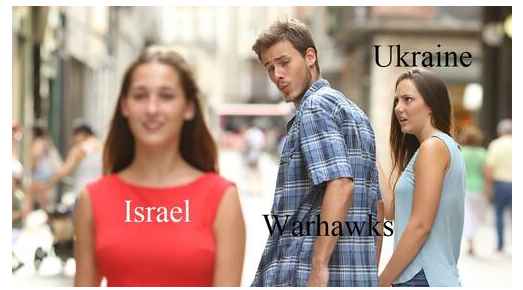 October 16, 2023 © EU and US all rights reserved. Permission to use this report in its entirety is granted under the condition it is linked to its original source at WhatDoesItMean.Com. Freebase content licensed under CC-BY and GFDL.