September 20, 2022
Soon To Starve And Freeze Europeans Tell Socialist Overlords "SANCS A LOT!"
By: Sorcha Faal, and as reported to her Western Subscribers
A thoughtful new Security Council (SC) report circulating in the Kremlin today first noting President Putin this morning greeted new foreign ambassadors who had arrived in Russia first telling them "sanctions are taking a toll on Western states and poorest countries", says he then assessed: "The world is undergoing a transformation, transitioning toward a multipolar order, which becomes the dominating vector of development…As for Russia, we will not deviate from our sovereign course…As a permanent member of the UN Security Council, we intend to further promote a unifying international agenda, contribute to the resolution of numerous challenges and threats of our time, and help with the settlement of acute regional conflicts…This will be Russia's key talking point at the opening of the 77th session of the UN General Assembly".
As the socialist Western colonial powers commit economic suicide with their lunatic sanctions against Russia over the "Special De-Nazification Operation" to liberate Ukraine, this report notes, last evening it saw NATO member leader Turkish President Recep Tayyip Erdogan revealing to the American news programme PBS NewsHour that after his extensive discussions with President Putin at last weeks Shanghai Cooperation Organization summit: "I realized that they are actually trying to finish this as soon as possible", then he said he wants President Putin and Ukrainian President Vladimir Zelensky to talk directly, in order to find a solution to the conflict, and stated: "We have a persistent desire to bring these leaders together…Let's bring them together…I want to hear everything from them…We haven't succeeded yet, but I'm not without hope".
When asked it there was a path towards a diplomatic settlement, this report continues, top Kremlin spokesman Dmitry Peskov factually assessed: "At the moment, such a prospect cannot be observed"—a factual assessment that follows President Putin factually observing: "Zelensky said publicly that he is not ready to talk to Russia…Well, if he is not, fine by us"—a factually observation joined yesterday by the socialist Biden Regime revealing that American tanks are "absolutely on the table" for Ukraine—then it saw socialist British Prime Minister Liz Truss confirming that in 2023, her country will meet or exceed the amount of military aid that it spent on Ukraine this year, then she declared: "My message to the people of Ukraine is this: the UK will continue to be right behind you every step of the way…Your security is our security".
With these godless socialist Western colonial powers preparing to fight against Russia to the very last Ukrainian, this report details, it bares noticing the just published American defense article "The Full $16Bn List Of What Biden Has Sent Ukraine", wherein it states: "The U.S. military just told it's own soldiers to use food stamps to keep their families fed during this ongoing period of high inflation, caused by the Biden regime's own flawed economic analysis, coupled with the establishment's COVID-19 lockdowns, and the war in Ukraine…Which is why the full list of the $15bn+ in aid being sent to Ukraine by the U.S. government is likely to hit harder in the solar plexus"—and for those Americans wanting to be further "hit harder in the solar plexus", the Ministry of Defense (MoD) this morning revealed the continued fate of these billions-of-dollars worth of weapons: "In total, since the beginning of the special military operation, Russian military forces have destroyed 295 aircraft, 155 helicopters, 2,007 unmanned aerial vehicles, 375 anti-aircraft missile systems, 5,038 tanks and other armored combat vehicles, 839 combat vehicles of multiple launch rocket systems, 3,403 field artillery pieces and mortars, and also 5,719 units of special military vehicles".
In watching this socialist Western colonial lunacy, this report notes, it caused to French political leader Marine Le Pen to warn: "The European Union's policy is becoming imperial…Brussels dangerous and belligerent position is being more and more repelled by those forces in the member countries who give priority to national interests…France has made a geopolitical mistake by taking part in the inapt and ill-considered sanctions against Russia"—a warning quickly joined by former Greek Prime Minister Alexis Tsipras and current leader of the opposition in Greece, who factually observed: "Economically, Russia is not losing, the ruble has become one of the strongest currencies…Apart from innocent civilians the biggest loser is the European Union, which is in turmoil, and clearly lacks leadership, vision, strategy…We must do everything to put an end to the war".
As to what the "leadership, vision, strategy" of the socialist European Union has actually accomplished, this report continues, today it's documented in articles like "Dire Winter Scenario Issued For EU", wherein experts warn: "The bloc will either have to continue importing gas from Russia or reduce consumption"—is documented in the just published article "French Warned Of Winter Blackouts", wherein it grimly reveals: "The country may not produce enough nuclear energy in the coming months as half of its plants are offline"—and is documented in the article "'Crippling' Energy Bills Force Europe's Factories To Go Dark", wherein it gravely reveals: "Manufacturers are furloughing workers and shutting down lines because they can't pay the gas and electric charges…Makers of metal, paper, fertilizer and other products that depend on gas and electricity to transform raw materials into products from car doors to cardboard boxes have announced belt-tightening…Half of Europe's aluminum and zinc production has been taken offline".
Also due to the "leadership, vision, strategy" of socialist European Union overlords, this report details, the majority of gas stations in Hungary will run dry next week—Italy is preparing to lose a half a million jobs because of natural gas shortages and fears energy starved France will cut its power supply to them—French farmers faced with sanctions on Russian fertilizer are harvesting their smallest corn crop in more than three decades at the same time bread prices in the European Union are soaring to record highs—British brewers facing a tenfold price increases for the CO2 they use to carbonate and package beers are warning of production cuts a pub closures—British Commonwealth nation Canada just suffered its biggest drop of wealth in history—Switzerland just told its citizens to start taking showers together to save energy—all of which more than explains the articles now appearing like "European Citizens Book Turkish Hotels For Winter To Survive Energy Crisis".
Soon to face these socialist European Union overlords displaying no leadership, vision or strategy, this report concludes, is best documented in the just published article "Heat Or Eat? Winter Protests Loom As Energy Poverty Sweeps Europe", wherein it describes the massive protests plunging the European Union into chaos and warns: "Europe is facing a major social test ahead of winter, as it juggles rising discontent, fuelled by soaring energy prices, and pressure to meet climate goals as the Ukraine conflict drags on…Meanwhile, the financial pain being felt by voters spells trouble for Europe's political establishment"—a warning now joined by the British newspaper Sun article "SANCS A LOT Welcome To Sanction-Hit Russia, Where Prices Are DOWN As Brits Suffer From Soaring Inflation", wherein it lists the vast differences between what the free Russian and under socialist siege European Union peoples pay for food and energy while factually stating: "WELCOME to sanctions-hit Russia – where heating bills and fuel prices are a fraction of those in Britain…Food costs are also coming down every month and Vladimir Putin's people are partying as if there is no war…Despite claims they would face a severe food shortage, shoppers in Pyaterochka, Russia's answer to Tesco, load their trolleys high with groceries half the price of ours".  [Note: Some words and/or phrases appearing in quotes in this report are English language approximations of Russian words/phrases having no exact counterpart.]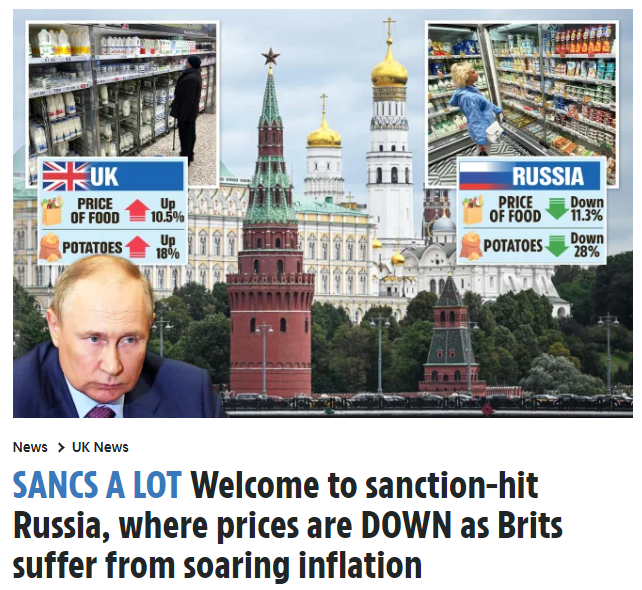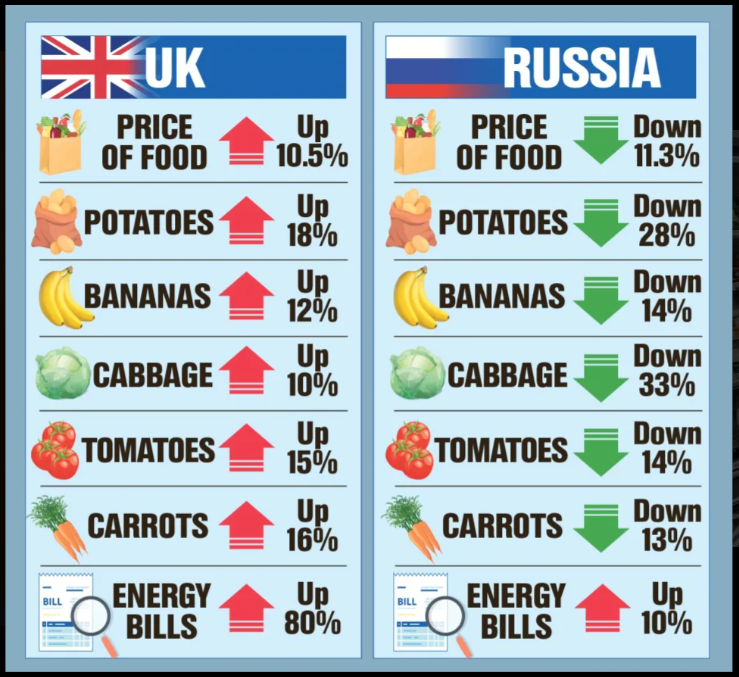 September 20, 2022 © EU and US all rights reserved. Permission to use this report in its entirety is granted under the condition it is linked to its original source at WhatDoesItMean.Com. Freebase content licensed under CC-BY and GFDL.