December 6, 2021
Russia Orders Live Broadcast Of Putin-Biden Video Talk To Expose Puppet Masters
By: Sorcha Faal, and as reported to her Western Subscribers
A compelling new Security Council (SC) report circulating in the Kremlin today first sees this transcript showing Security Council Members authorizing the first part of the scheduled secure video link talks between President Putin and Supreme Socialist Leader Joe Biden to be broadcast live to the public, after which this talks will continue in private—are talks scheduled to begin tommorow at 6:00 pm Moscow time-10:00 am Washington time—during the public broadcast portion is expected to expose what Fox News calls "The five puppet masters who are pulling the strings at Joe Biden's White House" and the truth about "Russia's so-called plan to invade Ukraine that exists only in the US and NATO imagination"—and after the Americans were informed of this live public broadcast, saw Kremlin spokesman Dmitry Peskov noting that he did not know whether the meeting would be one-on-one, or if Biden plans to bring a delegation, then saw him stating that "the current bilateral relations between Russia and the United States are lamentable".
Ahead of these scheduled Putin-Biden talks, this report notes, yesterday it saw US Secretary of State Antony Blinken releasing the statement: "I very much hope that Russia chooses to de-escalate, to pull back its forces, and to engage in diplomacy over what differences exist"—a statement of socialist lunacy coming just days after Foreign Minister Sergei Lavrov met with Secretary Blinken and blasted America for its destruction Ukraine and Russian invasion nonsense—saw the Americans restoring to "unprecedented intelligence sharing" in order to try and convince their European allies about this imaginary Russian invasion of Ukraine—yesterday saw the German publication Bild, the best-selling European newspaper, using this "unprecedented intelligence" in their lie-filled hysterical propaganda article "Russia's War Plans – How Putin Could Destroy Ukraine"—war propaganda quickly responded to by Foreign Ministry spokeswoman Maria Zakharova, who noted such things like the American intelligence maps used by Bild were made in 1942 by German Nazis, and is why the names Ukraine cities are wrong, further noted that the American intelligence claim that Russia needed to invade Ukraine in order to establish a corridor to Crimea is farcical because massive road and train bridges already links it to Russia, and saw her stating: "Germany is already accustomed to journalistic lies, but this 'German trolling' could cost a newspaper dearly, given the recently revealed fact of anti-Semitism in the ranks of German journalists".
While the socialist Biden Regime and its leftist media lapdogs continue pumping out hysterical war propaganda, this report continues, President Putin has arrived in India to meet with this counterpart Prime Minister Narendra Modi—a meeting preceded this morning by the Ministry of Defense (MoD) announcing that Russia and India have signed an agreement on military and technical cooperation for 2021-2030—a military agreement between these nuclear weapon powers nation immediately noticed by Japanese Prime Minister Fumio Kishida, who quickly declared: "As for Russia, we will seek a comprehensive development of relations based on our position aimed at resolving the territorial dispute and making a peace treaty".
As the world rapidly shifts away from American and its insane push for global war, this report notes, yesterday it saw Biden dementedly naming socialist Democrat Party leader House Speaker Nancy Pelosi as "the best speaker in American history"—after which it was reported that Biden is preparing to announce a diplomatic boycott of the Olympic Games in China—and comes at the same time China is rapidly preparing to establish its first naval base in the Atlantic Ocean located in Equatorial Guinea, on Africa's east coast, from where its nuclear weapons armed aircraft carriers and warships will be able to quickly strike the East Coast of America.
In viewing the wholesale destruction of America caused by Biden and his demonic socialist forces, this report details, this weekend it caused President Donald Trump to grimly warn: "Biden could bring the United States to a point where we can't come back"—is a socialist destruction of America aided by the leftist mainstream propaganda media, who last week failed to report the truth that IRS data proves Trump tax cuts benefited middle, working-class Americans most and that President Trump's health polices beat Biden's hands down—is a leftist media today attacking President Trump over a "big nothing burger" non-story 2020 false positive Covid test—is the same leftist media refusing to report the truth that all of their Trump-Russia collusion stories were based on lies—about which the Wall Street Journal addresses in their just published article "The Media Stonewalls On The Steele Dossier", wherein it states "News companies are even more reluctant than other businesses to come clean about their misbehavior", then asks: "Why don't they just fess up and say they're sorry?".
This transcript next sees Security Council Members reviewing a Foreign Intelligence Service (SVR) document relating to the bizarre movement of Federal Bureau of Investigation (FBI) personal this weekend from their Training Academy in Quantico-Virginia to Washington D.C.—is bizarre because this SVR document reveals the FBI moved their personal in U-Haul rental trucks—and though the full contents of this SVR document is highly classified and not permitted to be openly discussed, appended to it are the public reviewable articles "ANOTHER FALSE FLAG? A Group No One Has Ever Heard Of Marches In DC…Left Calls Them "Right-Wingers"…Conservatives Ask If They're Another False Flag?" and "FEDS ON PARADE: Dozens of Uhaul Trucks Picked Up Mysterious Patriot Protesters after Creepy March in DC — Another Democrat Stunt?".
Whatever this SVR document revealed to Security Council Members is most certainly important, because this transcript next sees them discussing the 2014 study released by Princeton University proving that the United States had ceased to be a democracy and had become an oligarchy ruled over by its elites—sees them noting that three of these elite American billionaire oligarchs, Pierre Omidyar, Hansjörg Wyss, and George Soros, created a "Dark Money Machine" to funnel hundreds-of-millions of dollars to the socialist Democrat Party during the 2020 election—and sees them gravely noting American billionaire oligarch Ray Dalio warning last week: "The United States could slide into civil war within the next 10 years".
The conclusion section of this transcript sees Security Council Members agreeing that these elite oligarchs have overplayed their hand in attempting to destroy America in order to remake it—are facts examined in analytical papers like "Now Or Never: The Great 'Transition' Must Be Imposed", that warns these oligarchs won't give up their plans easily, and states: "An opportunity to rule the world only comes along once in many generations"—sees the reality facing these oligarchs explained in economic research articles like "Omicron Sounds The Death Knell For Globalization 2.0", whose in-depth analysis reveals: "On top of an intensifying cold war between the U.S. and China and other seismic changes, the rapid spread of Covid-19's newest variant could finish off our most recent phase of global integration"—and are facts and realities noted about by renowned Archbishop Carlo Maria Viganò, who from his Vatican office on Friday revealed "A Russian Colonel who once served in the Soviet secret services, Vladimir Kvachov, has called the pandemic as a sort of "terrorist operation" that has been expressly conceived to enforce a global population reduction and usher in a global dictatorship"—then saw him proclaiming to the world's faithful: "Those who resist the New World Order will have the Help and Protection of God".  [Note: Some words and/or phrases appearing in quotes in this report are English language approximations of Russian words/phrases having no exact counterpart.]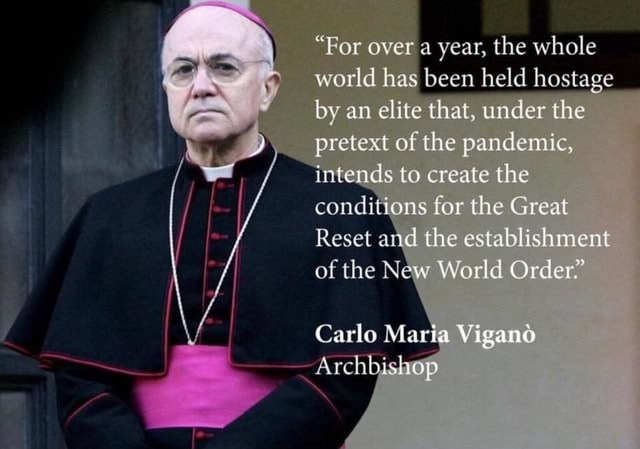 December 6, 2021 © EU and US all rights reserved. Permission to use this report in its entirety is granted under the condition it is linked to its original source at WhatDoesItMean.Com. Freebase content licensed under CC-BY and GFDL.