March 13, 2022
Russia Obliterates NATO Doorstep As Iran Joins World War III With Ballistic Missile Strikes
By: Sorcha Faal, and as reported to her Western Subscribers
A foreboding new Security Council (SC) report circulating in the Kremlin today first noting that after Deputy Foreign Minster Sergei Ryabkov revealed that Washington had been informed that Moscow will see weapons supply convoys entering Ukraine as legitimate targets, with him exactly stating: "We warned the United States that the orchestrated pumping of weapons from a number of countries is not just a dangerous move, it is a move that turns these convoys into legitimate targets", says this warning was met yesterday by top socialist Biden Regime official Secretary of State Jake Sullivan declaring he had authorized $200-million for additional military aid to Ukraine, with him stating: "This package will include further defensive assistance to help Ukraine meet the armored, airborne, and other threats it is facing".
Immediately upon the Biden Regime making this declaration to send more weapons to Ukraine in spite of Russia's warning, this report notes, it saw Secretary Aleksey Danilov of the Ukrainian National Security asserting: "Today, the head of NATO, Mr. Stoltenberg has made a statement: if a single projectile, a single bullet hits a convoy that is delivering arms to Ukraine, NATO will consider it a trigger for Article 5 of the North Atlantic Treaty"—an assertion quickly followed by it being reported: "Neither NATO nor Stoltenberg personally have made any public statements on Sunday confirming or denying Danilov's assertion"—but that didn't matter anyway, because shortly after Secretary Blinken made his declaration, Russian warplanes fired about 30 cruise missiles at a Ukrainian military base to obliterate it just 15-miles from the Polish border at the very doorstep of NATO that killed at least nine people and wounded 57, and was the westernmost attack of the "Special De-Nazification Operation" to liberate Ukraine.
As in all such conflicts fast leading to global war where unpredictability and irony supplant planned tactics and battlefield logic, this report continues, yesterday it saw President Donald Trump bashing Supreme Socialist Leader Joe Biden for "crawling around on his knees trying to find alternative oil sources" from countries like Iran—shortly after which the Islamic Revolutionary Guard Corps claimed responsibility for firing an estimated 12 long-range Fateh-110 ballistic missiles near a US military base and American consulate located in Erbil-Iraq—after this long-range Iranian ballistic missile it saw American defense experts noting: "We were under the impression that a Patriot battery was still in place in Erbil to protect facilities near the impact area and the general area overall…Why wasn't the Patriot battery activated?…Maybe it was, but there is no evidence of that at this time and it is hardly something that would be missed"—and Israeli defense experts further note: "Iran is counting on the United States being afraid of war…While Russia wants to return Ukraine to its near abroad, Iran wants to ride the Russian train as far as it can…Iran is also looking to Russia for lessons on how to engage with the West, seeing that Russia has used an invasion to show off the fact there is international impunity to warmongering and attacks…The large number of missiles and heavy payload from the attack was likely a warm-up for larger attacks…Iran wants to showcase its precision and abilities with these types of missiles…Iran also wants to see if the US will respond".
With Iran have declared with this long-range ballistic strike against the United States its intention to become a combatant nation in World War III, this report details, it comes at the same time the Ministry of Defense (MoD) has taken grim note of the newly uncovered FBI documents that tie Americans to the Neo-Nazi Azov Battalion in Ukraine—and among whose other notable just released urgent war bulletins include:
"In the village of Nikolskoye, the militants of the Aidar national battalion equipped firing positions right on the territory of the Orthodox Holy Assumption Nikolo-Vasilyevsky monastery and held hostage about 300 civilians and monks…When this village was liberated by Russian units, some of the nationalists were killed, the rest were scattered…The hostages and buildings of the monastery were not damaged".
"Over 6,900 foreign nationals are being held by Ukrainian far-right forces and are being used as human shields in combat and foreign crews of over 50 foreign-flagged vessels are stranded in Ukrainian seaports".
"Russia's military shot down one Ukrainian Mi-24 (NATO reporting name: Hind) helicopter and three unmanned aerial vehicles, including a Turkish-made Bayraktar drone".
"An unmanned aerial vehicle of Russia's Aerospace Force has eliminated a Ukrainian multiple rocket launcher…The multiple rocket launcher was destroyed with a smart weapon from an altitude of more than 3,000 meters".
"During the special operation, the Russian armed forces disabled 3,687 military infrastructure facilities of Ukraine…99 aircraft, 128 unmanned aerial vehicles, 1,194 tanks and other armored combat vehicles, 121 multiple rocket launchers, 443 field artillery pieces and mortars, 991 units of special military vehicles were destroyed".
With it being revealed today that "European anxiety has shifted from Covid to nuclear annihilation…Bunkers, survival guides and iodine pills are flying off the shelves", this report continues, it joins Foreign Ministry Director Nikolay Kobrinets of the Department of European Cooperation stating that: "Moscow has a greater safety margin than Brussels and is ready for a vigorous standoff in the energy sector if the Euopean Union goes ahead with its plans to abandon Russian gas, oil and coal"—a statement of economic fact coming at the same it's being reported: "Bermuda has announced that it is suspending airworthiness certificates for planes operated by Russian companies, effectively grounding 768 aircraft operated by the country's top carriers…The aircraft in question are mainly Boeing and Airbus planes from foreign leasing firms"—is an announcement not affecting Russia at all, as noted today by the leftist New York Times in their article "Hundreds Of Planes Are Stranded In Russia. They May Never Be Recovered", wherein it factually notes: "Western companies that own the planes face little prospect of getting them back, meaning billions of dollars in losses"—is Western colonial sanction insanity greatly benefiting the Russian peoples, who this past week invested over a trillion rubles ($15 billion) in traditional savings products to gain a 21% return, then they can then covert their rubles into gold without paying any taxes—and today it saw the Russian state-owned VTB Bank offering its clientele the opportunity to open Chinese Yuan savings accounts that yield a maximum interest rate of 8% so they can bypass both the Euro and US Dollar—today it sees India discussing how to set up a rupee-ruble payment mechanism to enable it to trade with Russia, to circumvent the Western colonial sanctions regime—
Best explaining what is really happening, this report notes, are American economic articles like "Fiat Currencies Are Going To "Fail Spectacularly"", wherein it factually reveals: "What just happened in the last two weeks is enormously important and misunderstood by many investors…The Russian invasion of Ukraine and the corresponding Western sanctions and seizure of Russian foreign reserves are nothing short of a monetary earthquake…The last comparable event was Nixon's abandonment of the gold standard in 1971…Russia, with the backing and support of China, just told the world that it is no longer going to sell its oil, gas and wheat for Western currencies which are programmed to debase…The West in its response just said to all countries around the world: "If you have foreign exchange reserves, held in our system, they are no longer safe if we disagree with your politics""—and to what the future holds, sees it being explained in American economic articles like "Wall Street Stunned By Zoltan Pozsar's Latest Prediction Of What Comes Next", wherein Swiss banking giant Credit Suisse top global analyst Zoltan Pozsar reveals: "We are witnessing the birth of Bretton Woods III – a new world monetary order centered around commodity-based currencies in the East that will likely weaken the Euro-US Dollar system and also contribute to inflationary forces in the West…After this war is over, money will never be the same again".
While overseeing the total economic destruction of America, this report concludes, this past week it saw Supreme Socialist Leader Biden telling a gathering of his Democratic Party comrades: "We have a record — a record to be proud of; an agenda that addresses the biggest concerns here in America, in people's lives; the message that resonates…Now what we have to do is we have to sell it with confidence, clarity, conviction, and repetition"—immediately after which Socialist Leader Kamala Harris told this assemblage of deluded socialist idiots: "Our task is to show people that, in many ways, they got what they ordered"—is a socialist Biden Regime "task" more accurately defined as:
"The Ukraine-Russia conflict is replacing COVID as a ready-made excuse for their failures and a justification for expanding their power"—most honestly today it sees Dr. Gal Luft, the co-director of the US-based Institute for the Analysis of Global Security, noting that the crackdown on Russian oil could "mark the beginning of the end of the Biden presidency", since it does not seem like the Biden Regime has a clear plan on how to replace the imports from Russia—all of which more than explains why articles are now appearing like "Americans Panic Hoard Ammo In Wake Of Russian Invasion Of Ukraine", as above all else, history has long proven that normal and patriotic Americans know how to prepare before a storm strikes them.  [Note: Some words and/or phrases appearing in quotes in this report are English language approximations of Russian words/phrases having no exact counterpart.]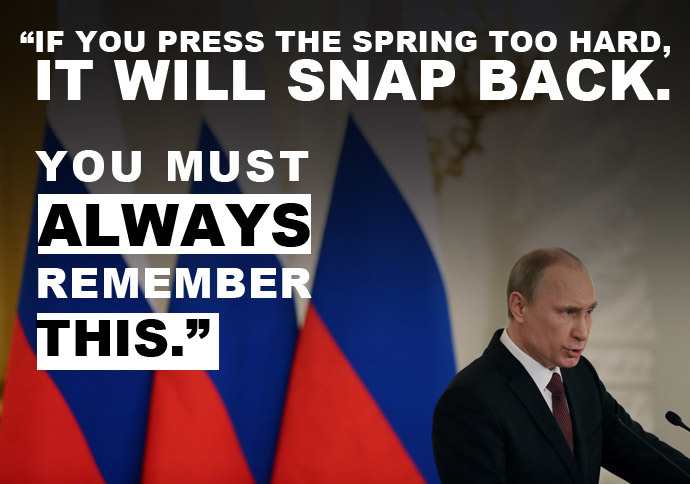 March 13, 2022 © EU and US all rights reserved. Permission to use this report in its entirety is granted under the condition it is linked to its original source at WhatDoesItMean.Com. Freebase content licensed under CC-BY and GFDL.