March 2, 2023
Russia Issues "Nuclear Clash" Warning After Biden Deploys "Doomsday Plane" To Europe
By: Sorcha Faal, and as reported to her Western Subscribers
A forewarning new Security Council (SC) report circulating in the Kremlin today first noting President Putin condemning neo-Nazi terrorists from Ukraine conducting attacks on innocent Russian civilians, with him stating: "Gunmen infiltrated the border area and opened fire at civilians…They could see the vehicle was civilian, that civilians were inside including children, and opened fire", says this terrorist attack was quickly joined by the news: "Villages in the Russian regions of Kursk and Bryansk came under heavy artillery fire from Kiev's forces…At 11:17 am local time the attack was still ongoing and Russian forces were returning fire"—all of which was swiftly followed by Federal Security Service (FSB) revealing: "The FSB and the attached forces of the Russian Ministry of Defense are taking measures to destroy the armed Ukrainian nationalists who violated the state border".
In response to demonic socialist Western colonial warmongering against Russia, this report notes, Deputy Foreign Minister Sergey Ryabkov issued the dire warning: "The increased involvement of the United States and NATO in hostilities is fraught with the threat of a direct military clash of nuclear powers with catastrophic consequences"—a dire warning coming after Supreme Socialist Leader Joe Biden deployed the US Navy E-6B Mercury nuclear war air command "Doomsday Plane", that landed in Iceland yesterday to conduct operations in Washington's European Command zone—and as the world stands on the very brink of World War III, it caused chief Russian nuclear arms negotiator Mikhail Ulyanov to gravely observe: "I think that under the current conditions one cannot really talk about resuming the dialogue with the US on strategic stability…Washington openly declares its goal of strategically defeating Russia and makes numerous hostile steps in this direction…What dialogue can one talk about here?".
At the just concluded G20 Summit of foreign ministers, that precedes the September meeting of global leaders in New Delhi-India, this report continues, Foreign Minister Sergey Lavrov told his counterparts: "Russia is shocked at impunity over the Nord Stream sabotage in the area of NATO and European Union responsibility…We are witnessing the degradation of international economic relations provoked by the West, their transformation into a weapon, including in the energy sector…We insist on a fair and swift investigation into the terror attack with involvement of Russia and others concerned"—after which Foreign Ministry spokeswoman Maria Zakharova revealed that top socialist Biden Regime official Secretary of State Antony Blinken requested a meeting with Foreign Minister Lavrov, with her stating: "Blinken asked for contact with Lavrov…Sergey Viktorovich talked with him on the go, as part of the second session of the G20…There were no negotiations, meetings, etc."—a brief "on the go" talk followed by Foreign Minister Lavrov factually observing: "Some members of the G20 turned it into a circus using the group's agenda in an attempt to blame Moscow for their own mismanagement…The attacks against Moscow at the G20 look particularly wild coming from nations who never complained at the organization's meetings over the many hundreds of thousands of victims of Washington's adventures in the Middle East, which were conducted under a pretext of national security thousands of miles from American soil".
The sole purpose of G20, this report details, is to address major issues related to the global economy—sending the socialist Western colonial powers into a blind rage was the revelation: "Russia's debt-to-GDP ratio is the lowest among G20 members"—today it was reported: "Russian oil output in February reached the pre-sanctions level for the first time, and may exceed the February 2022 figure"—this week it was reported: "Belarusian furniture maker Swed House is planning to fill the void left by IKEA in the Russian market" and "Indian company Allied Blenders & Distillers, which produces 60% of the world's whisky and the world's third-most-popular whisky Officer's Choice, is planning to enter the Russian market to replace Western brands"—in the just published leftist New York Times article "Leave Russia? A Year Later Many Companies Can't, or Won't" sees it revealing: "A year into the war, hundreds of Western businesses are still in Russia, including blue-chip and midsize companies from Europe and the United States…They are doing business despite Western sanctions and boisterous boycott campaigns pressed by Ukrainian officials, consumers and human rights groups"—all of which was joined by NATO member leader Turkish Foreign Minister Mevlut Cavusoglu declaring to the socialist Western colonial powers at the G20: "Turkey will not be joining unilateral sanctions imposed on Russia by the West over the conflict in Ukraine…We don't need to resist anyone, we make our own decisions as a sovereign state…We don't join any unilateral sanctions…We support only those restrictions that are introduced with the backing of the United Nations".
While watching socialist Western colonial sanctions against Russia spectacularly fail, this report notes, it caused NATO and European Union member leader German Chancellor Olaf Scholz to declare this morning: "No peace agreement will be made over the head of the Ukrainians…If Ukraine stops defending itself, it won't mean peace, it will mean the end of Ukraine…Russia is still looking forward to a military victory…However, there will be no victory because together with our partners, we continue to support Ukraine"—a declaration quickly followed by NATO and European Union member leader Hungarian Foreign Ministry Secretary of State Tamas Menczer observing: "The EU has made it clear that it considers a ceasefire in Ukraine to be a red line and will not agree to it…Even knowing that Brussels represents the position of the party of war, we were still shocked when the Hungarians suggested that the documents on the occasion of the anniversary of the start of Russia's special military operation contain calls for an immediate ceasefire and the start of talks, they were rejected in each case"—after which Chinese Ambassador Fu Cong to the European Union assessed: "It is true that we do not agree fully on some European positions on Ukraine…For example, many top leaders of the European side say that now is not the time to negotiate…Is this a rational approach?…Diplomacy is not an emotional thing…People can have wishes, but they must also face reality…The art of diplomacy is to choose the lesser of two evils…This is what we have to work on…Otherwise, the war will protract".
Late yesterday, this report continues, Ukraine's top military intelligence official Major-General Kyrylo Budanov, speaking from his heavily guarded, fortified Kyiv office, which he shares with two pet frogs, poisonous-gas detecting canaries and a range of ammunitions, predicted to the leftist USA Today newspaper that Ukraine and Russia would fight "a decisive battle this spring, and this battle will be the final one before this war ends" and declared: "If Russia's military fails in its aims this spring, it will be out of military tools"—a declaration quickly joined by the factual article "Ukraine Is Firing Artillery Shells Faster Than NATO Members Can Replace Them"—after gutting itself to supply Ukraine with weapons, German Defense Minister Boris Pistorius just grimly warned: "We have no armed forces that are capable of defending the country, that is, capable of defending it against an offensive, brutally waged aggressive war"—all of which follows Supreme Commander of the German Army Lieutenant-General Alfons Mais warning NATO: "Russian resources, like the resources of the Russian army, are practically inexhaustible…Many underestimate the Russian Armed Forces…This cannot be done…Russian troops demonstrate good training…They have an impressive technical arsenal and combat-ready personnel".
While Russian military forces continue obliterating Ukraine with its "inexhaustible" supply of weapons and ammunition, this report notes, the socialist Biden Regime was just forced to direct its vast leftist propaganda media apparatus against the American people to convince them the war in Ukraine is real, to include them slamming a "False" label on the viral post by Kyle Becker of Becker News having nearly 5 million views that says: "I am sick and tired of the lack of footage of the Ukraine war…I worked in cable news…I am initiated…If it bleeds, it leads…Where is the war footage?…Where are the Pulitzer Prize winning photos?…This smacks of a scam and the American people are fed up…Produce documentary evidence or shut the fuck up already…We're not sending our sons and daughters to die over a corrupt undemocratic country's politics without documentary evidence…We don't give a crap about your Russian bogeymen…This is not a matter of US national security…So, put up or shut up".
In a bid to convince the American peoples that the war in Ukraine is real, this report continues, the leftist Washington Post just published its article "When Ukraine Goes Dark", wherein it contains night time satellite photos of Ukraine showing how Russian military forces have sent it back to the stone age—and leftist NBC News dispatched Today Show journalist Keir Simmons to produce his video "Get A Rare Look Inside Russian-Annexed Territory Of Crimea", that though slanted towards they lying leftist media narrative, did expose Americans to truths kept hidden from them—and as to why the American peoples aren't shown the truth about Ukraine, was just exampled by NBC News journalist Keir Simmons, whom the Ukrainian government just added to its "kill list" for daring to expose Americans to even the slightest bit of truth.
Soon to be added to the Ukrainian government "kill list" of those telling the truth, this report concludes, is Dr. Thomas Meaney at the Max Planck Society in Göttingen-Germany, who, in his just released leftist New York Times open letter "America Is In Over Its Head", most factually observed: "The greatest blunder President Vladimir Putin may have made so far in Ukraine is giving the West the impression that Russia could lose the war" and assessed: "Russia has nearly switched its state onto a war economy setting, while the United States has yet to meet the war production needs of its foreign partners…The war has already used up 13 years' worth of Stinger antiaircraft missile production and five years' worth of Javelin missiles, while the United States has a $19 billion backlog of arms delivery to Taiwan"—and is a factual observation that follows former top Pentagon and CIA advisor James Rickards, in his open letter "The Horrifying Endgame In Ukraine" honestly noting:
U.S. outlets such as The New York Times (a channel for the State Department) and The Washington Post (a channel for the CIA) report endlessly about how Russian plans have failed, about how incompetent they are about how the Armed Forces of Ukraine (AFU) have pushed back Russians in the Donbass, and how NATO weapons such as U.S. Abrams tanks, U.K. Challenger tanks and German Leopard tanks will turn the tide against Russia soon.
This is all nonsense.  None of it is true.
First off, the Ukrainian advances that took place in late summer were against lightly defended positions that the Russians quickly conceded to conserve forces.  The Russians were willing to give up the land so that they wouldn't lose valuable men and materiel.
The Russians withdrew to more defensible positions and have been badly mauling Ukrainian attacking forces ever since.  Ukraine has wasted incredibly large amounts of men and equipment in these futile and ill-advised attacks.
In all, credible reports indicate that AFU casualties are nearing 500,000 and are increasing at an unsustainable rate.
On the other hand, reports of 100,000 Russian dead are almost certainly wild exaggerations put out by Ukraine.  The BBC attempted to verify these numbers and could only find about 20,000 confirmed Russian dead based on extensive searches on funeral notices, public records, etc.
[Note: Some words and/or phrases appearing in quotes in this report are English language approximations of Russian words/phrases having no exact counterpart.]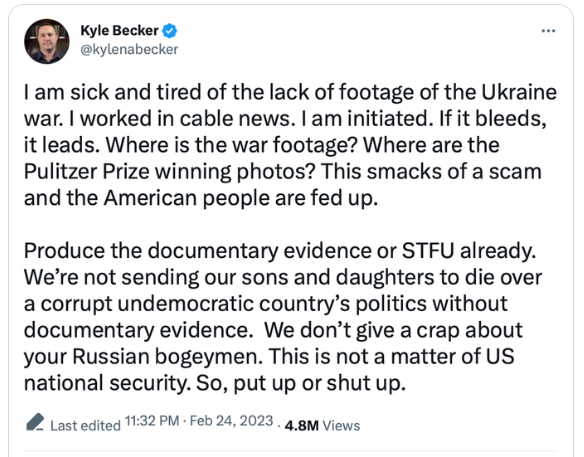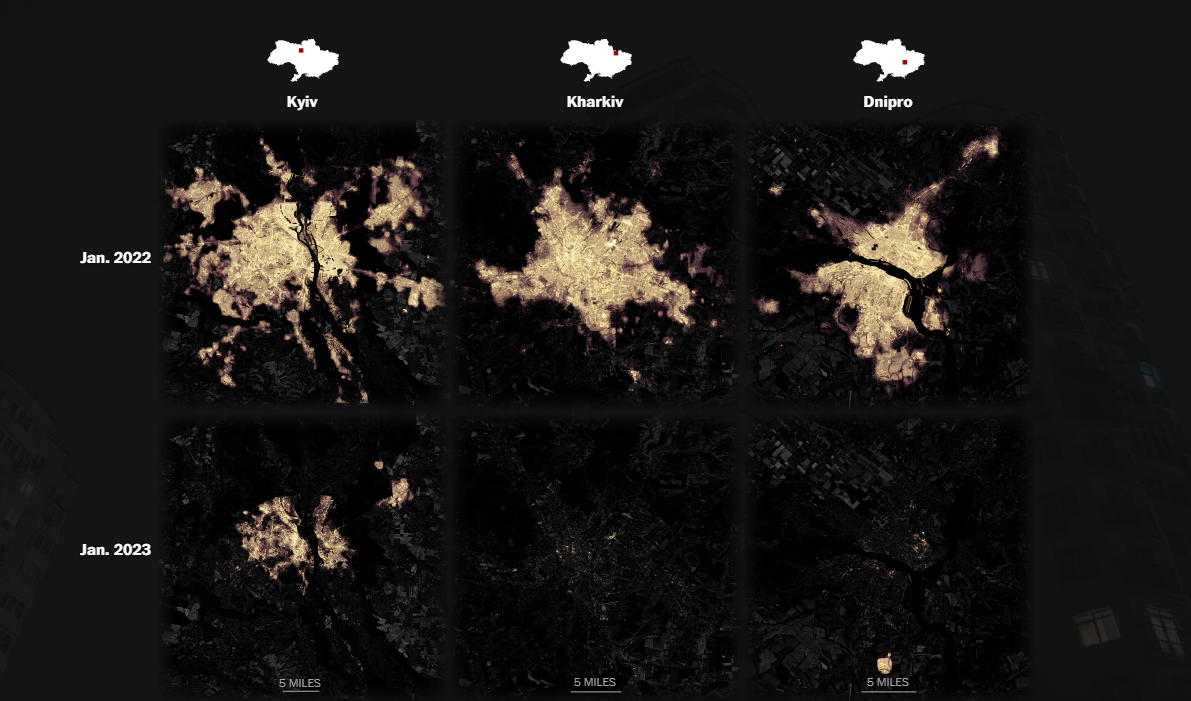 March 2, 2023 © EU and US all rights reserved. Permission to use this report in its entirety is granted under the condition it is linked to its original source at WhatDoesItMean.Com. Freebase content licensed under CC-BY and GFDL.