November 9, 2023
Republicans Blast Through Biden Ukraine Lies In Senate And On Debate Stage
By: Sorcha Faal, and as reported to her Western Subscribers
A compelling new Security Council (SC) report circulating in the Kremlin today first noting President Putin arrived on an official visit in Astana to hold talks with Kazakhstan President Kassym-Jomart Tokayev, says he remarked it would be soon ten years since the basic agreement on the good-neighborliness and alliance in the 21st Century was inked by the two countries—a remark on good-neighborliness that followed socialist Biden Regime official State Department spokesperson Vedant Patel declaring: "The United States is not pushing Ukraine toward negotiations with Russia".
In an example of what good-neighborliness doesn't look like, this report notes, the socialist Biden Regime ignored the 1 February 2008 urgent top secret cable sent by current CIA Director William Burns when he was the United States Ambassador to Russia, wherein he warned: "Following a muted first reaction to Ukraine's intent to seek a NATO Membership Action Plan (MAP) at the Bucharest summit, Foreign Minister Lavrov and other senior officials have reiterated strong opposition, stressing that Russia would view further eastward expansion as a potential military threat…NATO enlargement, particularly to Ukraine, remains "an emotional and neuralgic" issue for Russia, but strategic policy considerations also underlie strong opposition to NATO membership for Ukraine and Georgia…In Ukraine, these include fears that the issue could potentially split the country in two, leading to violence or even, some claim, civil war, which would force Russia to decide whether to intervene".
With Russia forced to launch the "Special De-Nazification Operation" on 22 February 2022 when the Ukraine civil war threatened the lives of all of its Russia speaking peoples, this report continues, now defeated Ukrainian President Vladimir Zelensky cried to his socialist Western colonial puppet masters yesterday: "We have a plan…We have very concrete cities, very concrete directions where we go…I can't share all the details but we have some slow steps forward on the south, also we have steps on the east…I am sure we'll have success…It's difficult"—a cry joined by the article "Ukrainian Women to Be Zelensky's New Cannon Fodder", wherein it revealed: "According to the Ukrainian Ministry of Defense, roughly 43,000 women now serve in the nation's armed forces which constitute a staggering 40% increase since 2021…Accordingly, the Ukrainian military canceled restrictions which prevented female recruits from serving as machine gunners, tank commanders, snipers and truck drivers…It also raised the age limit for women eligible for conscription from 40 to 60".
While President Zelensky prepares to conscript for military service all women up to the age of 60, this report details, the leftist Washington Post reported: "The new left-populist government of Slovakia, a country neighboring Ukraine that had been one of its staunchest supporters, on Wednesday rejected a proposed package of military aid for Kyiv", and in their article "Russian Missile Strike Turned Ukrainian Medal Ceremony Into A Bloodbath" revealed how the Ukraine military foolishly conducted a medal ceremony for one of their top units 20 miles from the frontline—a revelation joined by the Ministry of Defense (MoD) revealing this morning: "The Ukrainian military lost up to 235 soldiers as killed or injured in the Donetsk direction in the past 24 hours"–and today the Wall Street Journal reported: "A Ukrainian push for a high-level summit aimed at bolstering international support for its fight with Russia is losing steam, a casualty of rising tensions in the Middle East, Western diplomats said".
Yesterday, this report notes, White House National Security Council spokesperson John Kirby revealed: "The United States has already burned through nearly 96% of funds allocated for Ukraine since the beginning of the conflict and more than 90% of security assistance replenishment funds"—a revelation joined by the Bank of America warning: "The United States national debt could surge by $20 trillion over the next decade to over $50 trillion"—and was a warning quickly followed by top Republican Party lawmaker Senator J.D. Vance truthfully telling the American peoples from the floor of the United States Senate: "Basic questions about Biden's Ukraine policy, including Washington's true strategic objective in the former Soviet republic, haven't been addressed…Americans are commonly told that the aim is to force Russia out of all Ukrainian territory, including regions that have been annexed by Moscow following overwhelming votes for independence from Kiev…And yet, when you talk to the president's own administration in private, they admit that is a strategic impossibility…No rational human being in the president's administration believes that it is possible to throw the Russians out of every inch of Ukrainian territory…So, why is that the public justification offered by many advocates of indefinite, unlimited Ukrainian aid?…Because this debate is fundamentally dishonest…We are not telling the American people the truth because we know that if we did tell them the truth, they would not support an indefinite flow of money to Ukraine".
Following Senator Vance blasting through all of the lies told by the socialist Biden Regime about Ukraine, this report concludes, Vivek Ramaswamy became the #1 trending topic on social media in the United States—and as one of the five Republican presidential candidates participating in last evenings leftist NBC News debate, Vivek Ramaswamy shot to sudden fame because he honestly declared to the American peoples on nationwide television: "Ukraine is not a paragon of democracy…This is a country that has banned 11 opposition parties…It has consolidated all media into one state TV media arm — that's not democratic…It has threatened not to hold elections this year unless the US forks over more money — that is not democratic…It has celebrated a Nazi in its ranks, the comedian in cargo pants, a man called Zelensky…That is not democratic…The regions of Ukraine that are occupied by Russia right now in the Donbas: Luhansk and Donetsk…These are Russian-speaking regions that have not even been part of Ukraine since 2014…To frame this as some kind of battle between good versus evil, don't buy it".  [Note: Some words and/or phrases appearing in quotes in this report are English language approximations of Russian words/phrases having no exact counterpart.]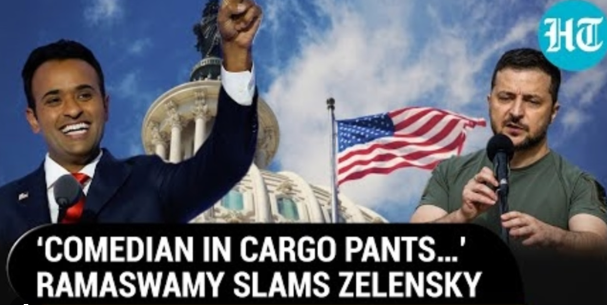 November 9, 2023 © EU and US all rights reserved. Permission to use this report in its entirety is granted under the condition it is linked to its original source at WhatDoesItMean.Com. Freebase content licensed under CC-BY and GFDL.