September 6, 2022
Putin Secret Meeting Ends With Declaration: "Total War Declared Against Russia"
By: Sorcha Faal, and as reported to her Western Subscribers
A forewarning new Security Council (SC) report circulating in the Kremlin today first noting President Putin arrived this morning in the Far East to oversee the Vostok 2022 drills currently underway by Russian, Chinese and Indian military forces, says immediately upon his arrival, President Putin held a closed-door secret meeting with Defense Minister Sergey Shoigu and Chief of the General Staff Valery Gerasimov, and shortly after this secret military meeting ended, Deputy Foreign Minister Sergey Ryabkov grimly declared to the world: "The seriousness of the current period shouldn't be underestimated…A total war has been declared against us…It's being waged in hybrid forms, in all areas…The degree of animosity of our opponents – of our enemies – is enormous, extraordinary".
Immediately upon the official confirmation that the socialist Western colonial powers have declared total war against Russia, this report notes, top Kremlin advisor Chairman Elena Karaeva of the National Media Group released her open letter to Russian peoples entitled "Attempt Third And Last: The West Drops Its Trump Cards In The War With Russia", wherein she documented the over 100-year history of this conflict the socialist Western colonial powers having been waging to destroy Russia, and factually assessed:
The geopolitical crisis in Europe is entering or has already entered a new phase.
And it's hard not to notice, like an elephant in a small room. It was not possible (and will not succeed) to strangle Russia economically, and even more so, it was not possible to break it on the battlefield.
How to rock society from the inside also did not work.  The cohesion of the society and trust in the decisions of the leader of the country are shown even by those opinion polls that are deliberately biased and made by opponents of the Kremlin, whose impartiality in relation to what is happening looks very doubtful.
Time does not work for those who aggravate the situation from year to year and continue to aggravate, because their arsenals are empty.  Both in the literal and figurative sense of the word.
There are fewer and fewer cards in this deck, as well as pieces on that same "big chessboard".
Now several players are making moves against us at the same time, they are trying to find that collective pawn that is able to advance or be queened and ultimately decide the outcome of this game.
We must not forget for a second that on the other side, on the side of those whom we considered not just partners, but even friends, there are actually real predators.
Because they smile sweetly and behave friendly, their nature does not change.
The current crisis, in which the West is slowly but surely beginning to get bogged down, in fact, is not at all about freedom, democracy, the rights of minorities.
In Russia, all this is provided and guaranteed by laws, and those who raise the slogan of oppression to the shield, in fact are really just unscrupulous liars.
The current crisis is about control.
Shortly after top Kremlin spokesman Dmitry Peskov factually asserted that the Russian peoples fully support the "Special De-Nazification Operation" to liberate Ukraine, with him stating: "An absolute majority of our country's population supports the decision of our commander-in-chief and president", this report continues, the leftist New York Times published their article "'Nothing Has Really Changed': In Moscow, The Fighting Is A World Away", wherein it expresses scornful puzzlement as to why Russian peoples remain happy and continue to live normal lives—but whose clues about are contained in the Russian peoples they cited saying such things like: "Nothing has really changed…Sure, the prices went up, but we can endure that", "A few stores closed because of sanctions, which is frustrating but not that bad", "I don't feel any difference…I think America and the West are suffering far more", "I think every war is bad; I am not saying I support the 'Special Military Operation', or don't…But I trust the leadership in my country, and if they say it is necessary, then it is" and  "When you see this, you trust that all is well in your country, that everything is as it should be…We love our motherland…This brings pride to our country".
In response to the socialist Western colonial powers declaring total war on Russia, this report details, Kremlin spokesman Dmitry Peskov revealed that the main natural gas pipeline to the European Union will remain closed until sanctions are lifted—in knowing this would happen, last month it saw Supreme Socialist Leader Joe Biden traveling to Saudi Arabia to fist bump its leader he previously called a murderer and beg them for more energy production—in response to this begging, today articles are appearing like "From Fist-Bump To Fisted: Oil Surges After OPEC+ Agrees On 100Kb/d Production Cut", and sees it reported: "It's more of a political snub to President Joe Biden as well as the European Union, signaling that OPEC is going to go its own way and they want to protect those higher prices"—and in viewing these lunatic socialist Western colonial powers destroy everything they've archieved to protect the world from global warming, it caused President Putin to accurately observe: "First, they jumped ahead, and then, after cutting off Russian gas supplies, returned to everything that was reviled…And if you jump ahead, get cheap Russian gas, and then cut off the supply of this gas yourself and immediately switch back to everything that was previously condemned, including coal-fired generation, this, of course, is not the best option for solving global problems".
As to whom these socialist Western colonial powers are destroying their own people's lives and futures for, this report notes, is a Ukraine whose criminal leader President Vladimir Zelensky just ordered a review into legalizing pornography and erotica—is a Ukraine whose Ambassador Petro Vrublevsky was just forced by Kazakhstan to publically apologize for his demonic "kill as many Russians as possible" remark—is a Ukraine whose Deputy Prime Minister Irina Vereshchuk just threatened Ukrainian citizens with 12-year jail terms for voting in referendums on joining Russia—and is a Ukraine whose top presidential advisor Mikhail Podoliak just told the peoples living in the Russian Oblast of Crimea to immediately follow "de-occupation measures", and warned them: "Prepare a bomb shelter, stock up on a sufficient amount of water and charge power banks right now…Everything will be Ukraine".
Instead of the criminal Ukraine regime warning Russian peoples about anything, this report continues, one would think they'd first look after the well being of their own soldiers being slaughtered daily by the hundreds in their so-called counteroffensive that isn't going anywhere—in a just released Ministry of Defense (MoD) urgent war bulletin sees it revealing today: "Due to high losses and the cessation of rotation, the personnel of the units of the 53rd mechanized brigade of the Armed Forces of Ukraine, operating in the Zaitsevo region of the Donetsk People's Republic, refuse to perform combat missions and are leaving their combat positions in groups…In addition, points of temporary location of units of the 54th and 93rd mechanized brigades of the Armed Forces of Ukraine in the Artemovsk area were hit from the air. Up to 250 servicemen were killed and more than ten vehicles and armored vehicles were destroyed"—over the past day, Russian military forces found documents compiled by Ukrainian unit commander Alexander Kovalenko before he fled from the battlefield, wherein it confirms that the reason for the withdrawal of the Armed Forces of Ukraine from the defensive lines was the poor preparation of the defense, which does not protect personnel from the fire impact of the advancing Russian troops, the ineffective command and control of the Ukrainian troops by the command, the critically low morale and psychological state of the personnel—in the just published American military article compiled by independent experts entitled "Kherson 'Counteroffensive' – Zelenski Is Going For Broke", it exhaustively documents the total Russian military obliteration of Ukrainian forces—today it sees European Union foreign policy chief Josep Borrell warning: "The military stocks of most member states have been, I wouldn't say exhausted, but depleted in a high proportion, because we have been providing a lot of capacity to the Ukrainians"—a warning that joins the German magazine Der Spiegel revealing: "NATO members have been scraping the barrel in their efforts to supply Ukraine with sufficient winter uniforms and field camp equipment"—and for anyone wanting to know what fighting a winter war against Russia is like, they only need to review the history of Western colonial leaders Napoleon Bonaparte and Adolf Hitler, neither of whom survived their winter war adventures against Russia.
As the socialist Western colonial powers rush towards another winter war with Russia, this report concludes, they are being led by Supreme Socialist Leader Joe Biden, an actually senile demented idiot who openly lies to his own citizens—is a fact further confirmed by United States District Court Judge Aileen Cannon, who yesterday released a 24-page ruling siding with President Donald Trump over the beyond shocking FBI raid on his home—contrary to Socialist Leader Biden telling the American people he didn't know about this raid, this ruling reveals that "the incumbent President ordered the FBI raid on Mar-a-Lago"—and contrary to what the American people have been told by the lying fake news leftist media, this FBI raid had nothing to do with so-called classified documents, and everything to do with if a sitting president can revoke the executive privileges of a former president—a claim Socialist Leader Biden asserts over President Trump, but in her ruling Judge Cannon factually notes: "The Supreme Court did not rule out the possibility of a former President overcoming an incumbent President on executive privilege matters…Further, just this year, the Supreme Court noted that, at least in connection with a congressional investigation, "the questions whether and in what circumstances a former President may obtain a court order preventing disclosure of privileged records from his tenure in office, in the face of a determination by the incumbent President to waive the privilege, are unprecedented and raise serious and substantial concerns"…Trump v. Thompson, 142 S. Ct. 680, 680 (2022); see also id. at 680 (Kavanaugh, J., respecting denial of application for stay)…("A former President must be able to successfully invoke the Presidential communications privilege for communications that occurred during his Presidency, even if the current President does not support the privilege claim…Concluding otherwise would eviscerate the executive privilege for Presidential communications.")".  [Note: Some words and/or phrases appearing in quotes in this report are English language approximations of Russian words/phrases having no exact counterpart.]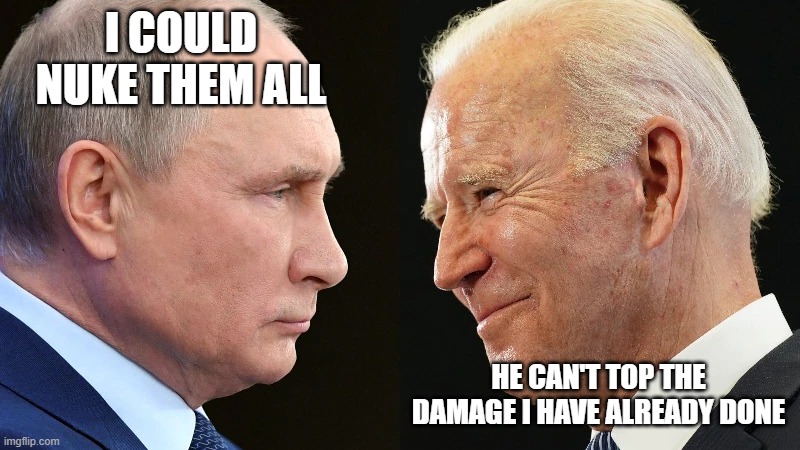 September 8, 2022 © EU and US all rights reserved. Permission to use this report in its entirety is granted under the condition it is linked to its original source at WhatDoesItMean.Com. Freebase content licensed under CC-BY and GFDL.