June 26, 2022
Putin Greets G7 Hitler Castle Meeting With Massive Missile Strike
By: Sorcha Faal, and as reported to her Western Subscribers
A compelling new Security Council (SC) report circulating in the Kremlin today first noting President Putin announcing this morning: "The decision has been made…Within the next few months, we'll transfer to Belarus the Iskander-M tactical missile systems, which can use both ballistic and cruise missiles, in both their conventional and nuclear versions", says as Russian nuclear missies begin deploying to the border of NATO for the first time since the Cold War, it follows President Putin ordering a massive barrage of missile strikes against Ukraine from Russian warplanes for the first time using Belarus airspace.
With Ukraine's neo-Nazi Azov Battalion having built a "state within a state", that despises both Russia and the liberal West, this report notes, it bares recording that this massive missile barrage greeted the opening of the Western colonial powers G7 meeting in Bavaria-Germany—an opening also greeted with the demonic article "Fairy-Tale Castle: G7 Convenes At Schloss Elmau"—is demonic because the fairy tale nightmare genocidal Schloss Elman Castle was built by German theologian Johannes Müller, whose true god was Nazi Germany leader Adolph Hitler, whom "he pledged allegiance to", and after World War II, lost ownership of his castle after prosecuted and convicted for the "glorification of Hitler both orally and in writing".
Immediately upon convening in Hitler's Castle, this report continues, these Western colonial G7 leaders were slammed by Deutsche Bank warning that the world economy faces a 50% chance of slowdown—a warning quickly joined by the Wall Street Journal article "G-7 Summit Brings Together Leaders Weakened By Inflation, Impatience At Home", wherein it reveals: "Several leaders are bracing for—or have already suffered—electoral setbacks, as economic worries plague voters on both sides of the Atlantic…The grim economic and political backdrop is sure to test the allies' stamina, with some Western security officials now estimating that Moscow could sustain its military campaign in Ukraine well into next year, possibly exhausting both Kyiv and its Western backers".
In retaliation against Russia for launching the "Special De-Nazification Operation" to liberate Ukraine, this report details, the lunatic Western colonial G7 leaders banded together to commit economic suicide on their nation's and citizens—sees nothing they have done affecting Russia in the slightest—a fact exampled by Bloomberg News revealing: "Europe has increased the amount of crude oil it is importing from Russia, that's despite an EU embargo agreed to less than a month ago"—and also exampled in the just published leftist New York Times article "U.S.-Led Alliance Faces Frustration, And Pain Of Its Own, Over Russia Sanctions", wherein it factually states: "U.S. officials vowed that Russia's financial system would be battered if it attacked Ukraine, and President Biden boasted in March that sanctions were "crushing the Russian economy" and that "the ruble is reduced to rubble"…But Russian oil revenues have set records as crude prices surge…And after plunging in February, the ruble hit a seven-year high against the dollar this week".
From the same American so-called "officials" that comically vowed to batter the Russian financial system, this report notes, it now sees the leftist Washington Post revealing them saying: "The Russian military will soon exhaust its combat capabilities and be forced to bring its offensive in Ukraine's eastern Donbas region to a grinding halt, according to Western intelligence predictions and military experts", whom one can only assume are the same "intellignece and military experts" that predicted American war victories in Korea, Vietnam, Afghanistan, Libya, Syria and Iraq, to just name a few—in spite of this comical war propaganda this week it was reported: "Silicon Valley's efforts to suppress what it terms "Russian propaganda" – meaning outlets like RT and Sputnik – on behalf of Ukraine may have reduced their reach, but they are still accessed by more Americans than before the outbreak of fighting between Moscow and Kiev…That's according to Microsoft, in a report on the ongoing internet-war on behalf of the Ukrainians…According to Microsoft's estimates, RT and Sputnik still get anywhere from 60-80 million average monthly page views in the US, making alleged Russian influence on par with a major publication like the Wall Street Journal"—but whose only "influence" on Americans by Russian media sources is telling them true things, like Russia being the world's second largest military power having an inexhaustible supply of weapons and manpower, as over 10-million German Nazi soldiers learned fist hand during World War II.
Unlike the highly-trained, well equipped and disciplined German Nazi forces Russia defeated in World War II, however, this report concludes, the Ukrainian soldiers surrendering to Russian military forces are revealing such things like "We were sent there and left without any military support…As cannon fodder", "We were completely cut off from our troops…There was no food, no water no communication" and "We were simply left to die without support, without anything"—to replace the forces being obliterated and surrendering it is now being reported: "Ukraine is replenishing its combat losses with convicts and women…A large-scale hunt for conscripts is underway across Ukraine…Draft notices are being handed to people in the streets, eateries, and beaches"—sees this occurring at the same the Ministry of Defense (MoD) revealed: "Russian aircraft have struck a zinc factory in the Donbass killing up to 80 Polish mercenaries and destroying 20 armored vehicles along with eight Grad multiple rocket launchers", then it announced: "The major city of Severodonetsk has come under the full control of the Lugansk People's Republic"—and in whose latest issued urgent war bulletins, sees the most notable of them being:
"Precision weapons of the Russian Aerospace Forces and Kalibr missiles delivered a massive strike against the territory of the 169th training center of land troops near the settlement of Desna in the Chernigov Region, the 199th training center of air assault forces near the community of Teterevka in the Zhitomir Region and the 184th training center of the Ukrainian armed forces in the area of the locality of Starichi in the Lvov Region…The strikes totally incapacitated the 65th and 66th motorized infantry brigades and the 46th air mobile brigade of the Ukrainian army's strategic reserve, which were completing their training at practice ranges…Therefore, the planned re-deployment of these formations to the combat zone was disrupted".
"Over 720 Ukrainian nationalists, 12 tanks and other combat armored vehicles and 16 special vehicles were eliminated in Russia's air, missile and artillery strikes in the past 24 hours".
"Russian operational-tactical and army aviation aircraft, missile troops and artillery struck manpower and military hardware in 286 areas, artillery and mortar units in 62 clusters, two command posts in the areas of the settlements of Visunsk and Barmashovo in the Nikolayev Region, four ammunition depots near the communities of Verkhnekamenka, Lisichansky and the western outskirts of Lisichansk in the Lugansk People's Republic".
"Russia's Aerospace Forces delivered strikes by smart weapons to eliminate ten Ukrainian platoons of multiple launch rocket systems in the Donetsk area".
"A MiG-29 plane of the Ukrainian Air Force was shot down in an aerial battle near the settlement of Zelenodolsk in the Dnepropetrovsk Region".
"On 25 June, the towns of Severodonetsk and Borovskoye, the settlements of Voronovo and Sirotino came under the control of the Lugansk People's Republic…About 108,000 people are living in the localities liberated from the Kiev regime…The liberated territory totals about 145 square kilometers".
"The enemy made yet another unsuccessful attempt to deliver strikes by aircraft and multiple launch rocket systems against Snake Island…A Pantsyr-S anti-aircraft missile/gun system thwarted the attack, shooting down a Su-25 plane of the Ukrainian Air Force and 12 rockets…There are no casualties among the garrison's personnel and no destruction".
"Russian air defense capabilities eliminated eight Ukrainian UAVs near the settlements of Varvarovka and Rai-Aleksandrovka in the Lugansk People's Republic, Belyayevka in the Kherson Region, Malaya Kamyshevakha and Maliye Prokhody in the Kharkov Region".
"Overall, the following Ukraine targets have been obliterated by Russian military forces since the beginning of the special military operation: 215 aircraft, 132 helicopters, 1,363 unmanned aerial vehicles, 350 surface-to-air missile systems, 3,809 tanks and other combat armored vehicles, 682 multiple rocket launchers, 3,012 field artillery guns and mortars and 3,864 special military motor vehicles".
[Note: Some words and/or phrases appearing in quotes in this report are English language approximations of Russian words/phrases having no exact counterpart.]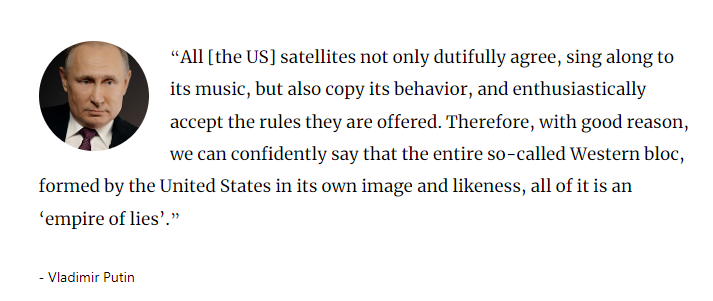 June 26, 2022 © EU and US all rights reserved. Permission to use this report in its entirety is granted under the condition it is linked to its original source at WhatDoesItMean.Com. Freebase content licensed under CC-BY and GFDL.