September 27, 2021
Putin Convenes War Council While World Maintains "Thunderous Silence" On Eve Of Conflict Outbreak
By: Sorcha Faal, and as reported to her Western Subscribers
A foreboding new Security Council (SC) report circulating in the Kremlin today first noting President Putin having convened for the first time in six months his full war council attended by Prime Minister Mikhail Mishustin and all Deputy Prime Ministers, says best encapsulating the present crisis was Foreign Ministry spokeswoman Maria Zakharova, who expressed regret that the collective West "has assumed the right to take care of the world's future at a time when the world is not asking for this", then stated: "The world is asking the West only for one thing – to return to the fold of international law…As you may know, Foreign Minister Sergey Lavrov addressed the UN with an idea of a hashtag – #OurRulesUNCharter…In other words, it is a call for returning to the fundamental principles that took decades to create, that have been approved collectively and that have performed the main function – they prevented the world from plunging into another disaster like those humanity experienced in the 20th century".
In a throwback to the disastrous times of the 20th Century, this report notes, yesterday it saw Supreme Socialist Leader Joe Biden ordering a nuclear armed B-52H strategic bomber to rush towards Russian Federation airspace in the Eastern Military Region, which was quickly repelled by three Sukhoi-35S fighter aircraft activated by the Ministry of Defense (MoD)—immediately after which the MoD activated an artillery regiment of the Novorossiysk Guards Airborne-Assault Mountain Division, that with the participation of around 2,000 troops and over 100 items of combat and special equipment have begun large-scale combat drills in Crimea—are Russian military forces specifically trained to fight in Balkans Mountain terrain—where today Serbian troops are on heightened alert at the Kosovo border.
The illegal Balkan country of Kosovo, which neither Russia or Serbia recognize, this report explains, is an American creation that is now Europe's first narco-state— according to the International Monetary Fund's definition of a narco-state, Kosovo is a state "where all legitimate institutions become penetrated by the power and wealth of the illegal drug trade"—this weekend saw under siege ethnic Serbians torching Kosovo government buildings over their vile treatment—in response to sees Serbia rushing tanks, military forces and fighter aircraft to the border of Kosovo—and on the eve of hostilities breaking out, Serbian President Aleksandar Vucic has just blasted the world with his searing statement: "The complete occupation of northern Kosovo and Metohija with armored vehicles by Pristina has been going on for the past seven days, and everyone in the international community stays thunderously silent".
Security Council Members in this transcript agree that the "thunderous silence" about the looming conflict about to erupt in the Balkans is being orchestrated by the socialist Biden Regime, most particularly because they're the instigators of this crisis they need to deflect attention away from their own continued failures both at home and on the international stage—a manufactured crisis socialist leader Biden desperately needs so he can castigate the Russian boogeyman in order to keep his rapidly fraying alliance with the European Union intact—a demonic plan that yesterday ran into a major roadblock called the German election, the shocking results of which caused Biden to dementedly exclaim in fear: "I'll be darned!".
With German voters having shaken up the country's political landscape, and confined the dominance of the Christian Democrat Party and Social Democrat Party to history, this report details, this election saw the party of Chancellor Angela Merkel suffering its worst defeat since it was founded in 1945—an election that saw the far-right Alternative for Germany Party and the far-left Die Linke Party both losing votes, though the far-right party gleefully exclaimed: "Despite our relatively weaker result we have accomplished our mission: Merkel is out"—an election that saw the German people paying lip service to socialist-globalist climate hysteria, but in their overwhelming vote said: "Yes, yes, climate protection is nice but it shouldn't be too expensive"—with no party having enough seats to have a majority means that they will need to form a governing coalition—a tripartite coalition to include the Social Democrat Party, the Green Party and the Free Democrat Party—all three of whom despise and distrust America and its socialist-globalist agenda, which is why it's being said today: "The mess Merkel leaves behind could eventually lead to the collapse of the European Union".
While the socialist Biden Regime watches its plans for continued hegemony over Germany, and by extension the European Union go down in flames, this report continues, it comes at the same time the global energy crunch has pushed oil prices to a three-year high—a global energy crunch that just caused Goldman to raise its year-end oil price target to $90, which will see Americans paying over $5-per-gallon for gasoline—a global energy crunch that this weekend saw gas stations in Britain going dry and the military nearing a call up to deal with this crisis—a global power crunch that slammed into China with such force it's factories are now closing down, most critically those supplying parts for Apple and Tesla, and is causing an explosion of grim articles like "Power Supply Shock Looms: "Global Markets Will Feel The Pinch Very Soon" Of China's Next Crisis"—for the European Union as this global energy crunch exacerbates it sees articles now appearing like "The Harsh Truth Behind Europe's Energy Crisis", that truthfully states: "It remains unclear whether European politicians are aware of the role that their own policies have played in creating this crisis"—and in knowing this truth it caused Kremlin spokesman, Dmitry Peskov to say this morning that Russia could offer extra gas to Western Europe as its consumers see energy bills skyrocket amid the squeeze on supplies, with him adding: "Is Gazprom ready to conclude further contracts?…Of course it is, because our consumers in Europe are our main partners…However, increasing supplies to meet an unexpected demand is unlikely to be achieved overnight…Underground storage facilities can't just be pumped out in a few days by simply opening a valve…There are technological limits".
With it now being reported "just over eight months into office, President Biden is drowning in crises and his approval rating is plunging", this report concludes, Biden and his socialist Democrats were rudely met this morning by the leftist Politico article "Joe Biden, Welcome To The Thunderdome", wherein it reveals: "The president spent the weekend working the phones in hopes of getting his party to pass his domestic agenda…Collectively, it is a throw-everything-at-the-wall attempt to push through a $3.5 trillion Democrat-only social and climate spending plan along with a bipartisan infrastructure package with a $550 billion price tag…And it illustrates the sense of desperation that has taken over the party as those agenda items seem painfully close to failing in Congress"—a revelation of pending doom quickly joined by socialist House Speaker Nancy Pelosi proving true the old adage "You know a commie is lying when their lips are moving" when she suddenly turned on her own moderate Democrats to reschedule a vote on an infrastructure bill she vowed to them would be placed first—which makes it no surprise why the Wall Street Journal in their just published scathing article "Pelosi Goes For Broke" states: "Focused on her legacy, the Speaker pushes Democrats to take votes that will end careers in 2022…For Mrs. Pelosi, legislative success on her terms is all that matters…The party's fate in 2022 is incidental, since she's likely to retire and once entitlements are in place she figures Republicans will lack the fortitude to repeal them…The Speaker will keep marching even if it breaks her own majority".  [Note: Some words and/or phrases appearing in quotes in this report are English language approximations of Russian words/phrases having no exact counterpart.]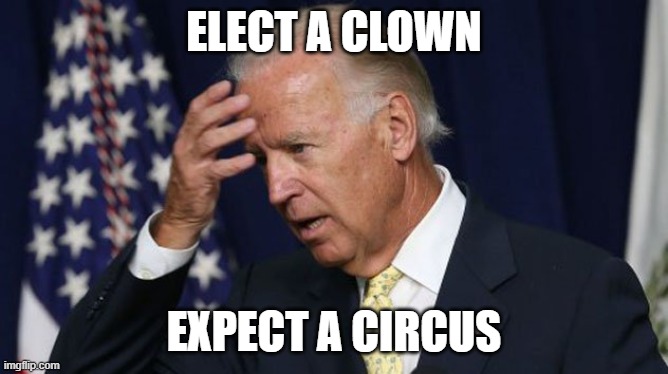 September 27, 2021 © EU and US all rights reserved. Permission to use this report in its entirety is granted under the condition it is linked to its original source at WhatDoesItMean.Com. Freebase content licensed under CC-BY and GFDL.