October 18, 2023
Musk Notes About Orwell "Boy Did I Call It Or What?" As World Reaches Brink Of Abyss
By: Sorcha Faal, and as reported to her Western Subscribers
A forewarning new Security Council (SC) report circulating in the Kremlin today first noting President Putin and Chinese President Xi Jinping held talks lasting about 3 hours during the Belt and Road Summit in Beijing, says afterwards President Putin told reporters: "The Belt and Road Initiative is in line with our well-known proposal to form a large Eurasian space, as a space of cooperation and interaction of like-minded people, where a variety of integration processes will be linked", then President Xi revealed: "The bilateral trade turnover between the two countries has already set a historic record and is approaching the $200 billion benchmark previously set by Moscow and Beijing".
At the opening of the Belt and Road Summit to further break the world away from the warmongering grasp of the socialist Western colonial powers, this report notes, deranged Supreme Socialist Leader Joe Biden issued a "put him down" threat against the life of President Putin—in response to this repugnant threat, President Putin observed: "You live, you learn…One must learn, and then there won't be a desire to put down anyone, since that leads to problems…One needs to learn to respect others and seek compromise"—a threat joined by Socialist Leader Biden secretly shipping a small number of surface-to-surface Army Tactical Missile Systems (ATACMS) missiles to Ukraine in recent days, which Ukraine used yesterday along with cluster munitions to attack Russian cities.
In immediate response, this report continues, President Putin assessed: "We, of course, will be able to repel these attacks…What's most important is that these deliveries, fundamentally, won't be able to change the situation on the contact line at all…We can say this for sure…The ATACMS delivered will not be able to help Ukraine turn the tide on the battlefield and there is nothing good for Ukraine in this sense…It just prolongs the agony…This is yet another mistake on the part of the United States"—President Putin then announced: "Per my instructions, the Russian Aerospace Forces will begin patrolling the neutral zone of the airspace over the Black Sea on a regular basis…And our MiG-31 aircraft are armed with Kinzhal systems"—and are unstoppable hypersonic nuclear armed Kh-47M2 Kinzhal air launched ballistic missiles having the range to obliterate every NATO base in Europe.
At near the same exact time President Putin deployed nuclear armed Russian Aerospace Forces against NATO yesterday, this report details, the entire Middle East erupted in fury and unrestrained riot violence—fury ignited by a massive blast at the Al-Ahli Hospital in Gaza, which Gaza Healthy Ministry spokesman Ashraf Al-Qidra reported killed a total of 471 Palestinians and wounded more than 341, with most of the victims being men and children who were in the parking lot, but mothers and babies inside the hospital were mostly protected—in response President Putin declared: "Hundreds of dead and wounded, of course, this is a catastrophe, especially in a humanitarian place…I expect this to be a signal that this conflict should end as soon as possible…In any case, it should lead to the start of some kind of contacts and negotiations"—quickly after which, Security Council Deputy Chairman Dmitry Medvedev declared: "The final responsibility for it lies with those who cynically make money from wars… With those who thoughtlessly distribute colossal amounts of money for weapons to load its military-industrial complex with work and falsely proclaims their global mission to protect democratic values. The United States of America".
Also in response to the Gaza humanitarian catastrophe, this report details, Muslim Shiite leader Iranian Foreign Minister Hossein Amirabdollahian posted the proclamation: "Time is OVER!…After the terrible crime of the Zionist regime in the bombing and massacre of more than 1,000 innocent women and children in the hospital, the time has come for the global unity of humanity against this fake regime more hated than ISIS and its killing machine"—a proclamation joined by Muslim Sunni leader Jordanian King Abdullah II warning: "The whole region is on the brink of falling into the abyss"—a warning King Abdullah issued after meeting with socialist European Union and NATO member leader German Chancellor Olaf Scholz—following this warning, Chancellor Scholz arrived in Israel where he was forced to lie on the ground during a rocket attack, then warning articles began appearing like "Maybe Biden Should Cancel His Israel Trip After What Happened To The German Chancellor".
Though Socialist Leader Biden didn't cancel his trip to Israel, this report notes, all of the Arab and Palestinian leaders cancelled their meetings with him—Socialist Leader Biden then declared to Israeli Prime Minister Benjamin Netanyahu: "I was outraged by the bombing of the hospital yesterday…Based on what I've seen, it was done by the other team…Not you…But there's a lot of people out there who are not sure"—a declaration that followed the Israeli Defense Forces presenting further evidence Wednesday morning backing up its assertion that the deadly explosion in the parking lot of a Gazan hospital the previous evening was caused by a misfired rocket launched by Palestinian terrorists, and not by an Israeli airstrike.
Most outrageous about the catastrophic hospital attack in Gaza, this report concludes, was the lying fake news leftist Western media reporting as fact press statements issued by Hamas, none of whom bothered to even notice factual information posted on X, formerly known as Twitter, as documented in articles like "Twitter Account Embarrasses Journalists By Performing Actual Journalism In Gaza Hospital Explosion"—is a lying leftist Western media establishment warned about by George Orwell in his warning dystopian novel "Nineteen Eighty-Four" of what the world would become under warmongering socialist rule—exactly like Orwell predicted the socialists would target him for destruction for telling the truth, it now sees articles appearing like "Ministry Of Bulls**t Tries To Cancel Orwell As The Telegraph Follows 'Orwellian' Formula" and "ORWELLIAN IRONY: The Left Is Now Trying To Cancel George Orwell"—all of which caused the world's richest person and X owner Elon Musk to post the note: "Boy did I call it or what?…George Orwell".  [Note: Some words and/or phrases appearing in quotes in this report are English language approximations of Russian words/phrases having no exact counterpart.]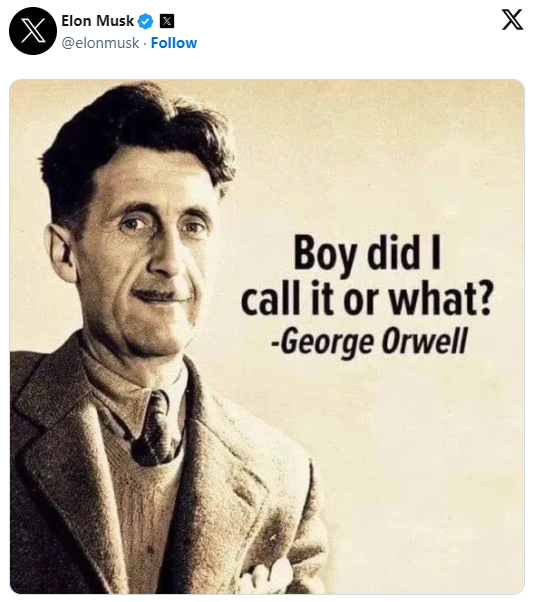 October 18, 2023 © EU and US all rights reserved. Permission to use this report in its entirety is granted under the condition it is linked to its original source at WhatDoesItMean.Com. Freebase content licensed under CC-BY and GFDL.