June 4, 2023
Jubilant Russians Say "Thanks Joe!" For Biden Making Their Economy Strongest In History
By: Sorcha Faal, and as reported to her Western Subscribers
A thought-provoking new Security Council (SC) report circulating in the Kremlin today first noting top Kremlin spokesman Dmitry Peskov revealing that President Putin remains open to any contact that would allow meeting the goals of the "Special De-Nazification Operation" to liberate Ukraine through peaceful means, but the socialist Western colonial powers don't provide such a chance, says he then most factually observed: "Human rights and European values are seen by Europeans as something flexible…As a matter of fact, they continue their flexible line: when it is in their interests, they refer to these universal values…When it is not, they never do it…For years, Western countries have been ignoring shelling attacks on Donbass, when there was no special military operation…There people have been turning a blind eye on killed children, on rows on children's graves in Donbass…And we heard not a single word of condemnation from them".
Following German Foreign Minister Sigmar Gabriel expressing the hope that the Ukrainian counteroffensive would become the biggest battle in Europe since World War II, this report notes, Foreign Ministry spokeswoman Maria Zakharova assessed: "The German politician's statement is in line with the ideas of the German Nazis, who, having developed the Barbarossa Plan, dreamed of a successful large-scale blitzkrieg against and subsequent conquest of the Soviet Union…On the whole, the West openly supports Kiev's policy of physical extermination of ethnic Russians…It tacitly nods in approval when Ukrainian functionaries promise to exterminate the population of Crimea…Now the Westerners themselves have begun to talk openly about the extermination of civilians in Russia…The neo-Nazi sentiment and the desire to contribute to an escalation of the Ukrainian conflict are stronger than ever in Europe…It is to be regretted that Westerners, including, paradoxically enough, Germans, do not learn anything from history".
After top socialist Biden Regime official Secretary of State Antony Blinken dismissed calls for a ceasefire, this report continues, the Ukraine Nazi Regime rejected Indonesia's proposal for a peace settlement with Moscow—a rejection of peace followed by the news: "German Chancellor Olaf Scholz received an icy welcome at a 'European Festival' organized by his own Social Democratic Party…Scholz was booed and whistled at as he sought to address the festival held in the town of Falkensee, in the German state of Brandenburg, near Berlin…Footage shows event attendees criticizing Scholz for being a "people's traitor" and a "warmonger"…Few supporters are seen cheering for the chancellor…A group was also heard shouting "liar" and "bandit" while demanding "peace without weapons" and urging Scholz to "go away""—was a typical reaction against Chancellor Scholz whose own peoples know he was gaslighting them, and all of which was joined by German global financial giant Deutsche Bank warning: "A cycle of boom and bust will return this year and a wave of corporate debt defaults is imminent, particularly in the United States and Europe…Our cycle indicators signal a default wave is imminent…The tightest Fed and ECB policy in 15 years is colliding with high leverage built upon stretched margins…And tactically, our US credit cycle gauge is producing its highest non-pandemic warning signal to investors, since before the Global Financial Crisis of 2008".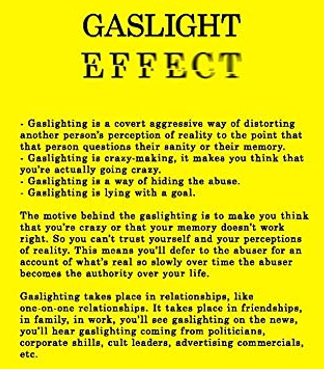 Following whole Russian towns evacuated after innocent civilians came under incessant shelling from Ukrainian Nazi terrorists, this report details, more than 1,100 air raid shelters in Ukraine were found unfit for use or locked—while not caring for the lives and safety of their own civilian population, the leftist Washington Post just revealed: "Military equipment and small arms provided by several NATO nations, including the United States, ended up in the hands of militants who launched a cross-border raid into Russia's Belgorod region"—today governor of Russia's Belgorod Region, Viacheslav Gladkov, reported that a sabotage group from Ukraine has entered a local settlement and is currently engaged in fighting with the Russian forces—all of which is joined by former top United States diplomat James Jatras assessing: "The purpose of this terrorist attack on the Belgorod Region is to try to trick the Russians into some kind of a stupid or a hasty or an emotional response…This would then trigger the Ukrainians hope for some kind of direct NATO entry into the war, which they see as their only possible lifeline…I don't think it's going to work, even if they thought they'd get into the war, by the way, directly, and I don't think it would save the current Ukrainian state…And in any case, I don't think the Russians are going to fall for it…They realize what's going on, that this is a provocation…They're not going to fall for it…They're going to stick with whatever their plans are".
While firing hundreds of artillery shells daily at innocent Russian civilians, this report notes, yesterday it saw top Ukrainian official Igor Zhovkva declaring: "If you want to start a successful counteroffensive you need everything at your disposal, including artillery, armored vehicles and tanks, so probably we don't have enough"—a declaration joined by puppet leader Ukrainian President Vladimir Zelensky demanding $55 billion more in socialist Western weapons, with him stating: "Ukraine needs at least 50 Patriot air defense system batteries to protect its cities and troops…Everyone knows perfectly well that any counteroffensive without air superiority is very dangerous"—a demand followed by the Wall Street Journal revealing: "The share of United States spending on defense may drop below 3% for the first time since the Cold War era"—yesterday at the Shangri-La Dialogue defense meeting in Singapore, it saw socialist European Union chief diplomat Josep Borrell observing: "I know how to finish the war in Ukraine…It's quite easy…We stop supporting militarily Ukraine and the war will finish in a couple of weeks…But we cannot halt military aid to Ukraine because we don't want the peace which is the peace of the surrender"—an observation now joined with the news: "South Korean Defense Minister Lee Jong-Sup never discussed ammunition shipments to Ukraine with EU foreign policy chief Josep Borrell, the ministry told journalists on Sunday…It was referring to Borrell's since-deleted tweet saying he had "a good meeting" with Lee on the sidelines of Shangri-La Dialogue security summit in Singapore…The South Korean Ministry of Defense contradicted this statement, however, claiming it was "not true" that Lee Jong-Sup and Borrell had a "discussion about ammunition support" for Kiev".
While ignoring Ukrainian terrorists attacks on innocent Russian civilians, this report continues, today the leftist Washington Post published its propaganda article "NATO-Trained Units Will Serve As Tip Of Spear In Ukraine's Counteroffensive", wherein it reveals: "Now the war games are over…The 47th brigade and other assault units have been armed with Western weapons, including Bradley infantry fighting vehicles, and relocated to a secret location closer to the front line"—is a leftist propaganda article that failed to mention the Russian news from last week: "The new Kondor-FKA radar satellite, which was launched into orbit on Saturday, will be used for reconnaissance of Ukrainian military installations…It will pass over Ukraine on average twice a day and is capable of detecting military objects in radar range with a resolution of one meter"—but was news paid attention to by former US Marine intelligence officer and United Nations weapons inspector Scott Ritter, who assessed: "You can't hide anything from the Russians anymore… It can see through clouds, it can see through rain…It can see through everything…High resolution radar, and they are seeing everything right now And it's going to have a fundamental shift in how this Ukrainian conflict goes because all that stuff that's been brought – can't hide it…The weapons are all detected now and they're all getting programmed into the Russian target database…And the Russians are gonna start hitting this stuff, more and more and more and we see evidence of this already…This conflict will become unsustainable for the Ukrainians sometime by the end of summer, early fall".
In confirmation of Ritter's assessment, this report details, the Ministry of Defense (MoD) reported this morning: "The crews of the Solntsepyok flamethrower systems, best translated into English as "scorching sunlight", destroyed the temporary deployment point of Ukrainian nationalists in the Gulyaipole area", and revealed: "Last night, the Russian armed forces carried out a long-range high-precision air-launched group strike against enemy targets at military airfields…The purpose of the strike was achieved…Command and control posts, radar posts, Ukrainian aircraft, and storage facilities with weapons and ammunition were hit…Ukraine also lost up to 440 military personnel over the past 24 hours in the Donetsk, South Donetsk and Zaporozhye directions".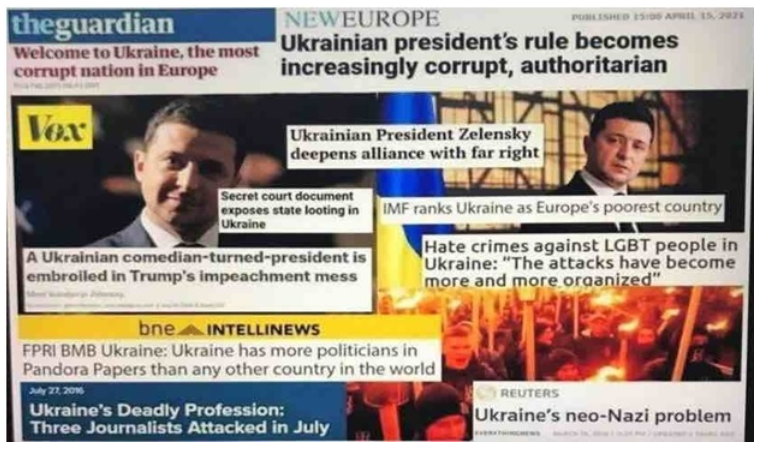 In a gaslighting display worth noticing, this report notes, the Wall Street Journal, in their just published article "'There Were Fists Everywhere'. Violence Against Teachers Is On The Rise", reveals: "Across the U.S., violence against teachers has ratcheted up since the widespread return to in-person learning in 2021, and in some areas the problem is worse than it was prepandemic"—a revelation ignored by the leftist Washington Post, who, in their article "In Russian Schools, It's Recite Your ABC's And 'Love Your Army'" published at the same time, revealed: "Interviews over the past month with sociologists, educators, parents and students, and a review of extensive material online posted by the schools themselves and by local news outlets, show a comprehensive government effort to bolster military-patriotic content through all 40,000 public schools in Russia…The cornerstone of the initiative is a program called "Important Conversations", started last September…Every Monday at 8 a.m., schools are supposed to hold an assembly to raise the Russian flag while the national anthem is played, and then convene an hourlong classroom session on topics like important milestones in Russian history".
Unlike the leftist Washington Post that admitted it didn't go to Russia to interview anyone, instead relying on the internet for its research, this report concludes, former US Marine intelligence officer and United Nations weapons inspector Scott Ritter just returned to the United States after traveling throughout all of Russia over the past month meeting and talking to officials and ordinary peoples—a visit where Ritter discovered that the Russian peoples welcomed socialist Western sanctions, because they only hurt the oligarchs and allowed President Putin to open the borders so pro-Western peoples could leave—Ritter also discovered that because of socialist Western sanctions, the Russian economy is stronger than it has ever been in history, investors from all around the world are pouring money into Russia, and officials have more money than they know how to spend as new infrastructure projects abound—and in his just released open letter "Sanctions Against Russia Failed. I Saw It Firsthand" to the under socialist siege American peoples, Ritter reveals:
I just returned from a month-long visit to Russia, during which time I had the opportunity to see a dozen different cities covering nearly the entire expanse of the Russian Federation.
Prior to my departure, I was filling up the tank of my car, when I noticed a sticker on the gas pump.
The sticker portrayed a smiling Joe Biden, the President of the United States, gesturing to his right. Underneath the image were printed the words, "I did this!".
Far from being a compliment, the sticker was a form of humorous protest against the Russia sanctions adopted last year after the start of the special military operation.
Many of these sanctions involved Russian energy, and the resulting economic chaos in global energy markets prompted gas prices to surge.
Biden was quick to blame Russian President Vladimir Putin, claiming on June 22, 2022, that "the simple truth is gas prices are up almost $2.00 a gallon because of Vladimir Putin's ruthless attack on Ukraine".
Biden called the increase in cost "Putin's Price Hike", but the American people saw through the subterfuge, as the sticker on the pump proved. If anything, the increase in gas prices prompted many Americans to look at the sticker after examining the bill, and sarcastically proclaim, "Thank you, Joe Biden".
Upon my arrival to Russia, I expected to see a nation heavily impacted by the consequences of American-led sanctions.  Instead, I saw a nation undergoing an economic revival, in large part thanks to the policies Russia was compelled to undertake because of Western sanctions.
When I told my Russian hosts about the sticker at the gas pump and my sarcastic appreciation, they laughed.
"Send us the stickers", they said.  "And we will thank Joe Biden with all the sincerity we can muster!".
[Note: Some words and/or phrases appearing in quotes in this report are English language approximations of Russian words/phrases having no exact counterpart.]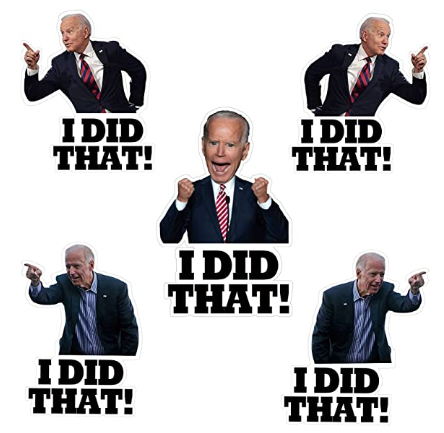 June 4, 2023 © EU and US all rights reserved. Permission to use this report in its entirety is granted under the condition it is linked to its original source at WhatDoesItMean.Com. Freebase content licensed under CC-BY and GFDL.