September 18, 2021
Invincible Emus, Black Rappers And Enraged France Join Forces Against Biden
By: Sorcha Faal, and as reported to her Western Subscribers
An intriguing new Security Council (SC) report circulating in the Kremlin today first noting President Putin stressing the importance of the memorandum of understanding signed at this week's summit between the Shanghai Cooperation Organization Secretariat and the Eurasian Economic Commission, with his stating via video link: "This is definitely in line with the implementation of Russia's idea to create a Greater Eurasian Partnership with the participation of countries from the SCO, the Eurasian Economic Union, ASEAN and the Chinese Belt and Road Initiative…I am convinced that the convergence of various integration processes in Eurasia and establishing a common space of open, equal and mutually beneficial cooperation meets the interests of all our countries", says quick to counter the peaceful integration of Eurasia was the United States—is a Eurasia that's the largest continental area on Earth, comprising all of Europe and Asia, and the United States isn't even a part of and is separated from by the world's two largest oceans, the Atlantic and Pacific—to strike back against, saw Supreme Socialist Leader Joe Biden conspiring in secret with Britain and Australia to create a trilateral nuclear war agreement against Eurasia's largest power China—and whose "odd man out" nation in this war agreement is France, that despite being one of America's oldest allies, was left uninformed about what was in the works until the last moment.
In response to this war agreement that will see the United States giving nuclear war technology to Australia, this report notes, Foreign Ministry spokeswoman Maria Zakharova stated: "We drew attention to Canberra's released plans as a part of the new trilateral security initiative of the United States, Australia and the United Kingdom…We believe that being a nuclear-free country and a faithful participant of the Non-Proliferation Treaty, Canberra will comply with its obligations and under its safeguards agreement with the International Atomic Energy Agency and its additional protocol…We expect that Canberra will ensure the necessary cooperation with the International Atomic Energy Agency in order to exclude any non-proliferation risks"—that was joined by Russia's Permanent Representative to International Organisations in Vienna Mikhail Ulyanov further stating: "At the same time, the issue of violation of nuclear non-proliferation is being raised…Why?…Because the United States and Great Britain took 17 months to decide on how to help Australia master the technology of creating nuclear-powered submarines…From the point of view of non-proliferation, this is a very sensitive issue, because the submarines operate on highly enriched uranium, which, in principle, can be used to create nuclear weapons".
Contained in this "historic military pact against China", this report details, it sees Australia receiving at least 8 nuclear submarines and nuclear armed capable Tomahawk Cruise Missiles from the United States—sees this coming at the same time Japan has begun nationwide military drills for the first time in 30-years—in quick response to this war aggression saw China filing an application to join the Comprehensive and Progressive Agreement for Trans-Pacific Partnership in order to "isolate the United States", with them stating: "All strategies for the Asia-Pacific region should be open and inclusive, while any action stressing ideological confrontation or forming cliques is doomed to fail"—near immediately after which the socialist Biden Regime announced it was going to base American nuclear submarines and warplanes in Australia due to what they comically claim is Chinese "economic coercion".
This transcript sees Security Council Members noting that this war move against China by the socialist Biden Regime was expected—specifically because China's "realpolitik" approach (a system of politics or principles based on practical rather than moral or ideological considerations) to Venezuela, Iran, Afghanistan and other nations has upended the United States' geopolitical game, about which it's now being said: "China is dealing a blow to Washington's sanctions strategy by stretching a helping hand to developing states labelled by the US as "pariahs" which have been subjected to tough restrictions…This shows that the world has reached a point of no return along with the accelerating decline of the United States".
Security Council Members in this transcript note that the socialist Biden Regime most correctly assessed that they can no longer make inroads into Eurasia through the Russian Federation—a Russia that's the largest country in the world stretching from Europe to Asia—yesterday saw Vice Chairman of the US Joint Chiefs of Staff General John Hyten fearfully warning his idiot socialist leaders that "Russia has an unbelievably powerful military", and him adding: "It's extremely important that we deal with Russia and China at the same time…Our whole focus is looking from the United States to Europe, but looking to the west: China is there, Russia is there…They are in South America, Africa and the Middle East…They have global capabilities"—sees this whole saga blowing a hole in Biden's bid to try and rebuild transatlantic ties with Europe, with French Foreign Minister Jean-Yves Le Drian stating: "This unilateral, brutal, unpredictable decision is very similar to what Mr. Trump was doing"—and most correctly sees experts noting: "Europe is no longer strategically relevant to the US in the way it was for decades, not only with regards to Russia but also to the Middle East…This is a new era, and the new Cold War is not like the last one because the centre of gravity is not in Europe, it's in Asia".
This transcript sees Security Council Members agreeing that though socialist leader Biden's move away from Europe does appear "very similar" to what President Donald Trump was attempting to do, its main difference lies in Trump knowing that NATO had become obsolete and is no longer needed in a multipolar world—a fact also known by French President Emmanuel Macron, who previously warned European countries that they can "no longer rely on America to defend NATO allies", and stated: "What we are currently experiencing is the brain death of NATO"—because of Biden's treachery today it sees an enraged France having recalled its ambassadors from both the United States and Australia—sees it now being asked "As a furious France plots its revenge for America's treachery on its subs deal, will it take the nuclear option of quitting NATO?"—and its being observed: "The anger in Paris is stratospheric towards Washington, and a wounded President Macron may just follow de Gaulle's example from the 1960s, and say au revoir to the NATO transatlantic military alliance".
At the same time socialist leader Biden has ignited what's being described as "a dangerous joke which will only worsen the geopolitical crisis with China", this report continues, yesterday he watched his scheme to force experimental mRNA vaccines on Americans go down in flames after the FDA rejected booster jabs because it found an increased risk of heart inflammation in those receiving them—that was joined by Britain announcing yesterday that the antibody cocktail touted by President Trump as "cure" for Covid is being launched next week across the entire country for coronavirus patients—a "cure" that proves the lie experimental vaccines were given their emergency authorization for by the FDA—all of which is known to famed Black rapper Nicki Minaj, whose "Internet Holy War" against these experimental vaccines Biden and his socialist Democrats are using to reinstitute segregation is now joined by other Black musicians, such as the rapper Busta Rhymes and R&B singers Tank and Summer Walker, who have taken to stages and social media to question the safety and utility of these experimental vaccines—in rebelling against socialist Democrats saw Ms Minaj declaring "Don't tell me I can't agree a Republican!" and her then comparing cancel culture to censorship in Communist China—when the leftist media came for her yesterday saw Ms Minaj siccing her tens-of-millions on them by posting their phone numbers and addresses, and who stating to one of them: "Sharlene Rampersad BITCH YOUR DAYS ARE FUCKING NUMBERED YOU DIRTY HOE"—yesterday saw Ms Minaj fans continuing their protest at CDC headquarters chanting "She told the truth!"—then hilariously it saw Republican Party lawmaker US Congressman Matt Gaetz posting the message "Trump/Minaj 2024" proposing a President Trump 2024 ticket with Nicki Minaj.
With Biden and his socialist forces now being assailed by France and the tens-of-millions of Blacks loyally supporting Nicki Minaj, the conclusion section of this transcript sees Security Council Members wondering if the idiots running the Biden Regime bothered to even look at Australia before enlisting it to join their war against China—an Australia where today it sees its fearless citizens by the thousands confronting police forces and overpowering them in protests against tyrannical socialist Covid edicts—an Australia whose coat of arms national symbol prominently features the flightless Emu bird—and is important to know about because this flightless bird defeated the Australian Army in what history records as "The Great Emu War"—are Emu birds standing as tall as six feet high and are capable of reaching 31 miles-per-hour running speed, and if it weren't for their fluffy feathered coat, it wouldn't come as a shock to believe you had just seen a velociraptor sprinting through the Australian outback—in the early 1930s saw the Australian Army going to war against an estimated 20,000 Emus—a war the Emus won to such devastating effect because of their unique battle tactic of splitting up into small groups when attacked, when farmers once again requested Australian Army assistance in 1934, 1943, and 1948 to fight the Emus, the military turned them down each time—and with the under socialist siege Australian peoples all exhibiting their "inner Emus", does make one question the sanity of anyone thinking they will in any way whatsoever side with Biden against China.   [Note: Some words and/or phrases appearing in quotes in this report are English language approximations of Russian words/phrases having no exact counterpart.]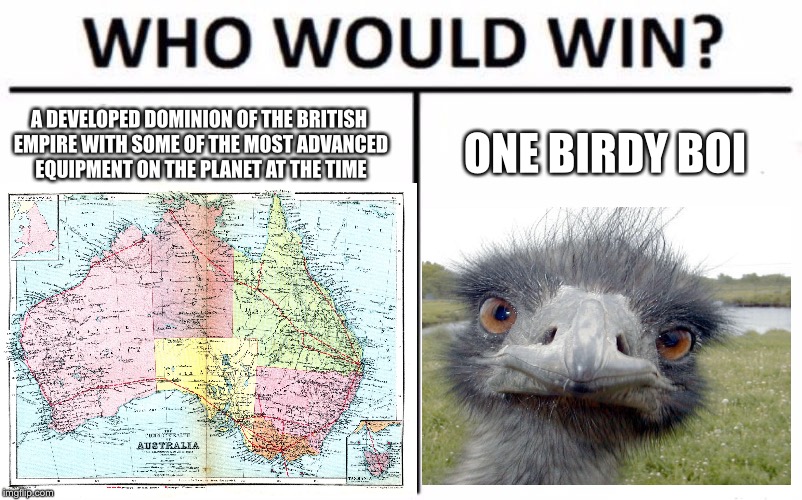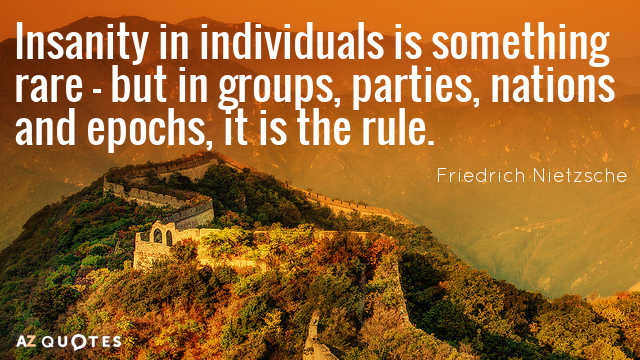 September 18, 2021 © EU and US all rights reserved. Permission to use this report in its entirety is granted under the condition it is linked to its original source at WhatDoesItMean.Com. Freebase content licensed under CC-BY and GFDL.