May 1, 2022
East Declares To Lunatic West: "World Cannot Continue To Live Like This"
By: Sorcha Faal, and as reported to her Western Subscribers
A compelling new Security Council (SC) report circulating in the Kremlin today first noting top Foreign Ministry nuclear war arms negotiator Vladimir Yermakov revealing: "As of today, there's no use talking about any prospects for negotiations on strategic stability with the United States…This dialogue is formally frozen by the American side", says he then declared: "A substantive conversation about the prospects of resuming a full-fledged Russian-American negotiation process on the strategic agenda will only return after the implementation of all the tasks of the special military operation in Ukraine".
As to what the main "task" of "Special De-Nazification Operation" to liberate Ukraine really is, this report notes, Foreign Minister Sergey Lavrov shocked the Western colonial powers a fortnight ago when he declared: "Russia's military action in Ukraine is meant to put an end to the US-dominated world order…Our special military operation is also meant to put an end to the unabashed expansion of NATO and the unabashed drive towards full domination by the United States and its Western subjects on the world stage…This domination is built on gross violations of international law and under some rules, which they are now hyping so much and which they make up on a case-by-case basis".
In the latest response to Russia officially declaring that the main task of this special operation is "to put an end to the US-dominated world order", this report continues, the American official "newspaper of record" leftist Washington Post, in their just published warning article "Defeating Putin Will Require Larger U.S. Commitments — And Risks", proclaims: "Mr. Putin's war aim is not merely to conquer Ukraine but to overthrow the international order itself…It's worth accepting costs and taking risks to make sure that Russia fails — and emerges from the conflict unable to wage such aggression again"—and is a proclamation in defense of the American-led "international order" coming at the exact same time the United States greatest investor of all time Warren Buffet, who's known as the "Oracle of Omaha", viciously slammed Western colonial stock markets with the truthful statement: "The markets have become a gambling parlor…I don't think we ever had anything quite like we have now in terms of the volumes of pure gambling activity going on daily…It's not pretty".
Not being understood by the greater masses of the American people about this present conflict, this report details, is that its true origin began in 1096 when the Western European powers bankrupted their nations to launch their catastrophic religious crusades against the Muslim peoples in the Middle East—were failed religious crusades that split Eastern Orthodox Christians from their Western Christian counterparts—for over 1,000-years it has seen the West trying to exact revenge on Russia because it didn't support these religious crusades with repeated invasions and confrontations—a fact of history now being remembered in truthful articles like "Clash Of Christianities – Why Europe Cannot Understand Russia", wherein it observes: "Christianity, once again, is at the heart of a civilizational battle – this time among Christians themselves…Under an ubiquitous, toxic atmosphere of cognitive dissonance drenched in Russophobia, it's absolutely impossible to have a meaningful discussion on finer points of Russian history and culture across the NATO space…Western Europeans see the Orthodox and Eastern Christians as satraps and a bunch of smugglers, while the Orthodox regard the Western Crusaders as barbarian usurpers bent on world conquest".
Virtually unknown to the American people, this report notes, is that the global agenda of the Western colonial powers is set yearly at the World Economic Forum in Davos-Switzerland—is a Davos Forum attended by the leaders of the Western colonial powers and their nation's most elite and wealthiest overlords, all of whom President Putin addressed in person in 2021, where he warned them all that their agendas were destroying the rest of humanity by driving nearly the entire world into abject poverty for the sole benefit of Western elites, saw him warning that the so-called "rules based international order" imposed on the rest of the world by the West was not sustainable because America kept making up its own rules, saw him warning that the American destruction of the world's religions cultures and other societal norms in order to replace them with evil leftist ideology was about to ignite serious conflicts, and saw him directly telling these Western colonial lunatics:
We are seeing a crisis of the previous models and instruments of economic development. Social stratification is growing stronger both globally and in individual countries.
All this is inevitably affecting the nature of international relations and is not making them more stable or predictable. International institutions are becoming weaker, regional conflicts are emerging one after another, and the system of global security is deteriorating.
The imbalances in global socioeconomic development are a direct result of the policy pursued in the 1980s, which was often vulgar or dogmatic.
This policy rested on the so-called Washington Consensus with its unwritten rules, when the priority was given to the economic growth based on a private debt in conditions of deregulation and low taxes on the wealthy and the corporations.
As you are aware, the inability and unwillingness to find substantive solutions to problems like this in the 20th century led to the World War II catastrophe.
Of course, such a heated global conflict is impossible in principle, I hope. This is what I am pinning my hopes on, because this would be the end of humanity.
However, as I have said, the situation could take an unexpected and uncontrollable turn – unless we do something to prevent this.
There is a chance that we will face a formidable break-down in global development, which will be fraught with a war of all against all and attempts to deal with contradictions through the appointment of internal and external enemies and the destruction of not only traditional values such as the family, which we hold dear in Russia, but fundamental freedoms such as the right of choice and privacy.
I would like to point out the negative demographic consequences of the ongoing social crisis and the crisis of values, which could result in humanity losing entire civilisational and cultural continents.
We have a shared responsibility to prevent this scenario, which looks like a grim dystopia, and to ensure instead that our development takes a different trajectory – positive, harmonious and creative.
Equally unknown to the greater masses of the American people, this report continues, is that Russia is both a formidable power in both the West and East—is a fact important to notice because the East comprises the majority of humanity, and includes the world's two most populated nations of China and India—in opposition to the Davos Forum that sets the agenda for the Western colonial powers, the East sets its agenda at the Boao Fiorum for Asia and the Raisina Dialogue Forum—and with these two forums setting the agenda for the East having just concluded, the just published article  ""Eastern Davos": This World Is Broken, Bring A New One" reveals:
Two international brainstorming sessions, in China and India, took place one after the other and unexpectedly led to the same conclusions: the world cannot continue to live like this, let's talk seriously about how to remake it at the root.
The significance of the two forums, of course, is not that there were quite a lot of voices condemning the West.  It lies in the fact that powerful and respected platforms are being formed in Asia where one can say out loud and frankly what cannot be said on Western platforms.
Here the question is pertinent: what happened to Davos as such, from where until a few years ago, every year in January, impulses came from what everyone who matters should think about and do?
The first and simplest answer is that Davos has fallen into his own global trap.
We're talking about the virus, of course.
Everyone remembers and no one will forget that it was the chief conductor of Davos, Klaus Schwab, who came up in 2020 with his famous idea of ​​a "covid reset" of the whole world, with total lockdowns, an unprecedented defeat of human societies and the economy: the world must be broken and rebuilt.
With Belgorod Region Governor Vyacheslav Gladkov reporting this morning: "A fire has occurred on the territory of one of the sites belonging to the Defense Ministry", this report concludes, the fire at this Russia military site near the border with Ukraine now joins the latest urgent war bulletins issued by the Ministry of Defense (MoD), the most notable of which are:
"Over the past 24 hours, Russian missile and artillery troops struck 319 areas of the amassment of enemy manpower and military equipment, 12 command posts and two missile/artillery arms and ammunition depots".
"Over the past 24 hours, operational-tactical aircraft of the Russian Aerospace Forces struck two command posts, nine company-level strongholds and areas of amassed manpower and military equipment as well as five ammunition and fuel depots…More than 200 nationalists and 23 pieces of armored vehicles have been eliminated".
"High-precision Russian Onyx missiles destroyed a warehouse near Odessa with weapons and ammunition received from the United States and European countries, and also destroyed the runway".
"Russian air-launched precision missiles struck 17 Ukrainian military sites, including five emplacements of artillery and multiple launch rocket systems".
"Russian air defense systems shot down two Su-24M bombers of the Ukrainian Air Force in the Kharkov region…Also 12 Ukrainian unmanned aerial vehicles were destroyed during the night".
"On 30 April, 46 civilians came out of residential buildings located near the besieged Azovstal steel plant in Mariupol…The first group of 25 civilians left on Saturday afternoon, while the second group of 21 people came out in the evening".
"Overall, the following Ukraine targets have been eliminated by Russian military forces since the start of the special military operation: 2,678 tanks and other combat armored vehicles and 2,503 special military motor vehicles…In addition, 143 aircraft, 112 helicopters, 660 unmanned aerial vehicles, 279 surface-to-air missile systems, 308 multiple launch rocket systems and 1,196 field artillery guns and mortars had been taken out".
[Note: Some words and/or phrases appearing in quotes in this report are English language approximations of Russian words/phrases having no exact counterpart.]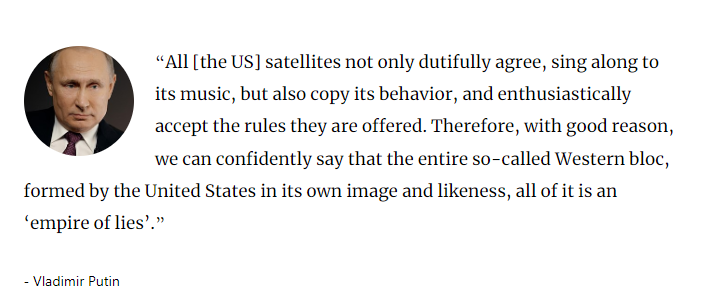 May 1, 2022 © EU and US all rights reserved. Permission to use this report in its entirety is granted under the condition it is linked to its original source at WhatDoesItMean.Com. Freebase content licensed under CC-BY and GFDL.