November 17, 2023
Deep State Warns Biden "Magical Thinking" Doesn't Win Wars
By: Sorcha Faal, and as reported to her Western Subscribers
A compelling new Security Council (SC) report circulating in the Kremlin today first noting the Public Opinion Foundation (FOM) released its latest polling data showing: "78% of Russians trust President Putin, and 80% approve of his work", says this was joined by top Kremlin economist Andrey Klepach reporting about the Russian economy: "The macroeconomics, especially this year, rather pleases us, because the results are indeed better than everyone expected…Gross domestic product growth by the end of the year could reach 3.2-3.3% "—all of which followed Bloomberg economists revealing: "Russia is set for a $75 billion surplus…Russia's current account surplus has increased sharply, propping up the national currency as energy exports recovered despite pressure from Western sanctions".
In contrast to President Putin, this report notes, the ABC News 538 Polling Project shows that Supreme Socialist Leader Joe Biden has a dismal 38.9% approval rating—yesterday hugely unpopular Socialist Leader Biden signed a bill into law to keep the government open that excluded any aid to Ukraine—and was a cut off of American aid to Ukraine that came at the same time Foreign Ministry spokeswoman Maria Zakharova revealed: "Based on our information, between 20% and 36% of all financial aid from the West was misappropriated by Ukrainian officials".
Along with Socialist Leader Biden cutting off funding for Ukraine, this report continues, CIA Director William Burns flew to Kiev for "urgent and secret" meetings with Ukrainian President Vladimir Zelensky, which caused international affairs and security analyst Mark Sleboda to assess: "Ukrainian government infighting has already escalated to assassinations of factional lieutenants…CIA Director William Burns would either tamp down the civil war or tell President Zelensky to go quietly".
While literally fighting for his own survival, this report details, President Zelensky revealed yesterday: "Ukraine has received fewer artillery rounds since Israel launched its military operation against Hamas…Now the warehouses are empty, or there is a legal minimum that a particular state cannot give you"—a revelation joined with the news: "Ukrainian President Zelensky dispatched his No. 2 official Andriy Yermak to Washington this week for meetings at the White House and on Capitol Hill, pleading for aid"—while Ukraine pleads for American aid it was also reported yesterday: "The Pentagon has failed its annual audit for the sixth year in a row, according to the Defense Department's chief financial officer", and articles began appearing like "US At 'Key Decision Point' In Its Support Of Ukraine As Top General Says War With Russia At 'Stalemate'"–all of which was joined by the news: "A BBC Eye investigation found nearly 20,000 men have fled Ukraine illegally since the beginning of the war to avoid being drafted…A further 21,000 have tried to leave but were caught by the Ukrainian authorities".
In knowing the facts contained in the document "Forever Wars Why US Failed In Vietnam, Iraq And Afghanistan" and the horrific details revealed by Brown University in their Costs Of War Project, this report notes, it caused Security Council Deputy Chairman Dmitry Medvedev to assess about American support for President Zelensky: "US lawmakers are derailing the funding of Israeli and Ukrainian military spending for this year…The reasons are technical and not quite technical…While in Israel's case the reason is obviously technical, for that country is more important to the US Congress than its own, everything is more complicated as far as the Ukrainian regime is concerned…The United States easily writes off its minions when they become useless…The reason is not just the Republicans and Democrats are at odds on the eve of the US presidential election…They're just fed up: these minions devour mammoth funds, theft thrives and nothing has been achieved on the battlefield…Also, the Israeli-Palestinian crisis has erupted…To put it in a nutshell, the support for this scoundrel on the loose is nearing its inevitable end…More money will be squandered, there will follow more schizoid rhetoric about democracy, bombastic assurances of a coming victory, false promises of allied relations for all time, and so on and so forth…But the situation is clear: the moment when another US puppet will sink into oblivion is drawing near".
With Ukraine nearing its inevitable end adding to the long list of failed American wars, this report continues, world-renowned Brazilian geopolitical analyst Pepe Escobar just assessed: "Washington needs to win its Gazan war against Iran because it failed to win its Ukrainian war against Russia"—an assessment joined by world-renowned American economist Professor Jeffery Sachs at Colombia University warningly observing: "The US has played a losing hand badly for 15 straight years…This is really important to understand if one wants to learn a little bit about geopolitical poker, which is, we keep raising the stakes on a losing hand…They've raised the stakes for 15 years on a losing hand, and they can't get it…And this is our team…They failed…We need a new foreign policy team, and we need a new foreign policy approach, and we need to negotiate before Ukraine is completely destroyed".
As the main mouthpiece for the American military-industrial-complex, more commonly known as the Deep State, this report concludes, the Wall Street Journal slammed the socialist Biden Regime this morning with its scathing article "It's Time to End Magical Thinking About Russia's Defeat", wherein it assessed how wars are won: "Putin has reason to believe that time is on his side…At the front line, there are no indications that Russia is losing what has become a war of attrition…Western officials' promises of reinvigorating their own defense industries have collided with bureaucratic and supply-chain bottlenecks…Meanwhile, sanctions and export controls have impeded Putin's war effort far less than expected…Russian defense factories are ramping up their output, and Soviet legacy factories are outperforming Western factories when it comes to much-needed items like artillery shells…The technocrats responsible for running the Russian economy have proven themselves to be resilient, adaptable, and resourceful…Elevated oil prices, driven in part by close cooperation with Saudi Arabia, are refilling state coffers…Ukraine, by contrast, depends heavily on infusions of Western cash…None of this should come as a surprise…More than six months before the full-scale invasion of Ukraine in February 2022, Putin signed off on a new National Security Strategy for Russia…The main thrust of that document was to prepare the country for a long-term confrontation with the West…Today Putin can tell the nation that his strategy is working".  [Note: Some words and/or phrases appearing in quotes in this report are English language approximations of Russian words/phrases having no exact counterpart.]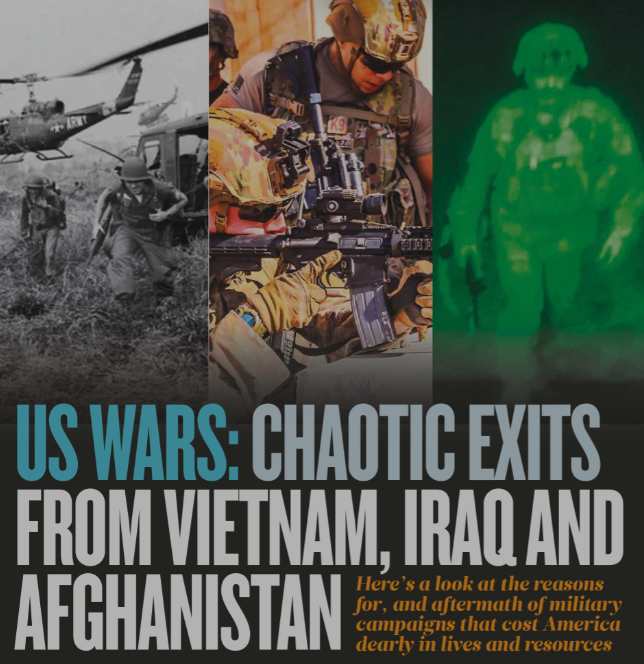 November 17, 2023 © EU and US all rights reserved. Permission to use this report in its entirety is granted under the condition it is linked to its original source at WhatDoesItMean.Com. Freebase content licensed under CC-BY and GFDL.