July 4, 2022
Biden Warns "This Is A Time Of War And Global Peril"—Energy Giants Call Him An Idiot
By: Sorcha Faal, and as reported to her Western Subscribers
A thought-provoking new Security Council (SC) report circulating in the Kremlin today first noting Russian International Affairs Council member, and former Carnegie Endowment for International Peace Moscow Center director Dmitri Trenin, Ph.D. declaring that Russia has made a decisive break with the Western colonial powers and is ready to help shape a new world order, says in making this declaration he factually assessed: "For the first time ever, Russia is facing a united West, from North America, the European Union, and Britain, to Japan and Australia…What's more, there are no allies in the West that Moscow can turn to – even notionally neutral states such as Finland, Sweden, Austria, and Switzerland, have all ditched their neutrality…Russia's political rupture with the West is thus complete, and any new norm of relations between them can only emerge as a result of the "Hybrid War", which will take years, if not decades, to fight out".
In knowing the historic significance of the changing world order ignited by the "Special De-Nazification Operation" to liberate Ukraine, this report notes, alone among the Western colonial leaders it saw French President Emmanuel Macron permitting a film crew to chronicle events, wherein whose just released documentary Macron explained that talking to President Putin is necessary to prevent the conflict in Ukraine from becoming a wider war, saw him describing "Anglo Saxon" leaders as pushing the message that "we must annihilate Russia to weaken it permanently", and saw Macron saying that his goal is instead to "help Ukraine to win", and "not to fight against Russia, let alone annihilate it"—a stance taken by President Macron that necessitates peace negotiations—but is a stance adamantly opposed by Supreme Socialist Leader Joe Biden, whose National Security Advisor Jake Sullivan just proclaimed: "It's not yet time for peace talks between Russia and Ukraine…We do not want to see Ukraine defeated by Russia and that is why we are continuing to rush aid and assistance".
To understand everything wrong with the Western colonial powers, this report continues, one need only look at their lavishly funded non-governmental organization International Energy Agency (IEA), that this past week echoed their warning: "Nuclear power capacity needs to double worldwide over the next three decades to reach net-zero carbon emissions targets to ensure energy independence"—a warning ignored by all of the Western colonial powers, but heeded by Russia, that, in 2019, launched the world's first floating nuclear power plant—a floating nuclear power plant used to power with green energy Arctic oil exploration—and today saw Russian energy giant Rosneft announcing the discovery of a huge oil deposit in the Arctic Pechora Sea containing an estimated 82 million tons of oil.
The Western colonial socialist narrative about Russia's vast oil wealth, this report details, was crafted for the leftist propaganda media by Harvard economist and top Biden Regime advisor Jason Furman, who said Russia is "basically a big gas station" and is otherwise "incredibly unimportant in the global economy"—-a socialist narrative exposed as an outright lie by the International Energy Agency, that factually reveals: "Although ranked third among oil producing nations, in terms of all oil products, Russia is the world's largest exporter to global markets"—and to the critical importance of refined oil products Russia sends to the world, sees its vast list including:
Plastics Are Made From Oil
Crude oils are sent to refineries where they become feedstock. The feedstock is used in petrochemical plants and turned into plastic to make essential products used in our everyday lives. More than 6,000 everyday products get their start from oil, including dishwashing liquid, solar panels, food preservatives, eyeglasses, DVDs, children's toys, tires and heart valves.
Electronics
Due to insulating and heat resistant properties, plastics and other petroleum-based products are used in electronic components. From your speakers and smartphones to your computers, cameras, and televisions, most electronics have components derived from oil.
Textiles
Clothing is commonly made from petroleum-based fibers including acrylic, rayon, vegan leather, polyester, nylon and spandex. Even shoes and purses use petrochemicals for their lightweight, durable, and water resistant properties.
Sporting Goods
Many common sports equipment contains some petroleum including basketballs, golf balls and bags, football helmets, surfboards, skis, tennis rackets and fishing rods.
Health & Beauty Products
Many of our personal care products are derived from petroleum including perfume, hair dye, cosmetics (lipstick, makeup, foundation, eyeshadow, mascara, eyeliner), hand lotion, toothpaste, soap, shaving cream, deodorant, panty hose, combs, shampoo, eyeglasses, and contact lenses.
Medical Supplies
Modern health care relies on petroleum products that have few substitutes. Plastics are used in a wide-range of medical devices and petrochemicals are relied on for pharmaceuticals. Products include hospital equipment, IV bags, aspirin, antihistamines, artificial limbs, dentures, hearing aids, heart valves and many.
Household Products
Our homes are full of products that used petroleum in their production. From construction materials such as roofing and housing insulation to linoleum flooring, furniture, appliances and home decor such as pillows, curtains, rugs, and house paint. Even many everyday kitchen items including dishes, cups, non-stick pans, and dish detergent use oil in their creation.
After decades of socialist indoctrination, this report concludes, the vast majority of Americans have no comprehension that oil used for fuel (gasoline, diesel, kerosene, etc.) is the smallest part of the products made from this petrochemical, and for energy companies is at the bottom of the profits they make—because the Western colonial powers keep flooding worthless inflationary money into their economies and cut off Russian oil refined products, American energy giants have been forced to keep producing record amounts of refined oil products to make everything modern life needs, thus leaving them with less oil to make fuel with—in spite of these factual realities, however, yesterday Socialist Leader Biden posted the demented message: "My message to the companies running gas stations and setting prices at the pump is simple: this is a time of war and global peril….Bring down the price you are charging at the pump to reflect the cost you're paying for the product…And do it now"—in quick response it saw American multi-billionaire Jeff Bezos firing back at Biden: "Ouch…Inflation is far too important a problem for the White House to keep making statements like this…It's either straight ahead misdirection or a deep misunderstanding of basic market dynamics"—a scathing response quickly joined by American energy giants, who, through their Oil & Gas Association trade group, basically called Biden an idiot in their posted message reply to him, that reads: "Working on it Mr. President…In the meantime – have a Happy 4th and please make sure the White House intern who posted this tweet registers for Econ 101 for the fall semester".  [Note: Some words and/or phrases appearing in quotes in this report are English language approximations of Russian words/phrases having no exact counterpart.]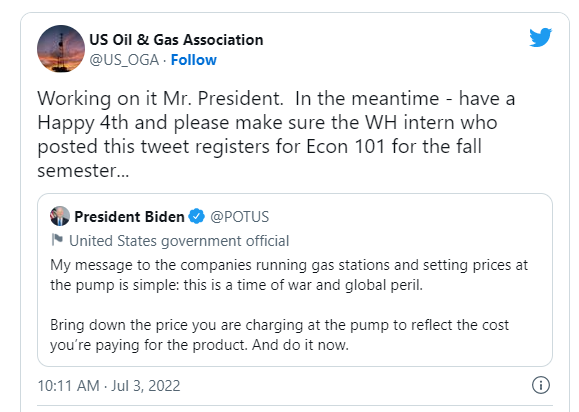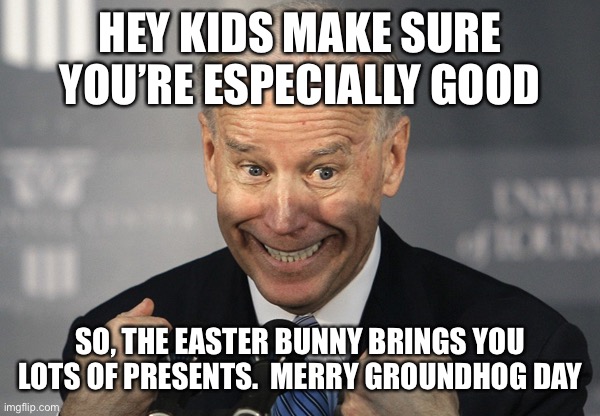 July 4, 2022 © EU and US all rights reserved. Permission to use this report in its entirety is granted under the condition it is linked to its original source at WhatDoesItMean.Com. Freebase content licensed under CC-BY and GFDL.