February 19, 2022
Biden "Wags The Dog" To Extend State Of Emergency As "Trump Effect" Enriches Russia
By: Sorcha Faal, and as reported to her Western Subscribers
An insightful new Security Council (SC) report circulating in the Kremlin today first noting President Putin revealing that the United States and other NATO countries are yet unwilling to perceive Russia's key security demands adequately, says he next factually observed: "Sanctions will be imposed in any case…Whether they have a reason today, for example, in connection with the events in Ukraine, or there is no such reason – it will be found"—an observation based on the truth that the socialist Biden Regime is using "the tail wagging the dog" tactics against Russia to keep hidden from Americans what is really happening—as best exampled yesterday, when Supreme Socialist Leader Joe Biden issued the blaring warning on live television: "We have reason to believe that Russian forces are planning to and intend to attack Ukraine in the coming week — in the coming days", then near silently after darkness fell and the bright lights were off, he released the announcement: "The COVID-19 pandemic continues to cause significant risk to the public health and safety of the Nation…For this reason, the national emergency declared on March 13, 2020, and beginning March 1, 2020, must continue in effect beyond March 1, 2022".
Early this afternoon, this report notes President Putin and Belarusian President Alexander Lukashenko entered the war situation center in Moscow to oversee strategic exercises that involved the firing of land-based and submarine launched nuclear armed capable intercontinental ballistic missiles and intermediate range cruise missiles—a nuclear war exercise coming at the same time the top Washington think tank Institute For The Study Of War (ISW) predicted Russia will invade Ukraine today, and warned: "The attack would likely begin with an air and missile campaign targeting much of Ukraine to decapitate the government and degrade the Ukrainian military as well as the ability of Ukrainian citizens to prepare to resist a subsequent Russian invasion"—a warning joined by Denis Pushilin, the head of the breakaway, unrecognized Donetsk People's Republic, grimly stating: "Kiev can start a full-scale assault on Donbass at any moment, the situation is critical"—a statement quickly followed by Alexey Danilov, the head of Ukraine's National Security and Defense Council, firmly declaring: "I can tell you there are no orders to liberate our territory by force"—then it saw Ukrainian army Lieutenant General Alexander Pavliuk, the head of Ukraine's Joint Forces Operation, revealing: "Joint Operation forces are in constant combat readiness…We do not currently see the likelihood of a full-scale invasion of Ukraine".
Not being explained to the American people about this present crisis, this report continues, is that the Russian-speaking separatist regions of Ukraine (the self-proclaimed Lugansk People's Republic and Donetsk People's Republic) are facing off against the genocidal Neo-Nazi Azov Battalion forces that were incorporated into the Ukrainian armed forces—in reports (see HERE and HERE) published by the Office of the United Nations High Commissioner for Human Rights they have connected the Azov Battalion to war crimes such as mass looting, unlawful detention, and torture—since yesterday, these Nazi forces have been indiscriminately shelling these separatist regions, that caused Donetsk Republic leader Denis Pushilin to declare: "I urge fellow countrymen who are in reserve to come to the military commissariats…Today I signed a decree on general mobilisation"—early this morning in the Lugansk People's Republic a critical gas pipeline was attacked, and saw its officials stating: "After assessing the damage, we can say that the cause of explosions is a sabotage"—after which Arabic reporters came under fire from these Nazi forces—then it saw one of these Nazi artillery shells exploding in southern Russia close to the border with Ukraine, with its officials revealing: "The blast occurred at 4 am, 300 meters (984 feet) away from a house in the village of Mityakinskaya"—today sees it being reported: "The first group of refugees from the Donbass region have arrived in Russia following an evacuation order made by the self-proclaimed People's Republics of Donetsk and Lugansk authorities ahead of an anticipated Ukrainian military action"—all of which in response to Foreign Minister Sergei Lavrov stated: "As for the situation on the line of contact in the Donbass, we are very alarmed by the recent reports of a sharp increase in shelling with the use of weapons prohibited by the Minsk Agreements…We emphasised our serious concern over the statements by Kiev that they would not conduct direct dialogue with Donetsk and Lugansk…This is a direct challenge and a direct refusal to comply with the Minsk Agreements".
Further complicating the crisis in Ukraine, this report details, is its government now facing an "Hobson's Choice", which is the necessity of accepting one of two or more equally objectionable alternatives—is a near irreconcilable situation that sees Ukraine divided between its pro-Nazi nationalist forces that sided with Adolph Hitler during World War II, and its Russian-speaking peoples these Nazis want to exterminate—a dangerous situation Ukraine agreed to alleviate by its signing of the Minsk Agreement treaties, that gives full rights and limited autonomy to its Russian-speaking citizens, and was approved by the United Nations—if the government of Ukraine tries to implement the Minsk Agreement treaties, however, its Nazi forces deeply embedded within it will launch a civil war—to appease these Nazis the government of Ukraine has enacted punishing laws to ban the Russian language over 30-million of its citizens speak—all of which yesterday caused Russian Ambassador to America Anatoly Antonov to factually state: "Washington's beautiful slogans about the supreme value of human rights are not worth a penny…The main geopolitical goal of the United States is to push Russia back to the East as far as possible…To that end, a policy to force the Russian-speaking population out of their current places of residence is needed…Americans prefer not only to ignore the attempts of forced assimilation of Russians in Ukraine but also strongly condones them with political and military support".
As to why neither the socialist Biden Regime nor its leftist media war propagandists will tell Americans the truth about Ukraine, this report notes, is documented in analytical articles like "America's Ruling Regime Doesn't Fear Disinformation… It Fears Truth"—and others like "Is The Confrontation Over Ukraine Joe Biden's "Wag The Dog" Moment?", wherein it factually observes: "Our present-day antipathy toward Russia derives from something deeper than an unwillingness to let go of old grudges…The real issue has less to do with them than with us…More specifically, it centers on a desperate need to refurbish the concept of American exceptionalism…Nowhere is that need felt more powerfully than among members of the foreign policy establishment", then reveals the brutal truth: "Who in their right mind would identify with a nation that has in the not-so-distant past engaged in a costly and arguably illegal war in one country (Iraq), while waging a 20-year-long war in another (Afghanistan) that ended in humiliating defeat?…In what sense does a nation that loses over 900,000 of its citizens to a pandemic, whose dysfunctional central government annually spends trillions more than it takes in, and that cannot even control its own borders qualify as exceptional?…Can a nation in which the richest 1 percent control 16 times more wealth than the bottom 50 percent be deemed exceptional?".
Unlike the vast numbers of Americans whose decades of socialist indoctrination has rendered them mentally defenseless to immediately gratifying warmongering hysteria and propaganda, this report continues, the Russian peoples scientifically documented desire for order and natural pessimism sees their mentality based on soul, goodness, truth, patience, humility and the inevitable triumph of good over evil—a mentality that explains why the Russian people are endlessly fascinated by President Donald Trump, specifically what's now being called the "Trump Effect", that describes his near mystical and astonishing continued victories over everyone who tried to harm him.
In one such documented "Trump Effect" occurrence, this report details, it saw socialist Canadian Prime Minister Justin Trudeau infamously refusing to meet with President Trump during the signing of the landmark US-Mexico-Canada trade agreement, but today sees Prime Minister Trudeau being vilified the world over as a tyrant for beating and arresting peacefully protesting truckers—today sees the Canadian clergy rebuking Trudeau for invoking the Emergencies Act, and other "tyrannical actions", and sees them warning Trudeau is dividing Canada and "exposing this government and people to the judgment of God".
Other documented "Trump Effect" occurrences, this report notes, include the "judgment of God" destruction of fake news media giant CNN, that for years pummeled President Trump with every lie their deranged minds could make up, but today sees their ratings having plunged by 90%, their top anchor fired, their top executive forced to resign, and two of their producers charged with vile sex crimes against children—a "judgment of God" destruction also exacted against leftist social media giant Facebook, whose nearly $500-million of "Zuckerbucks", named after Facebook owner Mark Zuckerberg, corrupted the 2020 election against President Trump, but now sees Zuckerberg's Facebook empire collapsing as its lost nearly half of its value over the past six months—and yesterday it saw top Facebook executive Jeren Andrew Miles being fired after he was caught sexually communicating with a 13-year-old boy child.
Security Council Members in this conclusion of this transcript note that this mysterious "Trump Effect" phenomenon exacting the "judgment of God" on everyone who harmed President Trump is about to visit itself upon Socialist Leader Biden and his Democrat Party, as best foretold about in the leftist Washington Post article "The Midterms Could Be A Bloodbath For Democrats. And There May Be Little That Candidates Can Do About It"—though on other side of this mysterious phenomenon, it sees Russia being enriched beyond all expectations because of the Biden Regime's hysterical warmongering—a vast enrichment that this week saw Russia nearing an agreement to provide China with 100-million tons of coal—this week saw the price of Urals oil nearing $100-a-barrel for a Russian budget that balances at $44-a-barrel—a windfall that's already gifted Russia with a staggering $65-billion, that more than covers the entire $51.3-billion budgeted for the Russian military for 2022—this week saw the price of gold spiking to a 9-month high of 6% because of hysterical war fears, the main beneficiary of which is Russia, that holds more gold reserves than US Dollars, and whose worth is now nearing $1-trillion—because of Biden's insanity this week it was reported: "Russia's trade surplus widened to a record USD 26.72 billion in December of 2021 from USD 10.82 billion in the corresponding month of the previous year…Exports surged 60 percent to USD 57.38 billion, a new high for the series"—because of this vast enrichment this week saw it further being reported: "External Debt in Russia decreased to 478.20 USD Billion in the fourth quarter of 2021 from 489.20 USD Billion in the third quarter of 2021"—thus meaning that Socialist Leader Biden's greatest accomplishment during his first year in office was to pour more money on Russia than it has ever seen in recorded history.  [Note: Some words and/or phrases appearing in quotes in this report are English language approximations of Russian words/phrases having no exact counterpart.]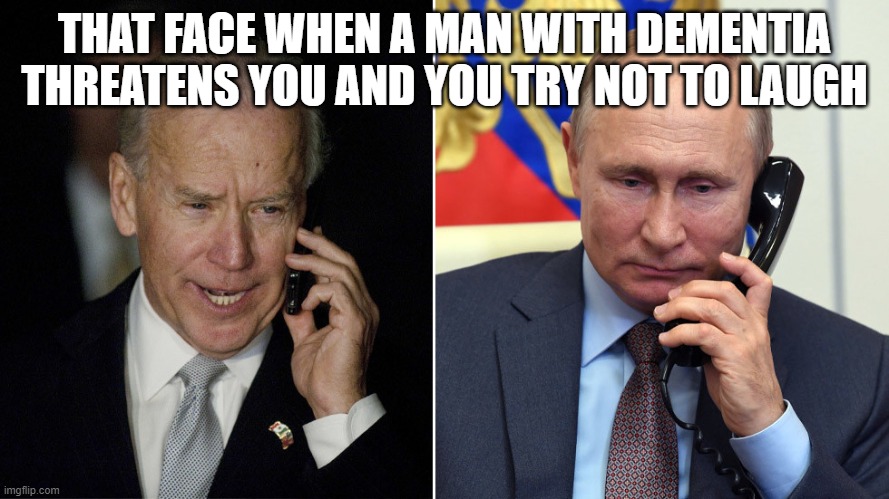 February 19, 2022 © EU and US all rights reserved. Permission to use this report in its entirety is granted under the condition it is linked to its original source at WhatDoesItMean.Com. Freebase content licensed under CC-BY and GFDL.