September 29, 2023
Biden Slammed With "Good Morning Vietnam!" History Lesson From Ukrainian Nazis
By: Sorcha Faal, and as reported to her Western Subscribers
An illuminating new Security Council (SC) report circulating in the Kremlin today first noting the Ministry of Defense (MoD) announced this morning: "The General Staff of Russia's Armed Forces has no plans for a further mobilization", says General Staff Deputy Chief Vladimir Tsimlyansky also revealed: "The number of people wishing to enroll in Russian military service under a contract, as well as volunteers who have decided to take part in the special military operation, is sufficient for fulfilling our tasks"—with how and when Ukraine will surrender being the last remaining task of the special operation, yesterday when asked if Supreme Socialist Leader Joe Biden will meet with President Putin, it saw United States Secretary of State Antony Blinken cryptically replying: "Look, never say never because ultimately what everyone wants, starting with the Ukrainians, is a just and durable peace…So, let's see if we ever get to this point when it is possible"—all of which followed President Donald Trump proclaiming to the American peoples on Wednesday: "We are going to lose our country…Moscow has made a fortune and continues to benefit from high oil prices".
With Russian oil exports having reached pre-war levels in April and smashed through G7 price caps in July, this report notes, the current rise in oil prices vastly enriching Russia was just joined by the stunning news: "Global oil prices edged closer to $100 a barrel on Thursday amid a drop in stocks at a key storage facility in the US…Total US crude stocks dropped by 2.2 million barrels last week to 416.3 million barrels, government data shows, far exceeding industry experts' predictions of a 320,000-barrel drop"—as America fast depletes its strategic oil reserves, this morning it was beyond all belief revealed: "The Biden administration will hold no offshore oil and gas lease sales next year and bring the total for the next five-year period to a minimum"—and it was also reported: "The California Air Resources Board allowed late on Thursday, effective immediately, the speeding up of delivery of winter-blend gasoline ahead of the usual regulatory start, as California Governor Gavin Newsom looks to curb the spike in gasoline prices which have topped $6 per gallon".
Along with the socialist Western colonial powers willfully committing energy suicide, this report continues, the equally willful destruction of their sovereign borders just caused Swedish Prime Minister Ulf Kristersson to summon his military forces as murderous migrant gang violence rocks his nation, with him making the war vow: "We will hunt the gangs, we will defeat the gangs"—as Sweden becomes the latest European nation to deploy military forces to wage war against criminal illegal migrants, Russian Permanent Representative Vasily Nebenzya to the United Nations most factually observed: "The mass exodus of people from the Middle East and North Africa to Europe is the result of irresponsible and thoughtless interference by Western countries, including the European Union, in the internal affairs of sovereign states in order to destabilize them and forcibly change unwanted governments…It is those countries who bear the main responsibility for the consequences"—and in the just released article "Too Little Too Late? Europe Finally Realizes Mass Immigration Is Destroying Them", sees it truthfully assessing: "In 2014 Europe was under siege, with millions of African and Arab migrants marching into the EU and using asylum claims to quickly enter the region without vetting…The result has been disastrous…Ever since this suicidal action Europe has been overrun, with millions of migrants flowing into the region each year…As of 2022, there were "officially" 23.8 million non-citizens living in the EU, most of them entering in the past five years…The majority of them were concentrated in Italy, France, Sweden, Germany and the UK…All of these countries have seen a spike in violent crime and property theft, with the proliferation of gang violence and increasing incidents of rape".
With the just published BBC article "Canada Nazi Row Puts Spotlight On Ukraine's WWII Past" noting: "When Canada's parliament praised a Ukrainian war veteran who fought with Nazi Germany, a renewed spotlight was put on a controversial part of Ukraine's history and its memorialisation in Canada…But this is not the first time that Ukraine's role in World War II has sparked a debate in Canada, which is home to the largest Ukrainian diaspora outside of Europe", this report details, it deliberately omitted what was revealed in the article ""Day of the Dead": Neo-Nazi Azov Brigade Conducts Torchlight Rallies All Over Ukraine"—and as torch carrying Nazis marched throughout all of Ukraine on Sunday, the American independent foreign policy article "European Union Leadership Announced New Lebensraum Expansion Policy" gravely documented: "The European Elites have a stunning new plan to defeat the fearsome Russian hordes marching toward Central Europe again…EU grand strategists will reinvent Adolph Hitler's idea of Lebensraum…As for Hitler's grand plan of 'Lebensraum', which he laid out in his book Mein Kampf, the German Reich would gain power and control of nations to the east to colonize them with German settlers…The Slavs who lived in these territories were to be wiped away by expulsion, enslavement, and slaughter…And Westerners still wonder at Vladimir Putin's warnings about Nazis in Ukraine and having a neutral zone between the EU and Russia".
The first European nation to be destroyed and its peoples exterminated by Socialist Nazi German leader Adolph Hitler's idea of Lebensraum, this report notes, was Czechoslovakia, which today is split into the two nations of the Czech Republic and Slovakia—a Czechoslovakia where Robert Fico was born, whose family was exterminated by the Nazis during World War II, and today he's a member of the Slovakia National Council—tomorrow Fico is favoured to win election as the next leader of Slovakia—last month Fico declared: "War always comes from the West and peace from the East" and proclaimed about the socialist Western colonial proxy war in Ukraine against Russia: "What's happening today is useless slaughter…They are emptying military warehouses to force countries to buy more American weapons"—yesterday the Foreign Intelligence Service (SVR) issued the urgent warning: "The opposition in Slovakia has made it abundantly clear that it would not unquestioningly follow the US lead if elected…To prevent this from happening, the US State Department sent instructions to several of its European allies to conduct targeted work with local political and business circles…Washington has sanctioned the use of methods such as blackmail, threats, and bribery"—and in the just released leftist CNBC article "A Populist Leader, Sympathetic To Putin's Russia, Could Be About To Win Elections In Slovakia", sees it fearfully warning: "Fico and his party have more recently embraced socially conservative, nationalist and anti-immigration rhetoric, and his stance on Ukraine has been extreme compared to his EU counterparts…That has included blaming "Ukrainian Nazis and fascists" for the start of the direct conflict between Ukraine and Russia in 2014; accusing Slovakia's president of being a U.S. agent; describing the EU as a "war machine under the influence of the USA", and arguing weapons deliveries to Ukraine have undermined Slovak sovereignty".
With international geopolitical experts having just assessed: "In many ways the West's Ukraine proxy war on Russia is all about narratives…First deployed was Russia's 'unprovoked attack'…Then, it was admitted it was NATO's expansion east that served as a catalyst starting the conflict…Now, we are told it is all about the future conflict with China…Take your pick…It all boils down to Western hegemony", this report continues, it was an assessment joined by British Defense Staff Chief Admiral Sir Tony Radakin observing: "It's the military that wins battles, but it's the economics and that sustainability that tends to win wars"—an observation followed by the economic article "West Pays for 70% of Zelensky Gov't's Expenses as Ukraine's Debt Hits New High", wherein it factually revealed: "The US has spent over $113 billion on military and economic aid to Ukraine, with questions from Congress about "just how much is enough" growing louder by the day…Meanwhile, Kiev is searching for cash as its debt breaks records"—all of which is an exact replay of what the United States did to economically prop up its failing and corrupt puppet state South Vietnam, where from the 1960s into the 1970s, the Americans kept flooding it with billions-of-dollars up to the final day of its catastrophic defeat when President Gerald Ford was still pressing for additional millions when the end came.
On 10 September, this report concludes, Socialist Leader Biden gave remarks during his visit to Vietnam dementedly saying: "Good evening, everyone…It is evening, isn't it?…Well, you know, there is that — one of my staff members said, "Remember the famous song, you know, 'Good Morning, Vietnam'?"…Well, good evening, Vietnam"—demented remarks worthy of notice because tying the catastrophically failed American wars in Vietnam and Ukraine together is the Council on Foreign Relations (CFR) think tank that's overseen United States foreign policy since 1921, and issues its orders via its official Foreign Affairs journal publication, the one issued this week being "Why America Should Send Military Advisers To Ukraine"—an insane order that caused Democrat Party presidential candidate Robert Kennedy Jr. to post the warning message: "Establishment journal Foreign Affairs signals the next step of Ukraine War escalation: stationing U.S. military advisors on the ground…Have they forgotten how we got embroiled in Vietnam?"—and was a warning message quickly joined by highly acclaimed American macro-economic writer Mike "Mish" Shedlock, exclaiming in disbelief: "Foreign Policy writers want the US to send military advisors to Ukraine…Whoa, Nelly!…Amazingly, the writers claim "On-the-Ground Help Will Bolster Kyiv Without Risking Escalation"…What the #$T&$#$#!!@@#?…I will keep this short…The idea is so obviously stupid that I sarcastically wonder why it took so long to come up with it…Doesn't anyone have any memory?…Does anyone study history on sending advisors?…Good Morning Vietnam!".  [Note: Some words and/or phrases appearing in quotes in this report are English language approximations of Russian words/phrases having no exact counterpart.]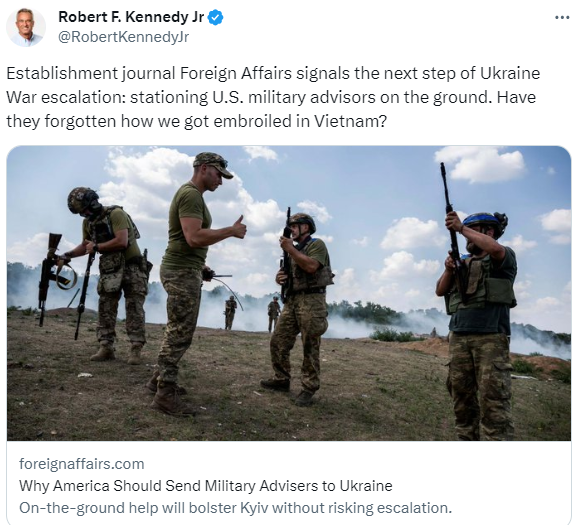 September 29, 2023 © EU and US all rights reserved. Permission to use this report in its entirety is granted under the condition it is linked to its original source at WhatDoesItMean.Com. Freebase content licensed under CC-BY and GFDL.