November 13, 2023
Biden Failed Wars Unleash "Horseman Of Economic Apocalypse" On America
By: Sorcha Faal, and as reported to her Western Subscribers
A compelling new Security Council (SC) report circulating in the Kremlin today first noting socialist European Union and NATO member leader German Chancellor Olaf Scholz indicating yesterday that he is ready for fresh talks with President Putin on the Ukraine conflict, says in response, top Kremlin spokesman Dmitry Peskov quickly replied: "The president never rules out contacts, as he always says that he is open to various talks, especially summits…But the president has always been and remains a fan of results-oriented communication, not just talk for the sake of talk"—all of which follows leftist NBC News revealing: "U.S. and European officials have begun quietly talking to the Ukrainian government about what possible peace negotiations with Russia might entail to end the war, according to one current senior U.S. official and one former senior U.S. official familiar with the discussions".
While the socialist Western colonial powers quietly talk about how to end the proxy war they started against Russia, this report notes, their corrupt puppet leader Ukrainian President Vladimir Zelensky proclaimed to his needlessly suffering peoples last evening: "We are almost half way through November and must be prepared for the fact that the enemy may increase the number of drone or missile strikes on our infrastructure Russia is preparing for Ukraine…And here, in Ukraine, all attention should be focused on defence, on responding to terrorists on everything that Ukraine can do to get through the winter and improve our soldiers' capabilities"—a proclamation that followed the Wall Street Journal reporting yesterday: "Ukrainian soldiers say they are low on ammunition and manpower on the ground in the conflict with Russia…Due to a lack of ammunition and other issues, Ukraine has been unable to seize the initiative on the battlefield and had to shift to a defensive posture after months of counteroffensive operations"—former top Ukrainian presidential aide Oleg Soskin just warned: "Zelensky's unwillingness to consider peace talks with Russia might lead him to being ousted to make such negotiations possible"—and the Strana news outlet in Ukraine reported yesterday: "Ukrainian President Vladimir Zelensky is eager to speak directly with former US President Donald Trump…An individual close to Zelensky's office reasoned that Trump, as the de facto 2024 presidential nominee for the Republican Party, effectively controls the flow of foreign aid to Kiev, since Republicans hold the majority in the House of Representatives".
With America igniting wars to serve secret special interests, as evidenced in the United States Congressional Record document "A Tangled Web: A History Of CIA Complicity In Drug International Trafficking", this report continues, the ending of its failed war in Afghanistan was just met by the United Nations revealing: "According to the Afghanistan Opium Survey 2023, released by the agency on Sunday, the supply of opium declined by an estimated 95 per cent, falling from 6,200 tons in 2022 to 333 tons in 2023, corresponding to a fall in the area under cultivation, from 233,000 hectares to just 10,800 hectares over the same period"—a revelation quickly followed by Security Council Deputy Chairman Dmitry Medvedev declaring: "In less than a year, the Taliban, no matter how we may feel about it, did what the US-led NATO coalition, which was allegedly fighting terrorism in the country, failed to do over a span of 20 years…That's what happens when those who were, in fact, interested in exporting heroin to Russia and other countries leave the region".
Among those affected by the massive CIA drug trafficking operation in Afghanistan, this report details, was China, whose President Xi Jinping will meet with Supreme Socialist Leader Joe Biden this week at the APEC leaders summit in San Francisco-California taking place between 14-17 November—in preparation for this meeting the leftist New York Times just released its warning article "Behind Public Assurances, Xi Jinping Spread Grim Views On U.S."—in preparation for this meeting the China Maritime Safety Administration announced today: "The Chinese army will conduct military exercises in South China Sea from November 14-18"–a military announcement that follows the news: "The Chinese Yuan has surpassed the Euro to become the world's second-most used currency in SWIFT trade settlements, according to data from the international SWIFT system"–and today it was revealed that China has begun removing its gold reserves from the United States.
Along with the announcement: "Russia's Rosatom and Dubai's DP World, one of the globe's largest logistics companies, inked a deal to establish a joint venture to develop container shipping along the Northern Sea Route (NSR)…DP World operates more than 80 container terminals in 40 countries accounting for 10 percent of global container shipping by volume", this report notes, the move to transfer global trade from the socialist Western colonial controlled Panama and Suez canals to the Russian controlled Northern Sea Route is now joined by nations flocking to buy Russian weapons at the Dubai Airshow that have wiped out all of the Western weapons they've faced in Ukraine—Bloomberg also reported last week: "Russian businesses are rapidly filling the void left by international companies, and are benefiting by snapping up the assets of departing Western firms at discounted prices" and revealed: "The rapid rise of the BRICS is transforming the global economy, with the group's share of world GDP in terms of purchasing power parity (PPP) set to rise well beyond of that of the Group of Seven (G7) major advanced economies".
In contrast to the growing economic health of the Russia-China-led BRICS Alliance, this report continues, the economic article "Horseman Of The Economic Apocalypse: Friday's US Debt Forecast Has Shocked Traders And Bankers" observed: "As the closing bell rang on Friday, triggering the usual exodus of bankers and traders to their watering holes, a bombshell dropped: Moody's Investors Service has shifted its outlook on the Government of the United States from stable to negative, citing heightened risks to fiscal strength"—then the economic article "From AAA to AAARGH! Here's Why Moody's US Credit Warning Will Accelerate Dedollarization" assessed: "The claim that US Treasury securities are the most liquid asset in the world is an attempt at averting foreign holders of these securities, particularly the People's Bank of China, from selling off these securities and halting the purchase of other US government bonds…If the latter happened, it would make it impossible for the US government to finance its fiscal deficits over the short run".
With it revealed last week: "A majority of Americans claim they are worse off financially under the Biden administration, a new FT-Michigan Ross poll has shown…No matter how eagerly Joe Biden may have been touting his 'Bidenomics' to voters throughout the US, but apparently only 14 percent believe their financial situation has improved since the Democrat took office", this report details, the vast majority of socialist indoctrinated and leftist media brainwashed American peoples still fail to comprehend the factual reality that Socialist Leader Biden's unpaid for failed wars are leading them to economic ruin—and in the just released Fox Business article "Expert Details The Impacts The 'Great Trucking Recession' Will Have On Americans", sees it warning today: "All the trucking companies right now are in dark times…Everybody's calling this the great trucking recession, and it's true because all the trucking companies right now are in dark times", he said…"This is not a good time to be in the trucking industry…Just to paint a picture, the trucking industry is the engine that drives the American economy forward…We're fueling growth and prosperity by transporting goods to where they need to be and when the engine breaks down or stops, it works like a heart…When that ceases to be, it brings the entire economic system to a halt".
With articles now appearing like "Chaos At State Department As Memo Blasts Biden Over 'Misinformation' On Gaza War", this report concludes, the leftist Axios news service revealed: "An internal State Department dissent memo accuses President Biden of "spreading misinformation" on the Israel-Hamas war and alleges that Israel is committing "war crimes" in Gaza..The scathing five-page memo — organized by a junior diplomat who has suggested on social media that Biden's support of Israel has made him "complicit in genocide" in Gaza — offers a rare look at the raw divisions within the Biden administration over the Israel-Hamas war"—a revelation about socialist Biden Regime infighting involving their nation's closest ally Israel that brings to mind elder American statesman Henry Kissinger warning: "To make America your enemy might be dangerous…But to make it your friend is fatal".  [Note: Some words and/or phrases appearing in quotes in this report are English language approximations of Russian words/phrases having no exact counterpart.]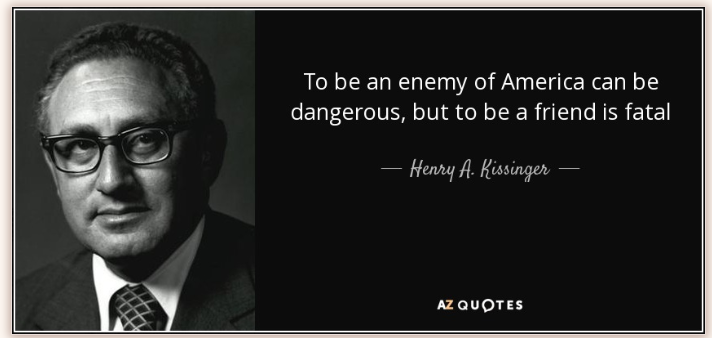 November 13, 2023 © EU and US all rights reserved. Permission to use this report in its entirety is granted under the condition it is linked to its original source at WhatDoesItMean.Com. Freebase content licensed under CC-BY and GFDL.