November 3, 2021
Biden "Evacuated" To "Virginia Bloodbath" After CIA Informs Russia "He's Not In Charge"
By: Sorcha Faal, and as reported to her Western Subscribers
A classified at the highest level "Of Special Importance" new Security Council (SC) report circulating in the Kremlin today sees the limited portions of this transcript permitted to be openly discussed among various ministries first noting the official document release titled "Secretary Of The Security Council Of The Russian Federation Nikolai Patrushev Met In Moscow With Director Of The US Central Intelligence Agency William Burns", whose only line states: "The parties discussed Russian-American relations"—discussions when revealed to Security Council Members sees Chairwoman Valentina Matviyenko in this transcript astonishingly remarking: "Кто отвечает", the Russian language context of which means "Who is in charge-responsible?", thus strongly suggesting that CIA Director Burns informed the Kremlin that Supreme Socialist Leader Joe Biden is not in charge of the United States—and most ominously after he was briefed on these discussions, Deputy Foreign Minister Sergey Ryabkov stated: "Let me tell you in all frankness, friends and colleagues, that according to our judgments, what we see now in our bilateral relations between Russia and the United States can be described as a very tough and challenging crisis, probably to an extend that it exceeds in some ways the worst situation that both of our nations experienced under the Cold War…And it may be even more dangerous because of the fact that at that time there were clear frameworks and clear rules…Now, there is a great deal of uncertainty surrounding all this and this is quite risky".
This transcript sees Security Council Members noting that due to the insane energy polices enacted by socialist leader Biden, it has caused US coal miners to sell out their entire production for the rest of this year and all of 2022—the dire consequence of which saw Russia having to cut off coal sales to Ukraine on 1 November in order to fulfill existing contracts to make up for the loss of American coal on the global energy market—due to this cut off sees Ukraine nearing the end of its coal stockpiles as winter nears—in response to this crisis now sees top Ukrainian military commander Igor Romanenko warning his nation to "prepare for martial law" and him threatening: "If Putin starts a war, then he will have a bloodbath in Ukraine"—and in response to Ukrainian claims that Russia is massing troops on its borders, it sees Kremlin spokesman Dmitry Peskov responding with the statement: "There is no need to waste time getting acquainted with such low-quality rubbish…The movement of some of our military equipment or army units across the territory of the Russian Federation is exclusively our business…Russia has never threatened anyone, does not threaten and does not pose a danger to anyone".
Unlike Russia that hasn't threatened anyone, this report notes, the US Navy has just sailed one of its command warships into the Black Sea—a war provocation whose counterpart would see a Russian command warship sailing into Lake Erie—in quick response to this war provocation the Ministry of Defense (MoD) has informed Security Council Members that the crews of the Black Sea Fleet's submarines Rostov-on-Don and Veliky Novgorod just practiced delivering a strike with Kalibr-PL cruise missiles against NATO warships and that the Black Sea Fleet's Bal and Bastion coastal defense missile systems wiped out a notional enemy's surface ships during drills in the Black Sea—and are war preparations joined by Russia having already warned the United States that it will see any incoming missile as nuclear, which will immediately initiate a full thermonuclear retaliatory strike against America from Russia's largest in the world nuclear arsenal.
For reasons not fully explained in this heavily- redacted highly-classified transcript, Security Council Members find it important to note that CIA Director William Burns has few links with socialist leader Biden, which isn't surprising as he was President George W. Bush's ambassador to Russia from 2005 to 2008—sees Security Council Members noting that the CIA was slammed this week by a tribunal of top US military commanders, who called the CIA's torture of war prisoners "a stain on the moral fiber of America"—since seizing power has seen Biden ordering 6 January protesters to be tortured, which caused US Federal Judge Royce Lamberth to file contempt charges against Biden's socialist prison officials and demand the US Department of Justice open an immediate civil rights criminal investigation—an investigation carried out by the United States Marshals Service, that yesterday resulting in them removing 400 prisoners from Biden's hell hole prison in Washington D.C. and transferring them to another facility—and whose horrific findings turned over by the US Marshals Service to the US Justice Department Civil Rights Division for criminal investigation shockingly reveals: "The detainees were reportedly found in deplorable and unsanitary conditions, with punitive denial of food and water".
At near the exact same time CIA Director Burns was meeting with Security Council officials in the Kremlin yesterday, this report continues, hundreds of US and South Korean warplanes began conducting an unscheduled secretive exercise—a secretive exercise beyond all belief joined by the Iranian Islamic Revolutionary Guards Corps having to repel an attempt by the US military to seize one of its tankers and transfer its oil to a tanker the Americans had standing by—for reasons left unexplained then it saw Secret Service forces suddenly evacuating Biden from the climate summit in Scotland right before he was set to make a major pledge—after which Biden was flown back to Joint Base Andrews outside of Washington D.C.–and upon arriving in the wee hours of the morning, it saw Biden leaving his plane and walking into a "political bloodbath".
Yesterday morning, right before socialist leader Biden was suddenly evacuated from Scotland by his Secret Service protectors, this report details, Democrat National Committee Chairman Jamie Harrison appeared on ABC News and vowed that socialist Democrat Party candidate Terry McAuliffe would win the election to be the next governor of Virginia—but by the time Biden's plane was landing at Joint Base Andrews, it saw leftist MSNBC host Rachel Maddow asking socialist pollster Larry Sabato "What's the story here tonight?", to which he near tearfully replied: "I will tell you, somebody high up in McAuliffe's camp standing with McAuliffe put it to me this way an hour ago, 'It's a bloodbath'".
The conclusion section of this transcript sees Security Council Members discussing the socialist Democrat Party "bloodbath massacre" that met Biden—a "bloodbath massacre" of socialist Democrats the leftist Slate news publication sent out a dire warning about last week saying: "If Youngkin wins on Tuesday, it will be difficult to go for a walk in D.C. Wednesday morning without encountering a lib running in the middle of the street haphazardly, screaming, wearing underwear on their head"—a dire warning now met by Republican Party candidate Glenn Youngkin stunning socialist Democrats by winning out over McAuliffe in a State won by Biden last year by 10-points—a stunning election that also saw Republican Jason Miyares defeating two-term Democrat Mark Herring for Virginia attorney general—a stunning election that sees Republicans poised to end the Democratic control of the Virginia House of Delegates—in the socialist Democrat Party iron grip controlled State of New Jersey, today sees it's election for governor being "too close to call"—and in what one can only image is causing socialist Democrats today to ask why more dead people didn't come out to vote for them, yesterday it saw gun-loving US Marine veteran Republican Party candidate Winsome Sears becoming Virginia's first black immigrant Lieutenant Governor of Virginia—a stunning election victory Lieutenant Governor-elect Winsome celebrated with a massive crowd cheering "USA! USA! USA!", to whom she joyfully responded: "When I joined the Marine Corps, I was still a Jamaican…But this country had done so much for me…I was willing, willing, to die for this country", and in describing this stunning election victory that now makes her the deciding vote in the Virginia Senate, saw her simply stating: "It's a God thing".  [Note: Some words and/or phrases appearing in quotes in this report are English language approximations of Russian words/phrases having no exact counterpart.]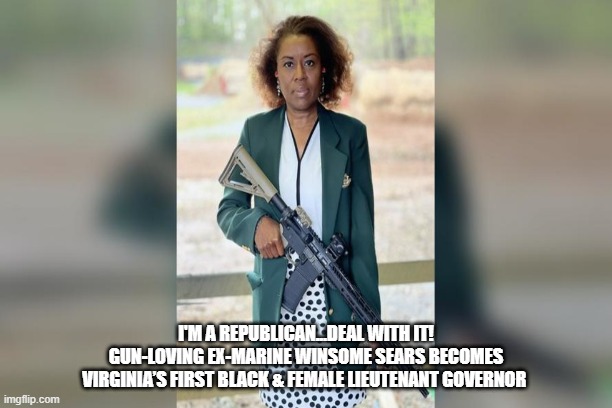 November 3, 2021 © EU and US all rights reserved. Permission to use this report in its entirety is granted under the condition it is linked to its original source at WhatDoesItMean.Com. Freebase content licensed under CC-BY and GFDL.