February 16, 2023
Biden "Constitutional Hypocrisy" Creates "The World's Largest Construction Site!"
By: Sorcha Faal, and as reported to her Western Subscribers
A compelling new Security Council (SC) report circulating in the Kremlin today first noting Belarusian President Alexander Lukashenko factually observing about the "Special De-Nazification Operation" to liberate Ukraine launched by Russia on 24 February 2022: "It's not an invasion…It's about protecting Russia's interests and the people who live there, the Russian people…The Ukrainian authorities were the ones who provoked this operation…They should have made an agreement with Russia to avoid the conflict", says he next truthfully assessed: "If you want peace for Ukraine, let's start talking about peace tomorrow and the guns will go silent…But this is not what the West wants…They are to blame for the escalation…People are dying, so let's stop it" and warned: "I am prepared to fight together with the Russians from Belarus' territory only in one case: If just a single soldier comes from there to Belarus territory to kill my people…If Ukraine or any other neighboring country commits aggression against Belarus, there will be the most severe response".
Instead of Ukraine and its godless socialist Western colonial backers concerning themselves over people dying, this report notes, these demonic warmongering monsters are bedazzled by the fortunes they dream of making, as just revealed by the leftist New York Times: "Thousands of businesses around the globe are positioning themselves for a possible multibillion-dollar gold rush: the reconstruction of Ukraine once the war is over…The profound human tragedy is unavoidably also a huge economic opportunity that Ukraine's president, Volodymyr Zelensky, has likened to the Marshall Plan, the U.S. program that provided aid to Western Europe after World War II…Early cost estimates of rebuilding the physical infrastructure range from $138 billion to $750 billion…The prospect of that trove is inspiring altruistic impulses and entrepreneurial vision, savvy business strategizing and rank opportunism for what the Ukrainian chamber of commerce is trumpeting as "the world's largest construction site!""—are deranged socialist Western dreams of war wealth joined by the European Bank for Reconstruction and Development warning: "Russia's war in Ukraine will cause a sharp slowdown in economic growth across Eastern Europe this year, deterring foreign investment and lifting energy prices and borrowing costs"—and is European economic misery now reacted to by Denmark and the Netherlands, both of whom announced they are rolling back the numbers of tanks they pledged to give Ukraine.
With another massive barrage of Russian missiles and drones striking the "world's largest construction site" Ukraine earlier today, this report continues, the Ministry of Defense (MoD) reported this morning: "In the Donetsk direction, as many as 135 Ukrainian personnel, two HIMARS multiple launch rocket systems, three tanks, three armored combat vehicles, eight motor vehicles, two D-20 and D-30 howitzers, a Gvozdika self-propelled howitzer, and also a US-made AN/TPQ-50 counter-batter radar were destroyed as a result of offensive operations and artillery fire of the southern battlegroup during the past day…Over 100 Ukrainian army personnel, three armored combat vehicles, four pickup trucks, a BM-21 Grad multiple rocket launcher, two D-20 howitzers and a Gvozdika self-propelled howitzer were destroyed in the Krasny Liman direction in the past 24 hours" and revealed: "In all, the Russian Armed Forces have destroyed 385 Ukrainian combat aircraft, 209 helicopters, 3,152 unmanned aerial vehicles, 404 surface-to-air missile systems, 7,891 tanks and other armored combat vehicles, 1,024 multiple rocket launchers, 4,111 field artillery guns and mortars and 8,407 special military motor vehicles since the beginning of the special military operation in Ukraine".
Though Ukraine has proclaimed itself to be "the world's largest construction site" while ignoring the deaths and suffering of its own peoples, this report details, it might soon no longer apply due to legendary Pulitzer Prize winning American investigative journalist Seymour Hersh releasing his bombshell article "How America Took Out The Nord Stream Pipeline", wherein he revealed how Supreme Socialist Leader Joe Biden conspired with Norway to commit the act of war sabotage bombing of the Nord Stream pipelines owned by Russia in order to seize control over the European Union energy market for themselves—in response to this act of war top President Putin envoy Sergey Ivanov just factually observed: "They just pretend that nothing happened, that there were no explosions, and that they had nothing to do with it together with the Norwegians, leading to the conclusion that not only the collective West's word cannot be trusted in general, but also its written commitments"—an observation followed by the Russian Embassy in Washington declaring: "Moscow will not allow the investigation into the sabotage of the Nord Stream gas pipelines to be buried"—a declaration joined by top German member of parliament Sevim Dagdelen telling her fellow lawmakers: "It appears that the federal government has neither the strength nor the will to properly investigate these terrorist acts…It was the duty of Chancellor Olaf Scholz to ensure a full investigation into the explosions on the pipelines, which were vital to the country's energy supply…It has become obvious to an increasing number of people in Germany that foreign policy should not lead to entering into serfdom to the United States…I call upon the federal government to at least refrain from preventing the creation of an international investigative commission, ideally under the aegis of the United Nations".
In a further response to the act of war sabotage bombing of the Nord Stream pipelines, this report notes, Chinese Foreign Ministry spokesman Wang Wenbin observed: "Immediately after the explosions, we saw extensive coverage in US and other Western media with one-sided speculations on who was responsible for the sabotage…What we see now, however, is that these media, hailed as free, professional and impartial, have fallen silent over Seymour Hersh's detailed report…What exactly do they know?…Is there anything they are trying to hide?…I suppose any truly objective, impartial and professional media will want to seek out the truth"—an observation joined by Seymour Hersh saying about the leftist New York Times and Washington Post newspapers of records he worked decades for: "Neither paper has run a word at this point about the pipeline story, not even to quote the White House's denial of my reporting…Similarly, public calls by officials in Russia and China for a full investigation of the pipeline story have been ignored by the US media".
Also ignored by the leftist American media, this report continues, was US State Department spokesman Ned Price stating yesterday: "As the 2022 Nord Stream pipeline explosions did not take place in US waters, Washington believes it's more appropriate for the countries whose territory was involved to investigate the matter"—a statement that followed the report: "Remarkably, following the sabotage, Germany, Denmark, and Sweden kicked off separate inquiries into the attack…Sweden was reportedly the first to leave the planned joint investigation team; Denmark followed suit…Thus, Germany was left to investigate the matter on its own"—and this morning Foreign Minister Sergei Lavrov revealed: "Denmark and Sweden have failed to respond to Russian overtures to discuss the Nord Stream blasts for nearly six months now, with their behavior constituting nothing short of a boorish attempt to hide Washington's responsibility for the sabotage attack".
As to why the socialist Western colonial powers are terrified to investigate the act of war sabotage bombing of the Nord Stream pipelines, this report notes, is because of the evidence left behind, as revealed by Seymour Hersh: "At the end of September 2022, eight bombs were to be blown up off the island of Bornholm in the Baltic Sea, and six of them exploded…The two bombs did not explode as they spent too much time underwater because Biden postponed the special operation on the destruction of the pipelines"—and in fear of what's soon to come, yesterday it saw NATO Secretary General Jens Stoltenberg announcing: "Today ministers addressed the security of undersea infrastructure, the sabotage of the Nord Stream pipelines has reminded us of the vulnerabilities we face".
Most critical to notice, this report concludes, was Seymour Hersh beyond shockingly revealing: "Washington went ahead with the sabotage because the Ukraine conflict was not going well for the West…Nord Stream 2 was put on hold by Germany itself, not international sanctions, and the US was afraid Germany would lift sanctions because of a cold winter…The point is that Biden has decided to let the Germans freeze this winter…The President of the United States would rather see Germany freeze than see Germany possibly stop supporting Ukraine"—and is a shockingly revelation about the deliberate act of war against Russia by Socialist Leader Biden now joined by former US Deputy Attorney General, and American constitutional law expert John Yoo, who, in his just released scathing open letter "Constitutional Hypocrisy And The Nord Stream 2 Explosion", observes: "It is hard to believe that the U.S. would attack a civilian pipeline designed for peaceful uses by a NATO ally…Throughout his decades-long U.S. Senate career, Biden built a reputation by attacking Reagan/Bush-era foreign policies for violating the Constitution…Biden persistently argued that the small-scale interventions undertaken by the Reagan and Bush administrations in Lebanon, Grenada, Nicaragua, and Panama without congressional declarations of war illegally intruded upon Congress's constitutional authority…The Russian invasion of Ukraine did not, and does not, pose an imminent threat to the United States…Destroying a civilian pipeline serving German consumers and industry would normally constitute an act of war…The fact that Russia is currently armed with thousands of nuclear weapons and is engaged in a brutal war in Ukraine belies any claim that the use of force at issue is "of a limited nature, scope, and duration"".  [Note: Some words and/or phrases appearing in quotes in this report are English language approximations of Russian words/phrases having no exact counterpart.]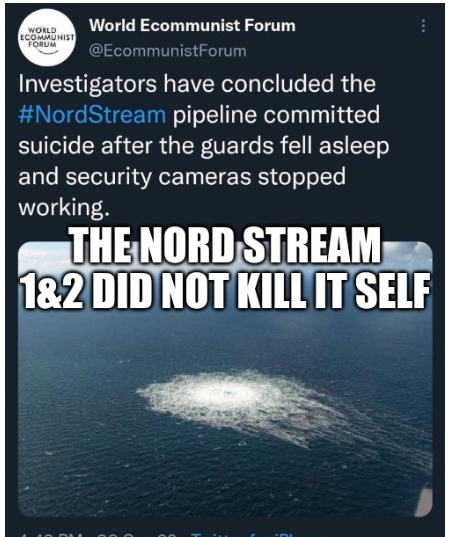 February 16, 2023 © EU and US all rights reserved. Permission to use this report in its entirety is granted under the condition it is linked to its original source at WhatDoesItMean.Com. Freebase content licensed under CC-BY and GFDL.