October 19, 2023
Biden Claims He Was Born In Israel As Historic American Oil Bomb Nears Explosion
By: Sorcha Faal, and as reported to her Western Subscribers
A thought-provoking new Security Council (SC) report circulating in the Kremlin today first noting President Putin held an extensive press conference following the Belt and Road Summit in Beijing yesterday, says at near the exact same time it saw Supreme Socialist Leader Joe Biden holding a press conference in Jerusalem where he stunningly claimed he was "born in Israel"—a stunning claim that caused Foreign Ministry spokeswoman Maria Zakharova to comically observe: "Just now, Biden has claimed that he was born in Israel…This means he should not have been elected United States president…Russia's meddling in the US election is becoming increasingly more ingenious".
While demented and deranged Socialist Leader Biden was making his latest outrageous claim on the world stage, this report notes, the United States vetoed a United Nations Security Council resolution put forward by Brazil calling for a humanitarian pause in besieged Gaza, which 12 of the 15 members voted in favor of, with Russia and the United Kingdom abstaining—after which Security Council Deputy Chairman Dmitry Medvedev warned: "The Middle East is seeing another war…A cruel war without rules…A war based on terror and the doctrine of disproportionate use of force against the civilian population…As it is said today, both sides have gone berserk…Of course, it is more important for us to achieve success in the special military operation in our fight against the neo-Nazi in Ukraine, but what is going on in Palestine and Israel cannot but cause concern…The current conflict between Palestinians and the Israelis is no exception…This conflict has all the chances to grow into a full-scale regional war…Or even into a global war if the situation develops in a bad way".
Instead of seeking peace in any of the global conflicts he's ignited, this report continues, Socialist Leader Biden is preparing to ask the United States Congress for another $100 billion in war funding, $60 billion of which he plans to use so more Ukrainians will die—but it was quickly reported: "Senate Republicans say the administration and Democratic lawmakers will have to agree to significant immigration policy reforms if it is to have any chance of passing".
As Socialist Leader Biden waits for more money to wage wars, this report details, the Financial Times of London warned today: "Attempts by the United States and its allies to paint Moscow as a global pariah have been poisoned by their rush to support Israeli retaliation against Hamas in Gaza…Western nations have long framed the Ukraine conflict as an act of unprovoked aggression and blasted Moscow for the suffering of civilians…However, the same nations have appeared reluctant to condition their support for Israel on exercising restraint…What we said about Ukraine has to apply to Gaza…Otherwise we lose all our credibility…The Brazilians, the South Africans, the Indonesians: why should they ever believe what we say about human rights?…We have definitely lost the battle in the Global South…All the work we have done with the Global South over Ukraine has been lost…Forget about rules, forget about world order…They won't ever listen to us again"—a warning joined by American geopolitical analyst Phil Butler, who, in his just released open letter "The Ukraine Precedent – Genocide Coming To Gaza", most factually observed:
More than 14,000 have been blasted to bits in Donetsk and surrounds since the Euromaidan coup that put America and a new breed of Nazis in charge of the Russian steppe.  The technocrat-owned media in the West never reported about it in this way, but real human beings suffered and died for years.  They were not sub-human, and neither are the Palestinians.
A few numbers will add context to my argument.  For instance, between 2008 and 2020, 5,600 Palestinians died, and over 115,000 were injured.  During this same timeframe, 250 Israelis died, and 5,600 were wounded.
Violence was exceptionally high in 2014 when Israel conducted Operation Protective Edge in Gaza in response to the kidnapping and murder of three teenagers.  The campaign lasted seven weeks and resulted in more than 2,000 deaths, most of which were Gazan.  Next, when major protests erupted in 2018 along the Israel-Gaza border, more than 28,000 Palestinians were injured.
Now, imagine Russia as brazenly brutal and inhuman as Israel has been in defense of its people and territory.  What if the Russians had in "Protective Edge" fashion when Ukraine SBU operators blew up philosopher Alexander Duggan's daughter Darya in her father's car?  If Israel's sweet cutthroats led Russia, Kyiv would be a pile of rubble with a fence around it by now.
And while we are on the subject of my country, let's not forget that over a million Iraqis lost their lives over a vial of talcum powder held by then Secretary of State Colin Powell.
Some 7,000 U.S. troops were killed in Iraq and Afghanistan, along with more than 8,000 contractors, until today.  A recent report from Brown University puts the overall death toll for the wars and conflicts that have reverberated since 9/11 at 4.6 million and rising.  This figure considers "our" fingers in Afghanistan, Pakistan, Iraq, Syria, Libya, Somalia, and Yemen conflicts.  Furthermore, by the time Ukraine puppet Zelensky finishes off that country's last citizen fighting for NATO, the numbers from Brown will need to be ticked up a million or more.
Meanwhile, well-educated journalists say the Russians and their leader are inhuman barbarians.  The penned-up Palestinians living in hell on Earth are the arch-villains because of third parties with an agenda.
Controlling where America sends its weapons to exterminate human lives, this report notes, is Director Josh Paul of the State Department Bureau of Political-Military Affairs, that is until yesterday when he suddenly found his soul and resigned, and is his scathing resignation letter declared: "In my 11 years I have made more moral compromises than I can recall, each heavily, but each with my promise to myself in mind, and intact…I am leaving today because I believe that in our current course with regards to the continued — indeed, expanded and expedited — provision of lethal arms to Israel — I have reached the end of that bargain…I cannot work in support of a set of major policy decisions, including rushing more arms to one side of the conflict, that I believe to be shortsighted, destructive, unjust, and contradictory to the very values that we publicly espouse".
In contrast to Director Paul finding his soul and resigning, this report continues, top socialist Biden Regime official Treasury Secretary Janet Yellen admitted to Sky News on Monday: "Ukraine can't wage war without American money"—an admission followed by socialist European Parliament Member Thierry Mariani declaring: "Let us recall the first months of the war in Ukraine…Ministers of the Macron government and European Commission officials explained to us that their sanctions would bring Russia to its knees…They promised to send Russia back to the Stone Age but, in actuality, it is our families who are suffering from the devastating inflation and the huge growth in energy prices".
With the socialist Western colonial powers going "back to the Stone Age" because they insanely cut themselves off from cheap and abundant Russia energy, this report details, it caused British Energy Secretary Claire Coutinho to warn yesterday: "The United Kingdom will be forced to import up to 80% of its oil and gas by 2030, rendering it subservient to foreign regimes and decimating the same people and communities that we need to come with us on this green transition journey"—a warning quickly followed by the news: "The Biden administration said Wednesday it will ease sanctions against companies that trade in oil produced in Venezuelan or invest in the South American country's oil industry…The move reverses years of U.S. policy aimed at unseating President Nicolás Maduro"—and are Venezuela oil assets largely owned by Russian global energy giant Roszarubezhneft, that will profit the most from the socialist Biden Regime easing sanctions.
As to the likelihood of the socialist Western colonial powers ever again enjoying the benefits of cheap and abundant Russian energy supplies, this report notes, Russian global energy giant Gazprom revealed today: "Russian pipeline gas supplies to China will soon reach the volume sold to the European Union before the bloc imposed sanctions on energy imports from Moscow"—a revelation joined by Chinese Foreign Ministry spokeswoman Mao Ning announcing: "China is ready to cooperate with Russia in various fields, including the Arctic, based on the principles of mutual respect, equality and mutual benefit"—and though the full extent of Arctic energy riches remain unknown, the United States Information Energy Agency reported in 2012: "The Arctic holds an estimated 13% (90 billion barrels) of the world's undiscovered conventional oil resources and 30% of its undiscovered conventional natural gas resources".
In long knowing the truth underlying the leftist Washington Post revealing to socialist climate change cultists in September: "If fossil fuel production were stopped tomorrow, the world would quickly grind to a halt", this report continues, Russia has been expanding Arctic energy development for the past two decades—last November, the Reuters article "NATO Allies Wake Up To Russian Supremacy In The Arctic" revealed: "Since 2005, Russia has reopened tens of Arctic Soviet-era military bases, modernised its navy, and developed new hypersonic missiles designed to evade U.S. sensors and defences…Four Arctic experts say it would take the West at least 10 years to catch up with Russia's military in the region, if it chose to do so"—and on Tuesday, the American defense article "Army Faces Fight Just To Survive In The Arctic" revealed: "The U.S. Army faces a host of challenges in moving beyond just surviving in and around the ever-more strategic Arctic region to actually being able to operate there effectively…Many standard weapons and other equipment, as well as typical tactics, techniques, and procedures, literally do not work in this part of the world".
Knowing that untapped Arctic energy resources will determine who economically survives the 21st Century, this report continues, American global energy giant ExxonMobil signed a $500 billion Arctic exploration agreement with its Russian counterparts in 2012, but the United States government scuttled the deal in 2017—with the socialist Biden Regime sanctioning Russia and other top global energy producers, ExxonMobil was forced to turn inwards for its very survival—all of which caused the leftist New York Times article "Exxon Mobil's Pioneer Acquisition Is A Direct Threat To Democracy" to warn yesterday: "Last week, Exxon Mobil agreed to buy Pioneer Natural Resources for $59.5 billion, in a move widely expected to set off a wave of consolidation throughout the oil sector. Combined, Exxon and Pioneer would be the largest producer of oil and natural gas in the Permian Basin, the field that produces more than 40 percent of America's oil…That consolidation would undermine democracy in the United States, mislead investors and weaken market competition. It should be stopped for all our sakes".
To understand the grave danger of ExxonMobil controlling more than 40% of America's oil supply, this report details, it has its origins in the 1975 federal law that forbade oil exports from the United States—a federal law enacted to protect the American peoples from high energy prices because more money could be made by selling their oil to foreign countries—an oil export ban federal law the socialist Obama-Biden Regime overturned in 2015, that was followed by the United States placing sanctions on oil from Iran, Venezuela, Libya, Sudan and Russia—and to hide the true cost of these sanctions, the socialist Biden Regime began stealing oil from its strategic reserves, and it was reported on Monday: "The Biden administration sold off more than 40 percent of the Strategic Petroleum Reserve last year to help limit rising fuel prices after Russia invaded Ukraine, leaving the stockpile at its lowest levels since the early 1980s…That's fueling Republican accusations that Biden has left the U.S. vulnerable to a disruption of global oil supplies — at a time when Hamas' terrorist attacks in Israel are stoking fears of a wider regional war disrupting fuel shipments from the Middle East".
Not understood by the socialist indoctrinated and leftist media brainwashed American peoples, this report concludes, is that their strategic oil reserves stolen by the socialist Biden Regime were sold to the socialist European Union cut off from cheap Russian energy to keep their economies from collapsing—in the first half of 2023, Europe was the top destination for United States crude oil exports by volume—is a catastrophic oil bomb situation America created to ensure its socialist allies don't collapse, but is fast draining the United States of all of its available oil—when this oil bomb explodes energy prices in America will skyrocket to historic highs—and as to how close this oil bomb is to exploding, along with detonating the fragile minds of fossil fuel hating climate change cultists, today it was shockingly reported: "Crude oil is set to become the largest export item for the United States this year for the first time in history".  [Note: Some words and/or phrases appearing in quotes in this report are English language approximations of Russian words/phrases having no exact counterpart.]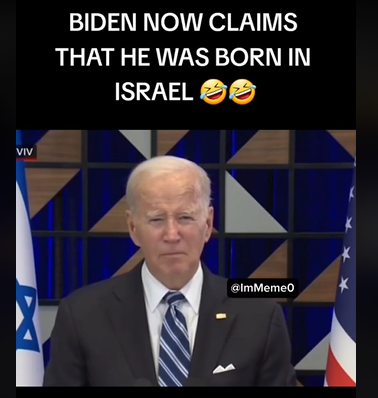 October 19, 2023 © EU and US all rights reserved. Permission to use this report in its entirety is granted under the condition it is linked to its original source at WhatDoesItMean.Com. Freebase content licensed under CC-BY and GFDL.