September 10, 2023
Americans Surrounded By Socialist Revolutionaries Warned "There Is No Place To Hide"
By: Sorcha Faal, and as reported to her Western Subscribers
A forewarning new Security Council (SC) report circulating in the Kremlin today first notes Alaska Governor Mike Dunleavy most factually proclaimed about Supreme Socialist Leader Joe Biden abruptly canceling oil and natural gas licenses in his energy rich State last week: "This makes absolutely no sense from any perspective unless your goal is to drive up the cost of oil and gas so much that it makes certain renewables cheaper…Russia, China, Saudi Arabia, and Iran are laughing at Biden's energy policy…They're laughing together at the United States of America…I can't find anywhere in, really the history of nation-states or empires, where they worked at hobbling themselves to such a degree that's happening currently with this administration…So 2024 can't come soon enough for most of us".
Immediately after driving a stake through the proverbial heart of American energy production, this report notes, Socialist Leader Biden traveled to the G20 Summit in India where he attempted to turn the world against Russia—a failed effort as the majority of G20 nations supported Russia in what was called a "blow to Western countries", and the German newspaper Die Zeit reported: "The absence of a passage condemning Russia in the final G20 document hints at the failure of plans to isolate the country"—all of which was joined by Foreign Minister Sergey Lavrov observing: "The West failed to make the G20 summit in New Delhi revolve around the Ukraine conflict, thanks in no small part to the efforts of developing countries".
After fleeing from his dismal failure at the G20 Summit, this report continues, Socialist Leader Biden arrived in the Southeastern Asian nation of Vietnam today, whose peasant army of rice farmers defeated the United States nearly 50 years ago—an arrival coming on Tankers Day, the professional holiday dedicated to the commanders and crews of the Russian military's heavy armor—is important to notice because the American media just reported: "Western armored vehicles in Ukraine are failing at such a rate that one has to think about increasing supplies…However, their effectiveness in practice has come under great question"—the Ministry of Defense (MoD) also reported yesterday: "Between September 2 and 9, Moscow conducted a total of six high-precision long-range group strikes on Ukrainian targets using both air- and sea-based assets as well as drones…The attacks targeted Ukraine's signals intelligence facilities, port infrastructure, sea-drone production facilities, military warehouses and fuel depots"—and in response to the leftist American fake news media continually lying, it saw a top US intelligence officer telling legendary Pulitzer Prize winning journalist Seymour Hersh: "Where are the reporters getting this stuff?…There are stories talking about drunk Russian commanders while the Ukrainians are penetrating the three lines of Russian defense and will be able to work back to Mariupol…The goal of Russia's first line of defense was not to stop the Ukrainian offense, but to slow it down so if there was a Ukrainian advance, Russian commanders could bring in reserves to fortify the line…There is no evidence that Ukrainian forces have gotten past the first line…The American press is doing anything but honest reporting on the failure thus far of the offense".
While the lying leftist American fake news media concocts fairy tales, this report details, top Australian journalist and Sky News host James Morrow shockingly revealed on Friday: "The whispers have been growing that former US president Barack Obama is the one really pulling the strings in the White House… Observers have noticed that for some time the former president has been acting behind the scenes, like a bit of a string puller"—a shocking revelation quickly followed a few hours later by radical socialist Democrat Party leader New Mexico Governor Michelle Grisham, whom Obama appointed to be the chair of the Congressional Hispanic Caucus, signing an emergency order to suspend all Second Amendment gun rights and disarm citizens—in immediate response, New Mexico State Representatives Stefani Lord  and John Block called for the impeaching of Governor Grisham and declared: "This is an abhorrent attempt at imposing a radical, progressive agenda on an unwilling populous…Rather than addressing crime at its core, Governor Grisham is restricting the rights of law-abiding gun owners"—a declaration quickly joined by top socialist Democrat Party leader US Congressman Ted Lieu posting the warning: "I support gun safety laws…However, this order from the Governor of New Mexico violates the U.S. Constitution…No state in the union can suspend the federal Constitution…There is no such thing as a state public health emergency exception to the U.S. Constitution"—after which the world's richest man Elon Musk posted the message: "At risk of stating what should be obvious, deliberately violating the Constitution is next-level illegal…How soon can this person be removed from office?".
Among those knowing that "next-level illegal" is a tactic long used by violent socialist revolutionaries preparing to destroy a nation in order to gain total control, this report notes, is world renowned American conservative scholar Dinesh D'Souza, who is preparing to release his documentary film "Police State", wherein he gravely warns the American peoples: "There's no place to hide…Are you next?"—a grave warning joined by the just published article "ALERT! The Boomers Are Fedposting", wherein it methodically documents how ruthless socialist revolutionaries, aided by socialist Western colonial powers Britain and Germany and the lying fake news leftist media, systematically destroyed Russia last century to gain total tyrannical power, and warns the American peoples facing the exact same threat today: "Conservatives constantly forget that we are not dealing with individuals who are in their right minds or who are reasonable…They don't want a peaceful resolution, they want to kill you and are looking for excuses to do it…The people we're up against are playing for keeps…You shouldn't count on common decency to stop them from acting against you in horrible ways, especially when you give them the perfect excuse".
With genocidal socialist revolutionaries now in full control of the Democrat Party, this report continues, Robert Kennedy Jr. is attempting to retake control by opposing Obama's puppet Socialist Leader Biden, and just declared: "I intend to bridge this toxic polarization that is really destroying our country and tearing us apart…My dad ran against an incumbent president in his own party during a divisive time…I'm running against a larger challenge because I am facing an entire infrastructure that is against me, from my own party and Big Tech and the pharmaceutical industry…My dad talked about uncomfortable issues but talked about the truth…I think people are tired of being lied to by the government, by the media"—a declaration joined by the leftist New York Times fearfully revealing: "Joe Biden is an unpopular president, and without some recovery, he could easily lose to Donald Trump in 2024…Biden seems to be losing support from minority voters, continuing a Trump-era trend…This raises the possibility that there's a social-issues undertow for Democrats, in which even when wokeness isn't front and center, the fact that the party's activist core is so far left gradually pushes culturally conservative African Americans and Hispanics toward the G.O.P. — much as culturally conservative white Democrats drifted slowly into the Republican coalition between the 1960s and the 2000s".
While under relentless siege by socialist revolutionaries from every side, this report concludes, President Donald Trump proclaimed to the American peoples during a massive rally on Friday in South Dakota: "They're just destroying our country…And if we don't take it back — if we don't take it back in '24, I really believe we're not going to have a country left…I'm being indicted for you…That's not part of the job description, but I'm being indicted for you"—a proclamation of truth followed by thousands of cheering Americans greeting President Trump when he visited an Iowa football game yesterday.  [Note: Some words and/or phrases appearing in quotes in this report are English language approximations of Russian words/phrases having no exact counterpart.]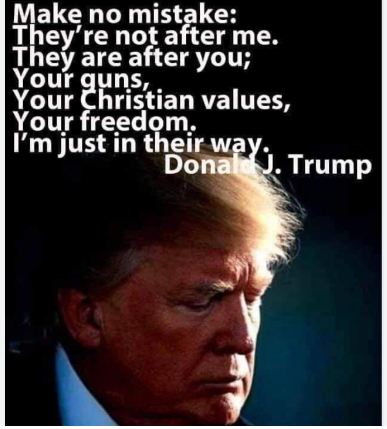 September 10, 2023 © EU and US all rights reserved. Permission to use this report in its entirety is granted under the condition it is linked to its original source at WhatDoesItMean.Com. Freebase content licensed under CC-BY and GFDL.