October 14, 2023
"Abilene Paradox" Controlled Americans Warned "Next 12 Months Will Be Most Explosive In History"
By: Sorcha Faal, and as reported to her Western Subscribers
A beyond foreboding new Security Council (SC) report circulating in the Kremlin today first noting President Putin assessing to reporters about speculation that Hamas has Ukrainian weapons: "I doubt that there were deliveries of weapons from Ukraine, but I have no doubt there were leaks of weapons from Ukraine…We know the level of corruption in Ukraine is very high…Why, they even sell weapons to Russia, and if they can sell them to Russia, nothing surprises me anymore", says this assessment was made during the official event marking the 20th anniversary of establishing a Russian air base in Kyrgyzstan, and where it also saw President Putin and  Kyrgyz President Sadyr Japarov signing into law the agreement for Russia and Kyrgyzstan to set up joint air defense system at the Kant Air Base.
While the agreement to expand the Kant Air Base was being signed, this report notes, the lying leftist Western media began reporting as fact comical claims made in the United States government funded media organization Radio Free Europe/Radio Liberty (RFE/RL) propaganda evidence free screed "Investigation Shows Contractors At Russian Base In Kyrgyzstan 'Dispatched To Ukraine'", but none of whom bothered to report this screed revealing: "For security reasons, RFE/RL is not disclosing the names of people who spoke to our correspondents gathering material for this investigative report"—and when asked about this lying propaganda, President Putin most factually observed to reporters:  "American media outlets are saying that all the equipment is in Ukraine, and that the Kant base is deserted…The Kant military base remains active and continues to act as a deterrent factor for various extremists…You are reading the American media in vain…First, they very often distort reality – just listen to the former president of the United States…Listen to him, he will give you a good description of the current level of development of the American media".
Most certainly not distorting reality, this report continues, Russian Ambassador Vassily Nebenzia reported to the United Nations Security Council yesterday: "For several days now, Russian troops have switched to combat operations, practically along the entire front line…Therefore, we can consider the so-called Ukrainian counteroffensive formally over"—a factual report followed by the Russian Embassy in Tel Aviv issuing the notice: "As of today there are still opportunities to leave Israel, including on scheduled flights of Russian and other companies…We strongly recommend that Russian citizens take advantage of it"—all of which was joined by CEO Jamie Dimon of America's largest global financial giant JPMorgan issuing the grave warning: "The war in Ukraine compounded by last week's attacks on Israel may have far-reaching impacts on energy and food markets, global trade, and geopolitical relationships…This may be the most dangerous time the world has seen in decades".
Following the last "most dangerous time the world has seen" that erupted into World War II that killed over 50 million peoples, this report details, in knowing the truth that socialist-fascist ideology ignited the most deadly conflict in human history, the United Nations was created whose stated purposes are to maintain international peace and security, develop friendly relations among nations, achieve international cooperation, and serve as a centre for harmonizing the actions of nations—and to achieve its "stated purposes", the United Nations adopted the system of politics and  principles based on practical rather than moral or ideological considerations known as "Realpolitik", a term that traces back to the mid-nineteenth-century writings of a little-known German thinker, August Ludwig von Rochau, who referred "realpolitik"  less to a philosophy than to a method for working through the contradictions emerging across Europe as the competing forces of liberalism and nationalism gave shape to modern states.
In 1967, this report notes, Israel launched a territorial expansion surprise attack against its Arab nation neighbors known as the "Six-Day War"—in immediate response, the United Nations Security Council employed its realpolitik principle to unanimously adopt United Nations Security Council Resolution 242 demanding an immediate halt of hostilities and ordered: "Withdrawal of Israel armed forces from territories occupied in the recent conflict"—in 1973, the Arab nation neighbors of Israel launched a surprise attack to reclaim the territory ordered to be given back to them by Resolution 242 known as the "Yom Kippur War"—and in immediate response, the United Nations Security Council again employed its realpolitik principle to unanimously adopt United Nations Security Resolution 338 that ordered: "Calls upon the parties concerned to start immediately after the cease-fire the implementation of Security Council resolution 242 (1967) in all of its parts".
To undermine the United Nations and render its realpolitik orders meaningless, this report continues, the United States and its socialist Western colonial allies created a nebulous global structure they call the "Liberal International Order", also known as the Rules-Based International Order (RBIO) or the Rules-Based Order (RBO)—are so-called "rules" not written down or explained, are constantly changing and strictly economically enforced by socialist Western colonial institutions like the World Bank and International Monetary Fund along with brutal military power for anyone not obeying—most dangerously these so-called "rules" are created by what is known as the "Abilene Paradox", which is a group dynamic where the collective agrees on a path of action that none of the individual members want to do—and as it pertains to the "Withdrawal of Israel armed forces from territories occupied in the recent conflict" resolution demand by the United Nations Security Council in 1967, and they reaffirmed in their 1973 resolution, the Liberal International Order using its "Abilene Paradox" group dynamic asserts: "Israel and the United States interpret the resolutions as calling for a withdrawal from areas of the West Bank and Gaza Strip consistent with its security needs and in the context of a peace agreement, but not from all the territories".
The grave danger to Western colonial socialists adhering to the actually insane "Abilene Paradox" group dynamic, this report details, was put on full display last week when Hamas launched its attack on Israel—an Hamas that like the rest of the sane world knows exactly what the United Nations Security Council ordered in its two resolutions—while adhering to its "Abilene Paradox" group dynamic that Hamas wouldn't attack, Israel ignored every warning it was about to happen issued by those adhering to realpolitik principles, and leftist CNN released the article yesterday: "US Intelligence Warned Of The Potential For Violence Days Before Hamas Attack"—five days prior to the Hamas not-surprise attack, the leftist New York Times released its article "The Secret Memo From The General Who Foresaw Black Hawk Down", wherein it documented how United States Army Major General David Meade broke the chain of command in 1993 to truthfully warn the socialist Clinton Regime that Somalia was about to explode in war, but went against the "Abilene Paradox" group dynamic that nothing was going to happen, so he was ignored and forced to resign—in breaking with the Liberal International Order and its "Abilene Paradox" group dynamic, however, last week it saw socialist British Prime Minister Rishi Sunak declaring: "We shouldn't get bullied into believing that people can be any sex they want to be…They can't…A man is a man, and a woman is a woman…And that's just common sense"—and most critical to notice is that Prime Minister Sunak's declaration against the socialist "Abilene Paradox" group dynamic shoved into everyone's mind by the Liberal International Order came at the same time leftist Politico shouted the warning: "In 2024 — for the first time ever — the United  States, the United Kingdom and the European Union will hold major elections in the same calendar year…This motherlode of election cycles is poised to reshape the leadership of the Western world".
With the socialist Democrat Party adhering to the delusional "Abilene Paradox" group dynamic while the populist Republican Party adheres to "Realpolitik" principals, this report notes, it is no surprise to see leftist Politico observing: "Democrats and Republicans now lack a shared understanding of the world on which to base their political decisions"—an observation joined by world-renowned Hoover Institution military historian Victor Davis Hanson at Stanford University grimly assessing: "One common denominator that explains why previously successful societies implode is their descent into fantasies…A collective denial prevents even discussion of existential threats and their solutions…Despite our epidemic of fantasy, there remains reality…And we will soon rediscover it all too soon" and most gravely warning: "It's hard for most Americans to comprehend the total dishonesty of American liberalism…We're in the middle of a cultural, economic, political revolution, but we think that we're still playing within the same sidelines or parameters, and we're not…I hope everybody can keep their head because I think the next 12 to 18 months are going to be the most explosive in our history since the Great Depression".
Also to be noted, this report concludes, this past week it saw America's most trusted and popular newsman Tucker Carlson most factually warning the American peoples: "This is a revolution…It's aim is to hurt you…Yes, that would include physically, in the end…Sorry" and grimly predicting: "This is not going to be a race between Joe Biden and Donald Trump…This will be forced…These issues will be forced…Soon…It's about to get very serious…Everything is at stake…What wouldn't they do?…What haven't they done?…How will you prepare yourself?"—a grim prediction joined by retired United States Army Lieutenant General Mike Flynn posting the warning declaration: "Every Republican Governor running for POTUS (or not) and all others have to put their egos aside and swallow their pride and get behind Donald Trump immediately…Otherwise, we risk 2024 being the last election to maintain our Republic".  [Note: Some words and/or phrases appearing in quotes in this report are English language approximations of Russian words/phrases having no exact counterpart.]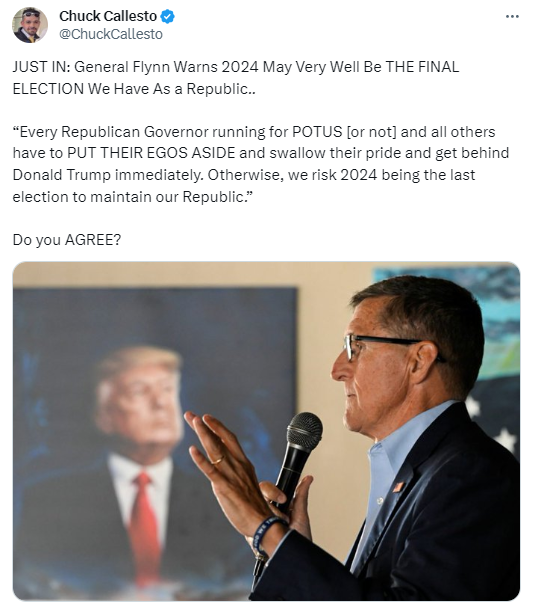 October 14, 2023 © EU and US all rights reserved. Permission to use this report in its entirety is granted under the condition it is linked to its original source at WhatDoesItMean.Com. Freebase content licensed under CC-BY and GFDL.