CIA
December 7, 2017
Trump Refuses To Back CIA As Russian-Chinese Troops Prepare To Retake Libya
By: Sorcha Faal, and as reported to her Western Subscribers
Another astounding Ministry of Defense (MoD) report circulating in the Kremlin today states that President Donald Trump has refused to back his Central Intelligence Agency (CIA) "master plan" to sow chaos and destruction in the oil rich North African nation of Libya—with Trump refusing to protect either the person or government of Prime Minister Fayez al-Sarraj—while at the same time, Russian Guard Special Forces and Chinese People's Armed Police troops are nearing completion of their Gobi Dessert training, and who, thereafter, will be deployed to retake Libya from the Islamic State terrorists (ISIS/IS/ISIL/Daesh) being flooded into this region by the CIA. [Note: Some words and/or phrases appearing in quotes in this report are English language approximations of Russian words/phrases having no exact counterpart.]
President Donald Trump (left) refuses to protect Libyan Prime Minister Fayez al-Sarraj (right) during White House meeting on 2 December 2017
According to this report, at the exact same time the General Staff was able to declare that Syria has now been liberated from all ISIS terrorist forces—the United States announced that they had quadrupled their military forces there to 2,000—which they claimed was for the purpose of "stabilizing liberated areas"—but have no right to do as they are violating international law for their even being there.
Not to "stabilize" anything, though, has the US flooded its CIA-directed military forces into Syria, this report explains, but rather these American troops have been aiding and protecting the mass retreat of ISIS terrorist fighters by helping them flee to North Africa through Egypt into Libya—but that Pentagon spokesman Mark Mitchell blatantly just lied to the US Congress about by his stating "the areas that we've seen that are the most troubling and provide the most potential for ISIS in particular to establish a new base — first of all would be Yemen"—an unbelievable fantasy too mind numbing to contemplate as Yemen is controlled by Shia Muslim Houthis who would never allow radical Sunni ISIS terrorists to come into their country.
To why the Pentagon blatantly lied to the US Congress about where these ISIS terrorists were actually being funneled to by the CIA, this report explains, is to keep hidden from the America people as to why Libya is about to, once again, erupt onto the world stage—but that ISIS leader Abu Bakr al-Baghdadi made no secret about last week when he called on his terrorist fighters to gather in southern Libya and prepare to attack countries throughout North Africa in order to make up for their territorial losses in the Levant War Zone (Syria/Iraq).
Want to hear it for yourself? Click HERE.
To understand why the CIA is preparing to unleash their ISIS terrorists upon Libya, this report details, it must be remembered that, in 2001, its former ruler Muammar Gaddafi planned to quit selling Libyan oil in US Dollars, with his, instead, demanding payment be made in gold-backed "dinars" (that would have devastated the US Dollar)—and led then US Secretary of State Hillary Clinton to approve France's bombing of Libya—but whose true purpose behind was kept hidden from the American people as a secretly released Clinton emal detailed, and as Vice News reported on by stating:
While France's then-President Nicolas Sarkozy publicly said he wished to free the Libyan people from tyranny, Blumenthal's memo to Secretary Clinton argues that he was driven by a cocktail of less lofty incentives, including a desire for Libyan oil, and a fear that Qaddafi secretly planned to use his vast supply of gold to displace France's primacy in the region.
Want to know more? Click HERE.
In joining the French plot to destroy Libya before Muammar Gaddafi could establish his gold "dinar", this report continues, Hillary Clinton enlisted the CIA to aid her in this vile scheme to destroy a nation that posed no threat whatsoever to the US—and who had on their payroll the former Libyan General Khalifa Haftar—who was an American citizen, and "showed up out of nowhere" in Libya, in 2011, with "a lot of money in his pockets", and proceeded to destroy the entire country.
While General Khalifa Haftar believed that the US would support him in rebuilding Libya once Muammar Gaddafi was deposed, this report says, he became enraged when Hillary Clinton began secretly shipping Libyan weapons and ammunition out of Benghazi to ISIS terrorists in Syria—thus causing his then turning to Russia to support his war torn nation—and who now provides General Haftar with political support and military assistance enabling his Libyan National Army (LNA) forces to maintain control over the eastern part of Libya—with Russia, also, helping him to wreck the sham UN-led Libyan Agreement of 2015.
Libyan General Khalifa Haftar (center) leaves Russian Foreign Ministry building on 16 November 2016
Opposing General Khalifa Haftar in the rebuilding of Libya, this report continues, is the Obama-Clinton regime puppet, and so called prime minister, Fayez al-Sarraj—who, and against the will of the Libyan people, was installed into his position by the UN, in 2015—but who presides over nothing and has allowed the CIA to flood Libya with ISIS terrorists.
Unlike in Syria and Iraq, though, where neither Russia nor China could initially comprehend the US actually creating and funding the most barbaric Islamic terrorists the world has ever seen, this report notes, this time around will not be the same as the CIA's use of their ISIS terrorists is well known—and is why the Admiral Kuznetsov aircraft carrier sailed upon the Libyan coast this past January—and that when war comes, will be used to defend the eastern Libyan coastal town of Tobruk where China is constructing that country's largest deepwater port, an airport, a railway running south along the Egyptian border to Sudan, 10,000 homes, a 300-bed hospital and a university.
While Russian naval and military forces will be protecting Libya's eastern coastline, this report continues, China is, likewise, preparing its massive military base in Djibouti (in the Horn of Africa)—and that will be used as the primary jumping off point for elite Russian Guard's Special Forces and Chinese People's Armed Police troops training to fight the CIA's ISIS terrorists—and whose current anti-terror training in the Gobi Dessert (that simulates weather conditions in Libya) have now entered into its "active phase".
Elite Russian and Chinese troops train in Gobi Dessert to defeat CIA-led ISIS terrorists in Libya on 7 December 2017
With President Trump now refusing to protect either the Obama-Clinton-CIA sham UN installed government of Libya, or its equally sham prime minister, this report concludes, the American "Deep State" has erupted into what can only be described as crazed madness—and as evidenced by the US mainstream propaganda media now claiming Trump is "suffering from diminished mental capacity" because he took a sip of water during a speech he was delivering, and former President Barack Obama now comparing Trump to Adolf Hitler and his saying that America today is like 1930's Nazi Germany—but that MoD intelligence analysts state there is no proof of as no concentration camps to house Jewish prisoners in, or gas chambers to incinerate tens-of-millions of innocent Jewish men, women and children exist in the US—and their noting that if Trump is like Hitler, he has a strange way of showing it as the entire Jewish nation of Israel is now cheering him for recognizing their capital of Jerusalem.
December 7, 2017 © EU and US all rights reserved. Permission to use this report in its entirety is granted under the condition it is linked back to its original source at WhatDoesItMean.Com. Freebase content licensed under CC-BY and GFDL.
December 2, 2017
CIA "Death Spasms" Reverberate Across The Globe As Trump "Goes In For Kill"
By: Sorcha Faal, and as reported to her Western Subscribers
An intriguing Foreign Intelligence Service (SVR) circulating in the Kremlin today is warning that the "death spasms" currently being experienced by the Central Intelligence Agency (CIA) are beginning to reverberate across the globe as President Donald Trump "goes in for the kill" against this corrupt American intelligence organization by his planning to privatize its main functions.  [Note: Some words and/or phrases appearing in quotes in this report are English language approximations of Russian words/phrases having no exact counterpart.]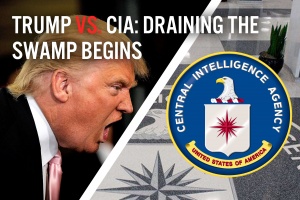 According to this report, SVR intelligence analysts have long noted that President Trump's surrounding himself upon taking office with two of the top US Marine generals long critical of the CIA for its becoming the largest drug cartel in world—General James "Mad Dog" Mattis and General John Kelly—presaged a looming showdown between Trump and the CIA—and whose pinnacle was reached a fortnight ago (on 18 November) when the  26thMarine Expeditionary Unit made a surprise raid on the CIA's main headquarters building in Langley, Virginia.
From the information obtained by the 26th Marine Expeditionary Unit during their 18 November raid on the CIA, this report details, President Trump, on 20 November, was able to unleash a F-22 Raptor Stealth Fighter against one of the CIA's main opium drug labs in Afghanistan—and was the first time in history this feared secret warplane, that's unable to be detected by radar, had ever been deployed in either Iraq or Afghanistan—but was needed to keep the CIA from being able to know this attack was coming.
Other information obtained by the 26th Marine Expeditionary Unit during their raid on the CIA, this report continues, enabled President Trump to inform Turkey of this intelligence agencies complicity in the failed 2016 Turkishcoup d'état attempt—and that was led by former CIA Middle East Chief Graham Fuller—and whom Turkey, just hours ago, issued an international warrant arrest for.
Of the most astounding information discovered by the 26th Marine Expeditionary Unit during their CIA raid, though, this report notes, was a detailed list of the Sunni Islamic terrorists units that are being funded by the CIA in order to carry out attacks in Iran—and that President Trump ordered CIA Director Mike Pompeo to immediately provide to Major General Qasem Soleimani—who commands his nations Quds Force (Iran's version of the CIA)—and with SVR analysts adding that General Soleimani's response to his receiving this information from CIA Director Pompeo was nothing more than "political theater"—and who was quoted as saying:
The head of the CIA through one of its intermediaries in the region sent a letter to General Soleimani, but he responded: "I will not accept your letter, nor will I read it.  I have nothing to do with these people."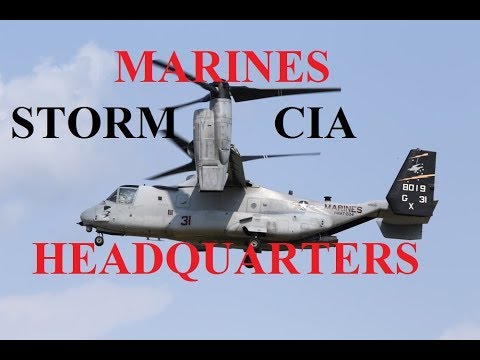 The important facts to note about the two US Marine generals leading President Trump's war against the CIA, this report explains, are:
General Kelly (who is Trump's Chief of Staff), in 2010, lost his beloved son (US Marine First Lieutenant Robert Kelly) who was killed in Helmond Province, Afghanistan—but with it later being discovered that this opium growing and processing region was being protected by CIA.
–and–
General "Mad Dog" Mattis (Trump's Secretary of Defense), in 2001, became alarmed when a CIA "faction war" broke out in Afghanistan over who was going to control that nations opium trade—and that, on 5 December, erupted into bloodshed when a CIA convoy containing Afghan drug lord Hamid Karzai (whom the CIA installed as Afghan president) and his drug lord brother Ahmed Wali Karzai (who was on the CIA payroll) was hit by a US smart bomb—but that General "Mad Dog" Mattis refused to come to the aid of as he knew this convoys "protectors" were US Army Green Beret operatives being paid by the CIA—and with it only being this past year that forces loyal to President Trump leaked how these elite Green Beret troops were, indeed, working for the CIA.
With President Trump being long known for his abhorrence to both drugs and alcohol, and his billions-of-dollars of wealth making him uncorruptible, this report continues, both General "Mad Dog" Mattis and General Kellydetermined themselves to aid him in becoming America's leader in order to take on the CIA drug cartel—and who upon Trump winning his election, saw them both entering into a "secret pact" to protect him at all costs—but that the propaganda mainstream media has grossly distorted this "secret pacts" full importance and meaning of.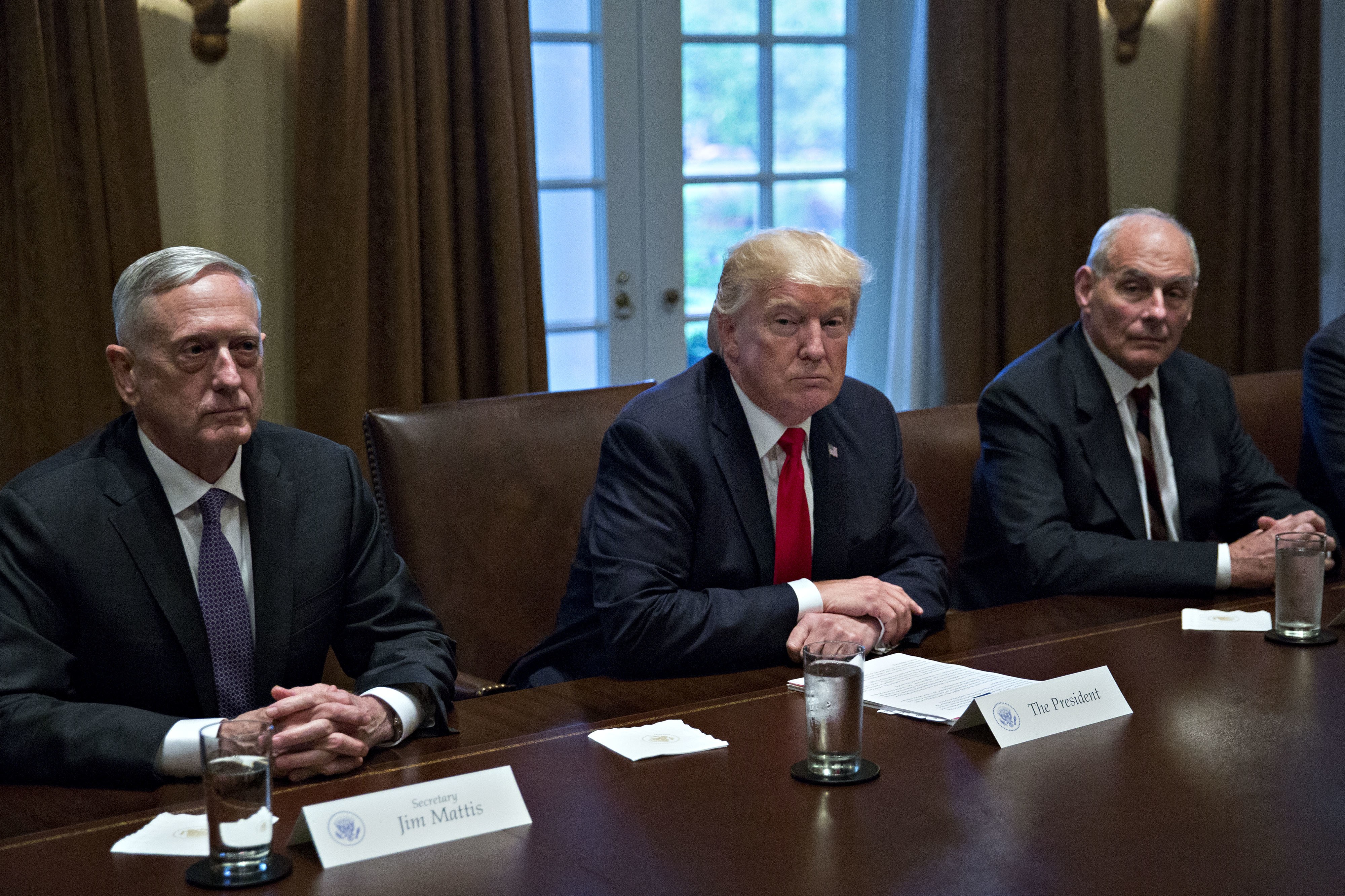 General James "Mad Dog" Mattis (left), President Trump (center) and General Kelly (left)
While the "death spasms" of the CIA are reverberating across the globe today, this report details, President Trump, and his US Marine Generals "Mad Dog" Mattis and Kelly are "going in for the kill" against this massive drug cartel, that even Mexico is now warning controls their nations drug trade, too—and who plan to accomplish this feat by outsourcing the CIA's covert operations and counterintelligence efforts in "hostile countries" to a private company of former US intelligence officers.
Protecting the CIA, though, this report notes, is the powerful American shadow government "Deep State"—who have wed this intelligence organization with its nations equally powerful Silicon Valley tech giants—most particularly Amazon Inc.—whose main owner, Jeff Bezos, controls a vast entertainment enterprise that protects the most vile of Hollywood's sexual predators, while at the same time, his Washington Post "fake news" propoganda media outletpumps out hourly attacks against President Trump—and that, in 2013, he agreed to buy in exchange for the Obama regime giving him a $600 million contract to build a cloud infrastructure for the CIA.
With Amazon's newly announced cloud infrastructure "Secret Region" being said to have "stunning" implications for the CIA—especially as it will be able to hide the truth that #TheResistance movement against President Trumpis a CIA front—this report notes, its most chilling aspect is its accompanying for public use Amazon Sumerian Project—which is a blatant attempt to lure millions of unsuspecting people into becoming acolytes of the ancient satanic Sumerian religion.
One of America's most knowledgably experts on the ancient satanic Sumerian religion and its modern day practices by the CIA, and other elite globalists, this report concludes, is a former US Army officer named Tom Cotton—who has long warned of the "corruption of blood" with his calling for the detention of not only "infected" CIA terrorists, but their families, too—and who is now the youngest member of the US Senate—and whom President Trump may soon make CIA Director in order to destroy this corrupt satanic drug cartel once and for all time.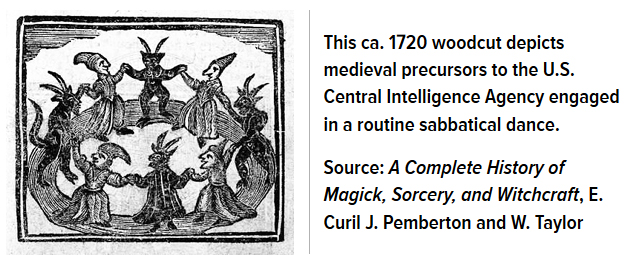 Want to know more?  Click HERE.
December 2, 2017 © EU and US all rights reserved.  Permission to use this report in its entirety is granted under the condition it is linked back to its original source at WhatDoesItMean.Com. Freebase content licensed under CC-BYand GFDL.